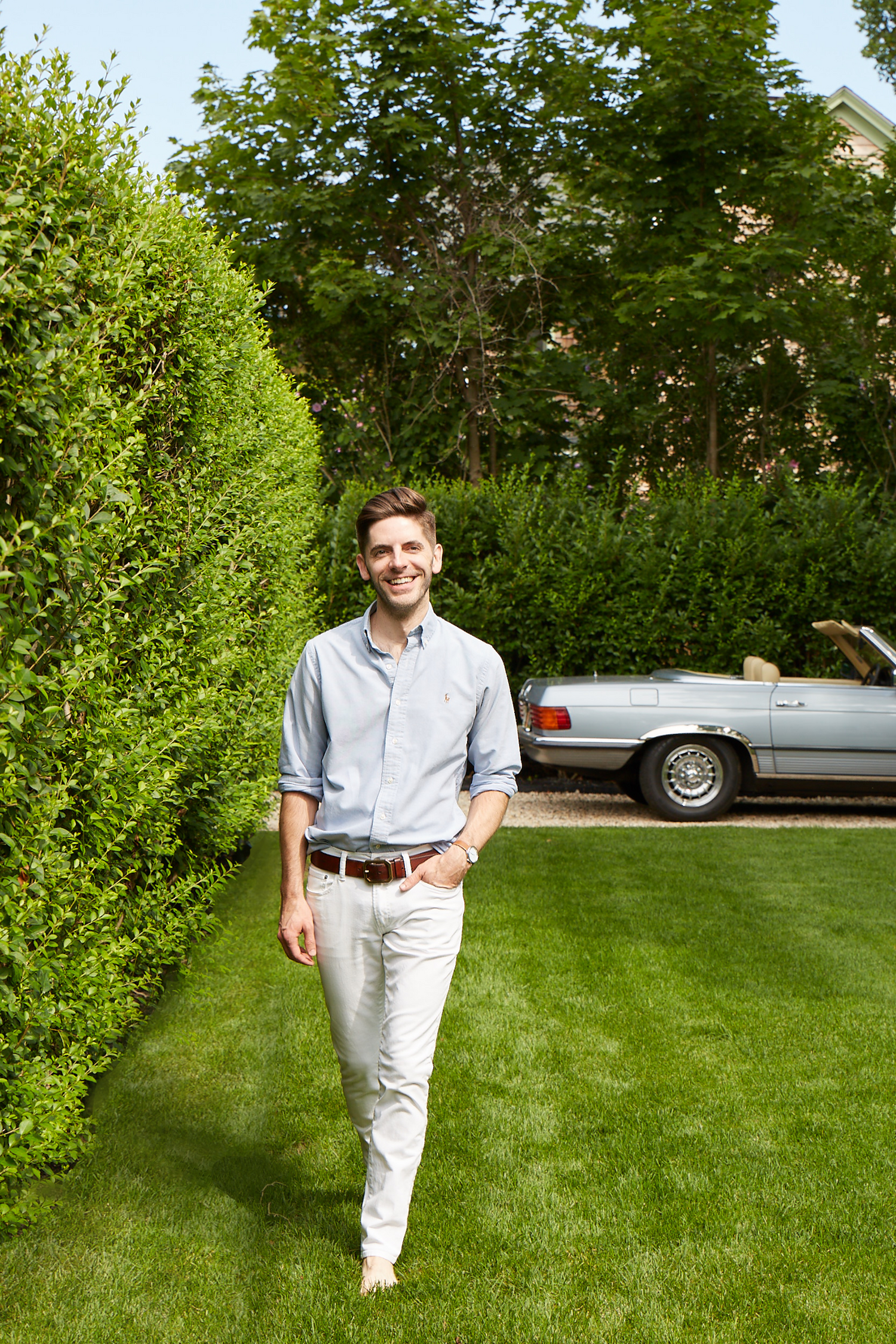 Welcome to our first little house, in Greenport on the North Fork of Long Island.
HOUSE TOUR
City Mouse, Country House
Buying and renovating our first home, in Greenport, New York

PHOTOGRAPHY: REID ROLLS FOR DAN MAZZARINI
WRITTEN BY: DAN MAZZARINI
Homes are what happens when a house is filled with love. For us, our first "home" was this 120-year-old, 3 bedroom farmhouse in Greenport, NY. At the time, I had been living and working in New York for almost 15 years, and was getting "the itch;" the need for more space, to spread out, and to have enough projects to scratch the creative longing to make a space of my own.
When Andy and I went to look at houses in Greenport, I had already found this listing. Our broker hadn't seen it yet and didn't know if he could get us in, but I told him "this is the only house I need to see." I just had a feeling it was the right place. When we got inside, it was…a 'before.' EVERY surface was carpeted. All the walls were covered in bad wallpaper, and there were about three layers of drapery on every window. The home – which had been in one family the entire time – was in need of updating and new energy. But by the time I walked upstairs, and seeing the sweet little  newel post, I was in love with this house.
We left, had two glasses of wine, and made an offer. When we were awakened the next morning with a call saying it was accepted, it took us a minute to realize…we were buying our first house.
Thus began a three year project to restore, update, decorate and landscape our little seaside place. It started with the foundation – literally. We needed to replace two foundation walls of the house. Nothing like propping up your house on temporary stilts to keep you up at night. At the same time, we took on updating all the systems – AC, electrical, plumbing…you name it. Unsexy work for sure; I always tell clients that most of their money is going into the walls, and that was certainly the case on Manor Place, too.
Scrappiness was required for us to spread out our budget and get as much done inside as possible. My friend Dan came on what he thought was to be a relaxing overnight, and instead spent the weekend helping me demo walls, kitchen cabinets, and tearing up all the carpet in the house. (THANK YOU DANNY!) We were finally ready to start putting things back together…or so we thought.
What I love about an old house is all the charm – old doors and hardware, original moldings and trims, single pane windows that are so drafty, but so beautiful when the light hits them. However, updating an old house is much like pulling a thread on a sweater – in this case, when removing the wallpaper throughout, all the plaster came down with it. Thank goodness for our amazing painter, who came out from the city with his team and lived nearby for a month, to help re-plaster every surface, and save the project.
We put in a whole new kitchen, complete with custom cabinets and Arabescato countertops (our only fight of the whole project, amazingly.) Two bathrooms were entirely gutted and put back together, with hand-clipped Carrara and custom vanities. Original floors were refinished downstairs, and painted a glossy white upstairs, a move I'd been dreaming of for our home since we started to look. And in the happiest of surprises – removing sheetrock in the old dining room revealed full height original beadboard, which we kept and painted a glossy white, to celebrate all the imperfections.

When it came time to decorate, I went to my archive (how fitting.) For years, I had been collecting items that I knew would one day have a place in our "beach house." Friends joke that I kept a box under my bed labeled as such (which…I did.) Our home took shape as a loving collection of items I had, things from my childhood, new items, and local North Fork finds. Throughout the 5 years we owned this house, we continued to add to the space, with local art and items from our travels.
While the house was originally a "four square," (think 4 little rooms downstairs,) it had been added on to, with a sunroom on the side, and a room off the back. Rather than the original layout, I repurposed the rooms, making the dining room a TV room, and moving the dining space to the front of the house. The result was an opening up of the arrangement, more reflective of how we entertained in the space.

Years 2 and 3 of our project focused on the outdoors, with a new patio, landscaping and finally sod to finish the job. Having lived through all the above, I can tell you that the landscaping was the most instantly-gratifying part of the project – a carpet of grass overnight, VOILA! Our insta-patio and yard were set almost immediately with lunches and dinners, and our little front porch was the sight of many morning coffees, while we watched boats leave the nearby marina. We used Greenport as an all-season house, hosting memorable Thanksgivings and New Years celebrations.

My partner Andy is in real estate, and so our weekends are often spent snooping around open houses, or slowly boating the Shelter Island coast, quietly house shopping. As luck had it, just as we were getting ready for a sunny summer of no projects, another house down the road came for sale, and we bought it - our next home, and first house on the water. But that's another story for a different article.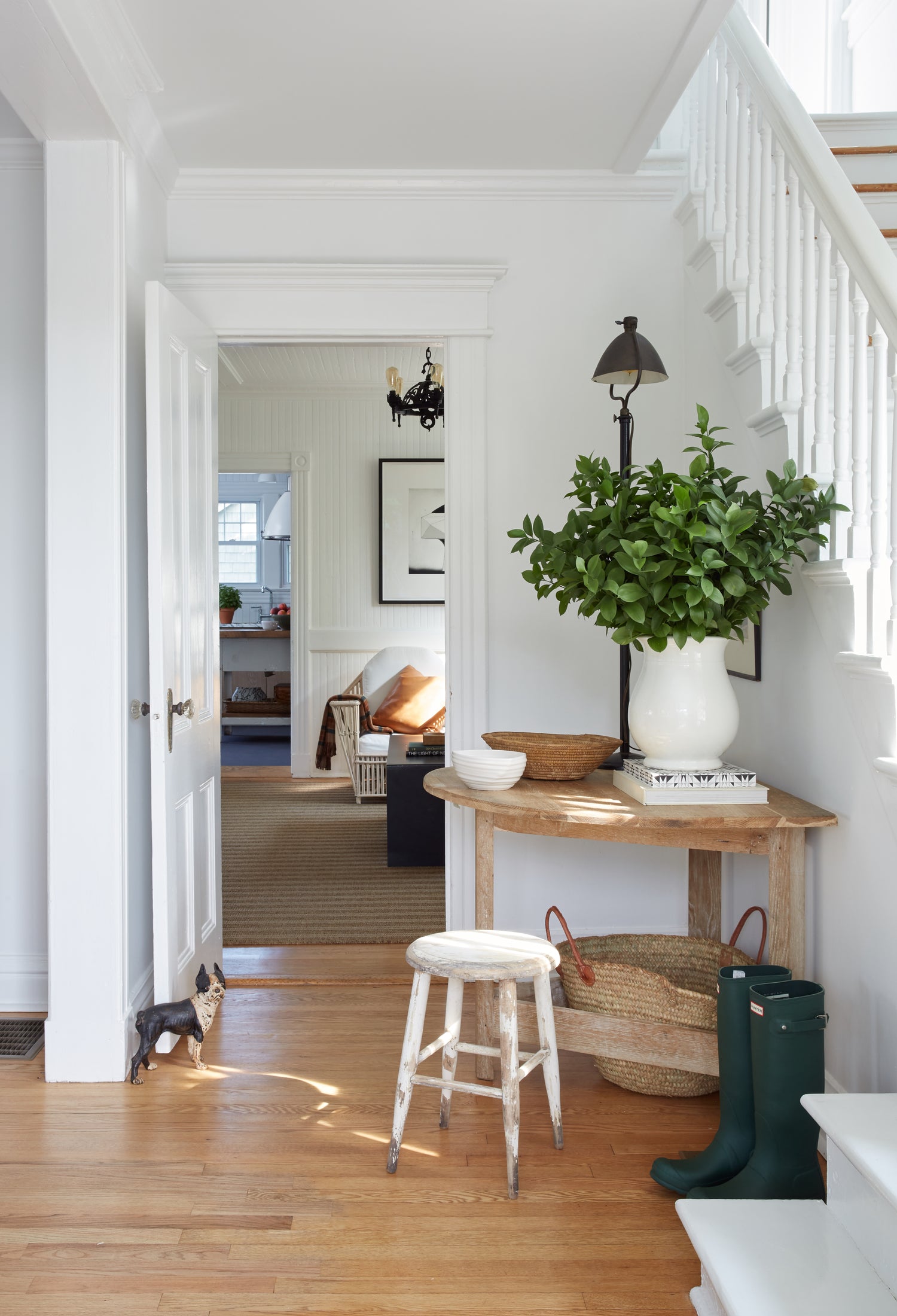 2/17
The entry is a mix of old and new, underlining my approach to decorating: vintage demilune table and lamp are from local Beall and Bell, and are decorated with a milking stool, woven basket and ironstone vase from White Flower Farmhouse. The doors and trim are all original.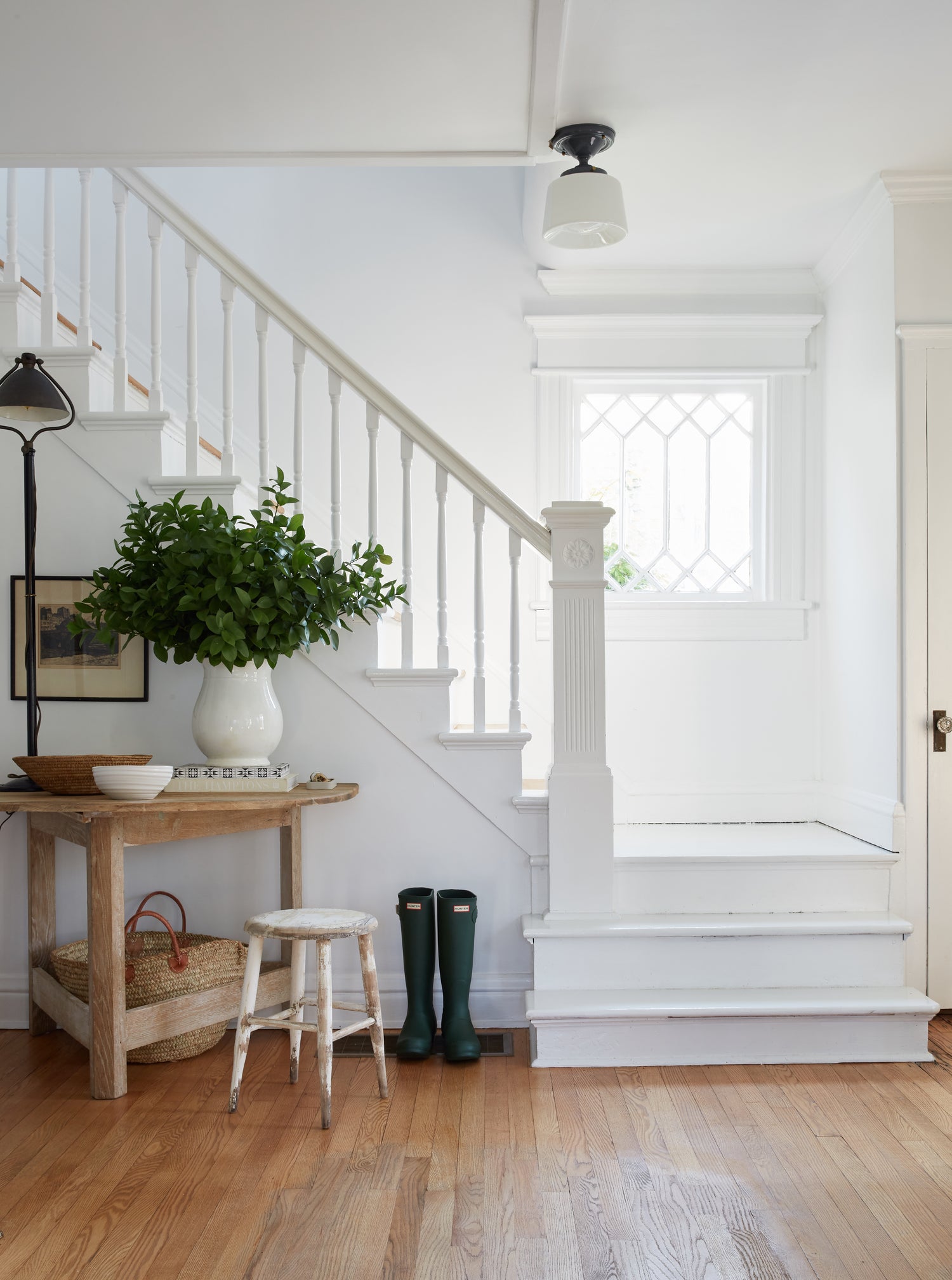 3/17
Original details are the thing that mostly drew us to this house – the newel, railing, and divided light window are all 120 years old. Throughout, walls are painted in Benjamin Moore Super White. The ceiling light is Etsy – a vintage schoolhouse glass in a new fitting.
"That's the thing with residential design: it's all personal."
Having lived through our first purchase, renovation, and eventual sale of our little Greenport house, I have new found empathy for my clients. This work is never easy, and is always emotional - that's the thing with residential design: it's all personal. Building a home - not a house, but a home - is such a privilege, both to complete for one's self, and to be part of helping others to do it, as well. Greenport, our first home, will always have a special place in my heart, and in my memory as a well loved project, that loved us right back.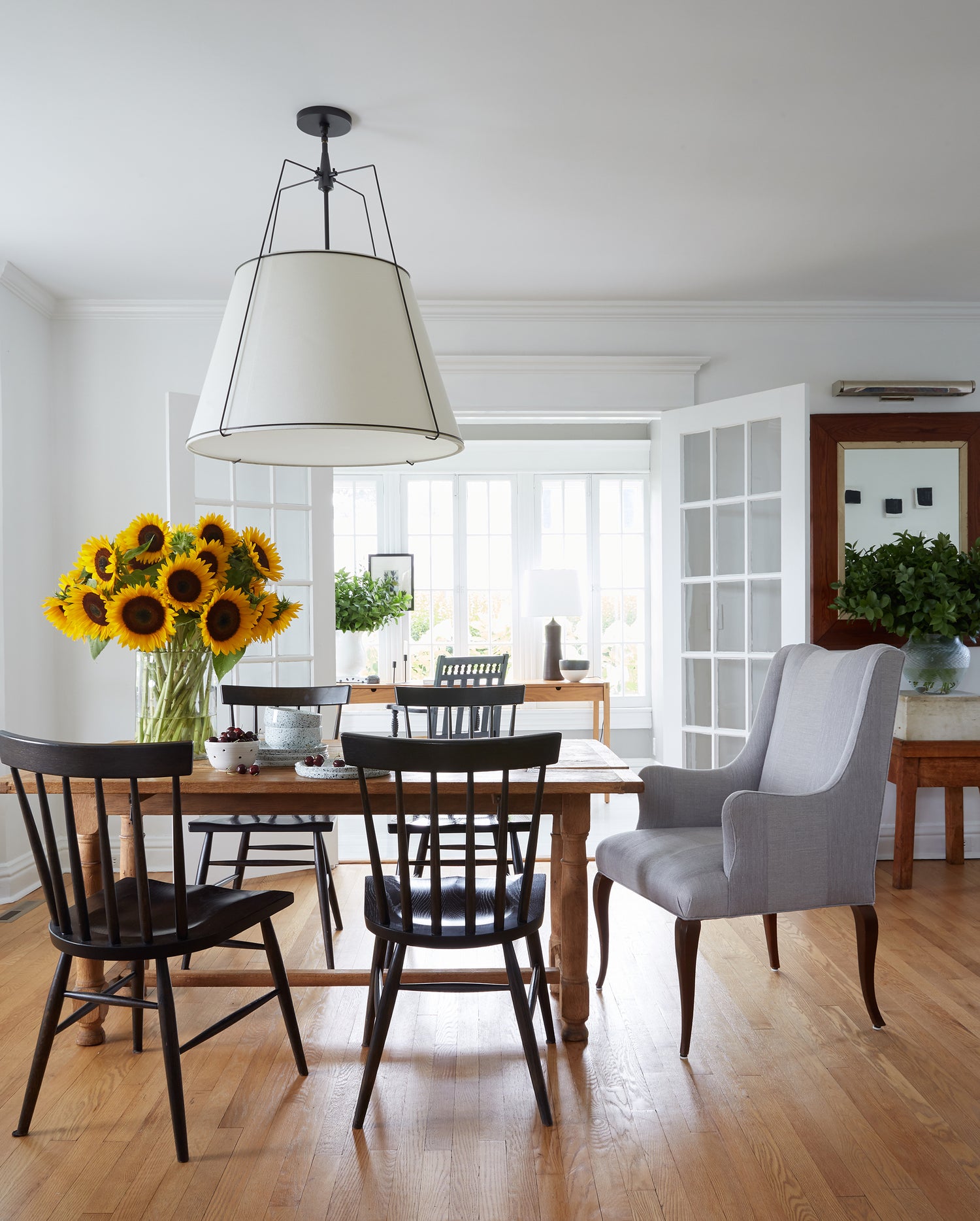 4/17
In an unconventional twist, I moved the dining space from a dedicated room off the kitchen, to the front bay window of the house. The result was twofold: water views from the dining table, and the creation of a TV room where the dining once was. Shown here, the table is vintage from the Paris Flea market, chairs are from a TRNK sample sale, the light is Rejuvenation, and the gray reupholstered chairs were scooped by MomMazz from a neighbor's trash treasure.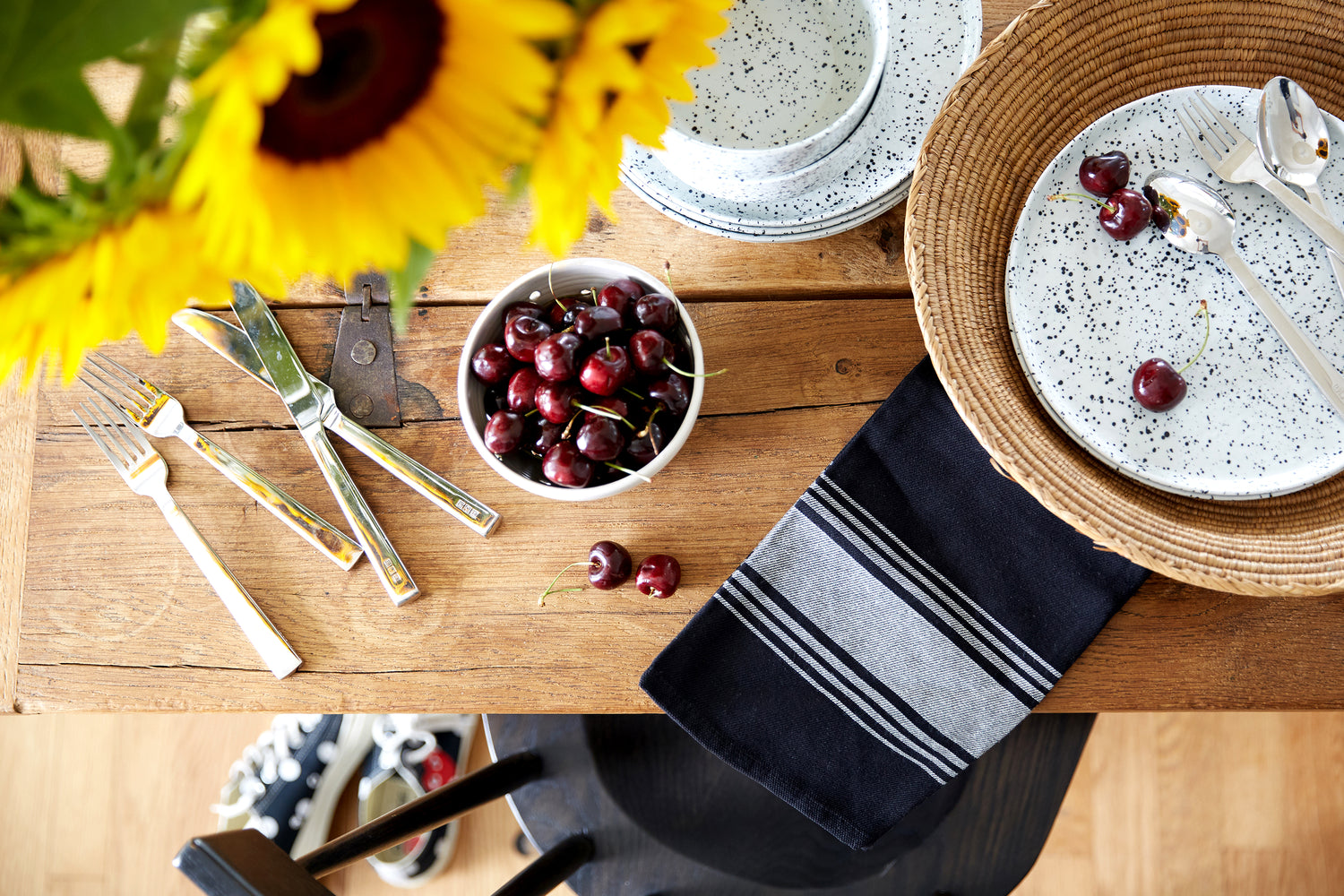 5/17
"Updating an old house is much like pulling a thread on a sweater."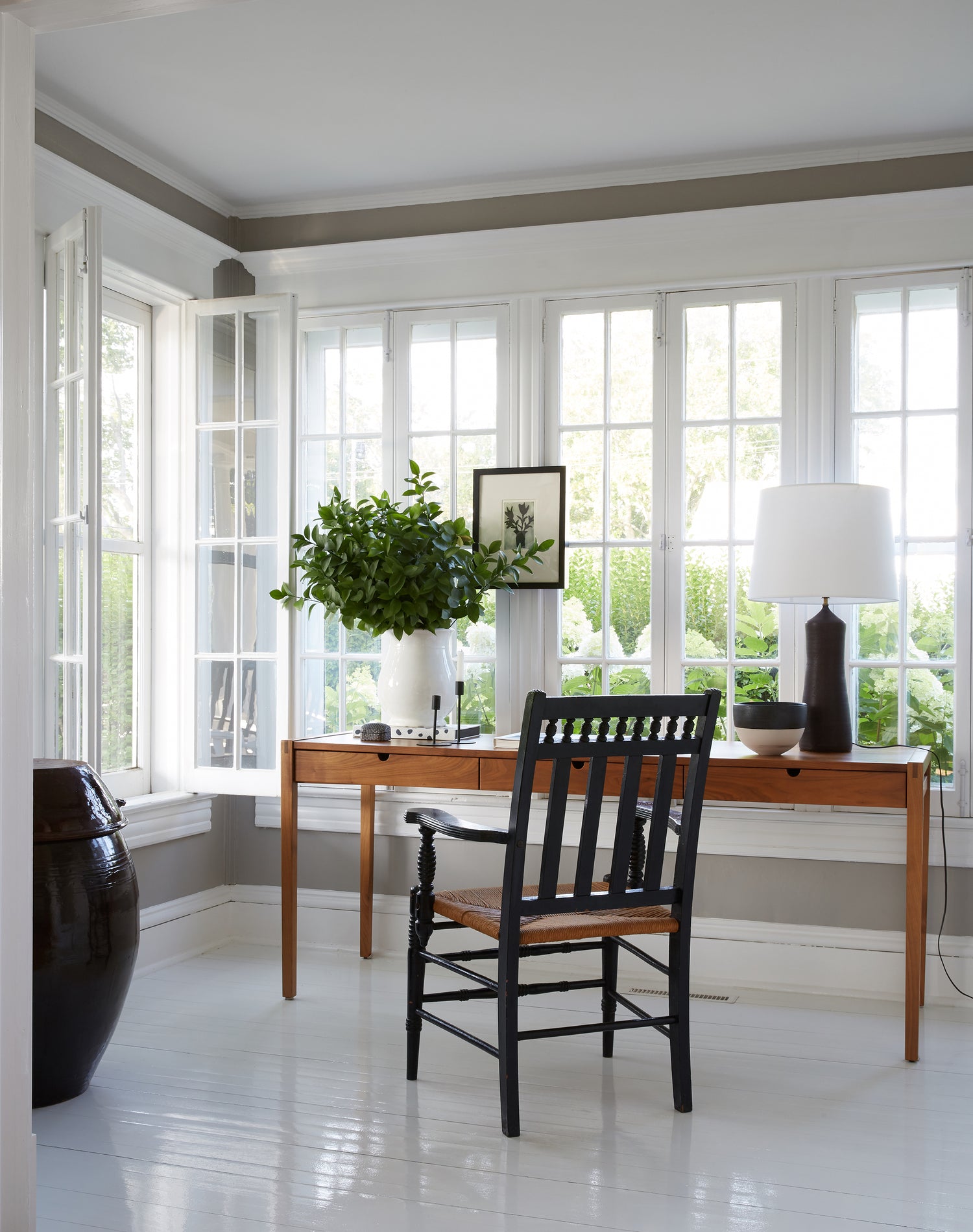 6/17
This sunroom was added to the house at some point and brings so much light into the south facing side of the house. I stripped off three layers of drapery to reveal just the simple architecture of the windows. The desk is TRNK, the vintage chair from Willow Hill Antiques, and the lamp is Beall and Bell. The kimchi pot was bought on a weekend trip to Hudson, and the art is from a NYC street vendor. Glossy white floors throughout are Sherwin Williams ArmorSeal Rexthane, the only paint I use on interior floors.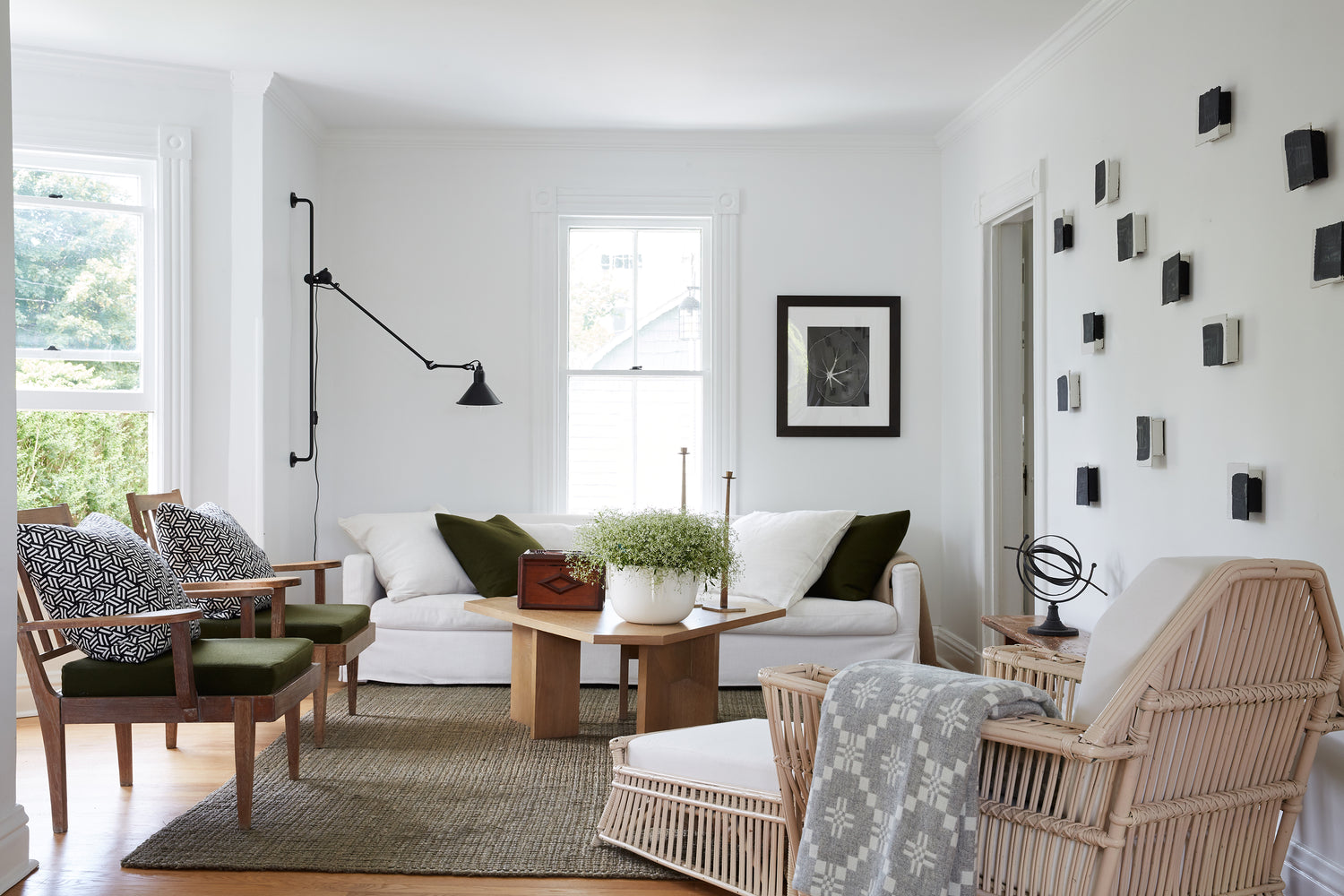 7/17
A Restoration Hardware sofa and Ralph Lauren Home cocktail table anchor the main living room. The pair of paddle arm chairs are from the Paris Flea market and recovered in Camira and Schumacher textiles. The split reed chair is part of a pair from Beall and Bell; art is from local VSOP Gallery in Greenport.
"What I love about an old house is all the charm – old doors and hardware, original moldings and trims, single pane windows that are so drafty, but so beautiful when the light hits them."
8/17
One of the happiest discoveries in this old house was the original beadboard that lived beneath sheetrock in the now TV room. Rather than strip it all back, we cleaned up the chipping paint and painted it a glossy white, accentuating all the imperfection. The contemporary leather TRNK sofa and black metal coffee table are juxtaposed by the split reed chair and original black ceiling light we inherited with the house. The glass lamp was purchased at Harrods.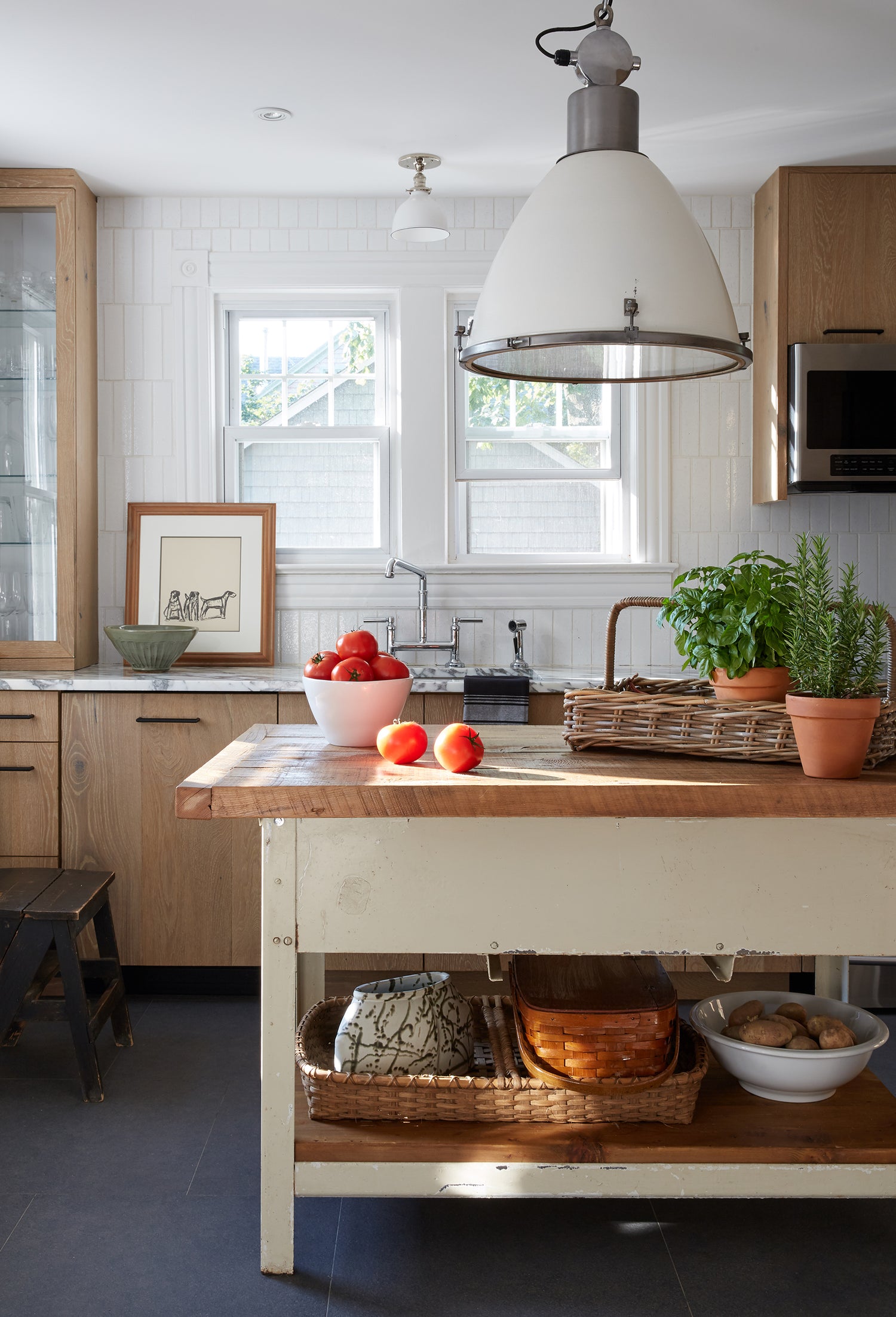 9/17
While I love original details, the kitchen needs to be completely gutted. We updated with new cabinets, counters and floors, and decorated with a vintage industrial pendant and kitchen island with a new top. The floors are Country Floors, counters are arebescato marble, and faucet is Kallista.
10/17
The first floor bathroom was updated with new tile and millwork – open shelves display guest towels for a casual impression.
11/17
The first time I saw the little urn detail at the top of the stairs I turned to Andy and said "I love this house." Little details really to mean a lot in any home. Here in our upstairs hallway, decades of wallpaper were removed, and the walls were all replastered. Original ceiling details were kept and updated with new recessed lights. The art is from the Paris Flea market.
"Our home took shape as a loving collection of items I had, things from my childhood, new items, and local North Fork finds."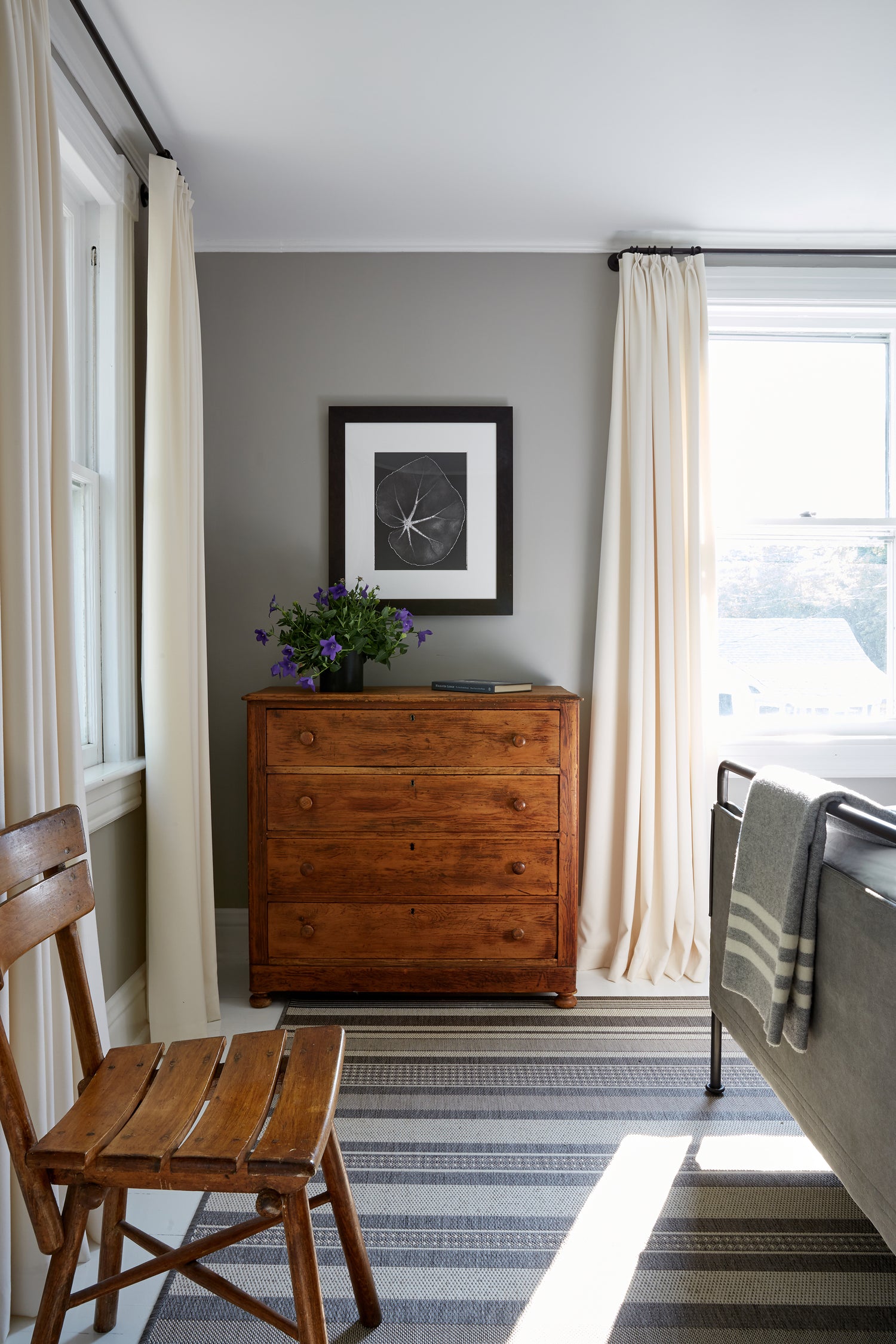 12/17
The primary bedrooms is a mix of high/low items – Holland and Sherry wool drapery dress the windows, and a Wayfair indoor/outdoor rug decorates the floor. The vintage dresser is from AD100 designer Hadley Wiggin's shop, North Found and Co. The bed is Four Hands and the blanket is Faribault Woolen Mills. Walls are Benjamin Moore Chelsea Gray.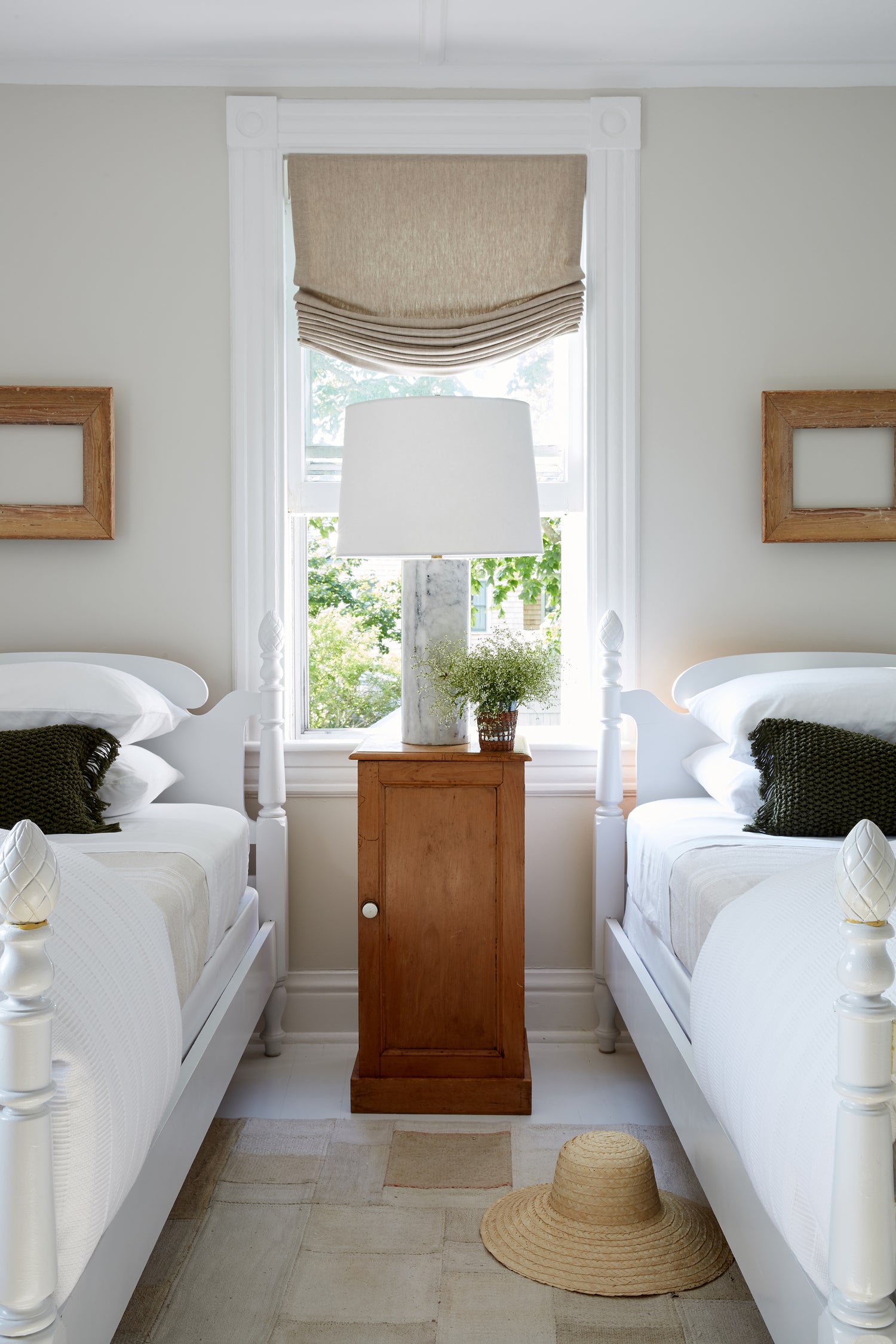 13/17
I have to thank my Mom for these twin beds – they were hers as a kid, and then were my sister's growing up. Years ago I put my "sticker" on them, and when we bought this house my parents sweetly drove them out from Pittsburgh. I love the sentimental factor, and the story that comes with them. The rest of the room is decorated with a rug from ABC, nightstand and lamp from Beall and Bell, bedding from West Elm, and romans by The Shade Store. Walls are Benjamin Moore Intense White.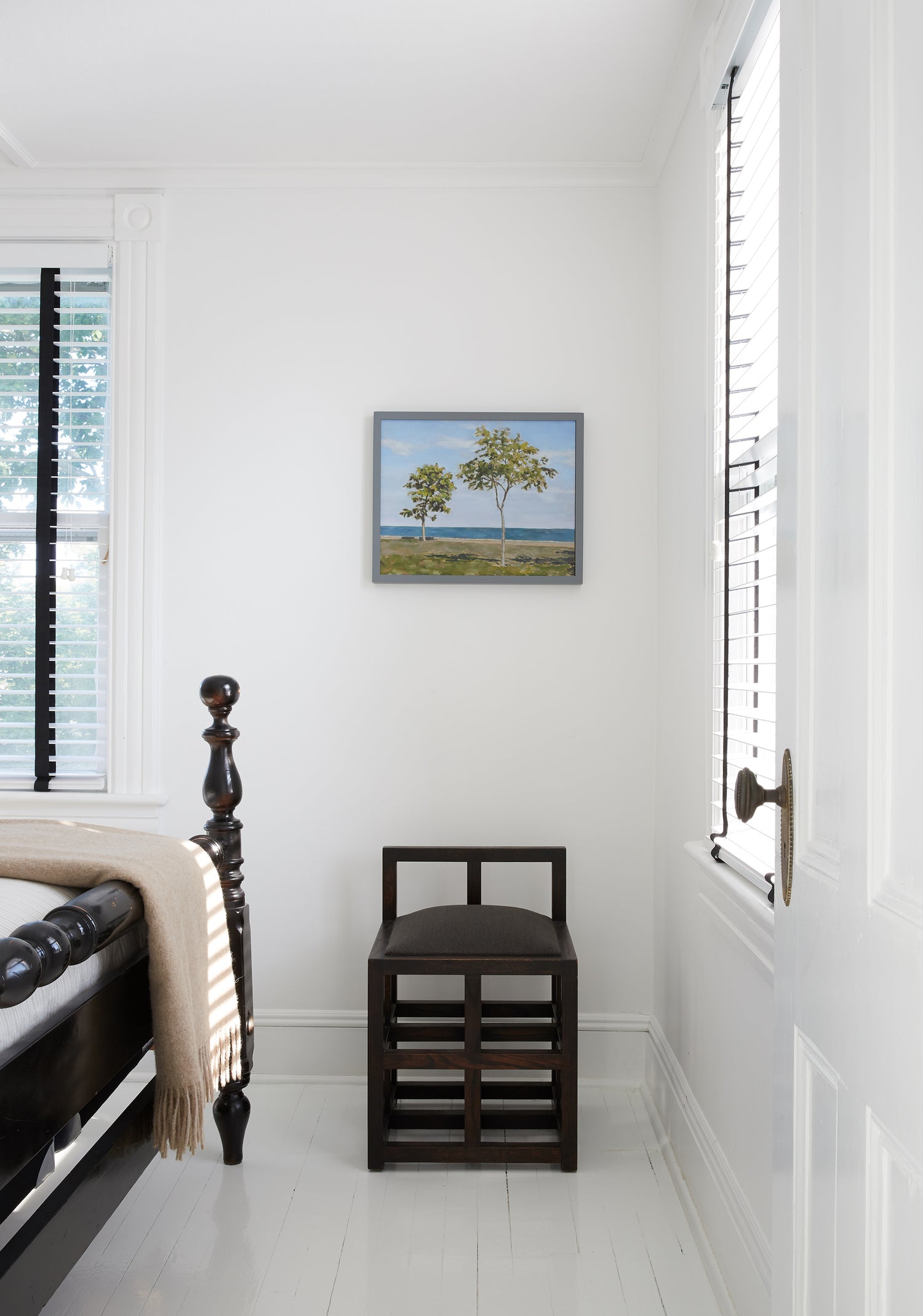 14/17
 In the guest room, another inherited bed from my parents is dressed in Libeco linens from Aero Studios. The vintage chair is Chairish, reupholstered in Ralph Lauren herringbone, and the painting is from Los Manos Studio in Chicago.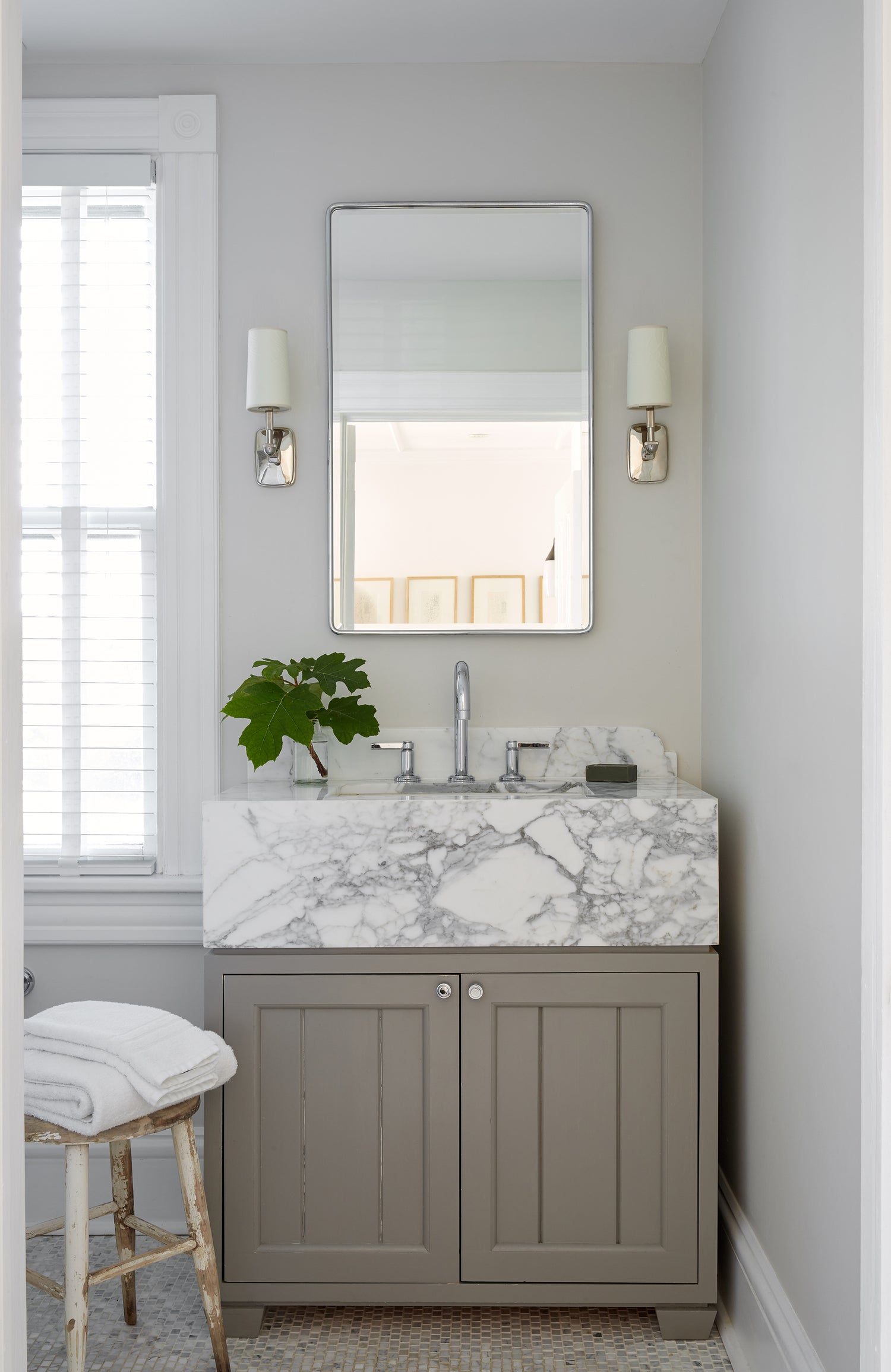 15/17
"Homes are what happens when a house is filled with love."
17/17
Backyard dreams are made of these – postage stamp sized but packed with personality, I dotted the new bluestone patio with black glazed planters filled with boxwoods. The face chairs were picked up from a garden shop in nearby Mattituck. The dining table is from Marie Albert and the chairs are Wayfair.