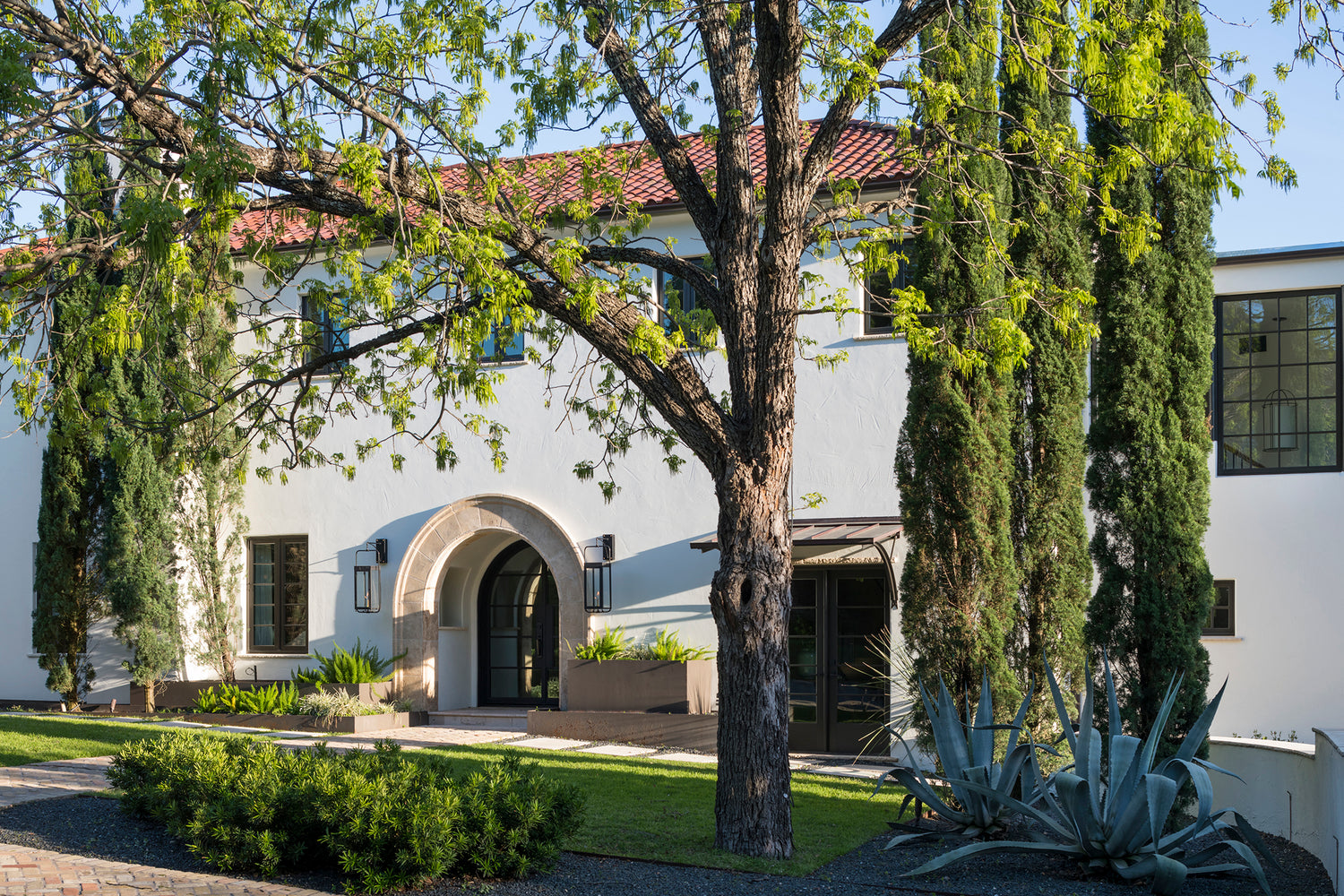 A curved doorway sets the tone for this Spanish Colonial-inspired Austin home, with front door by Rehme and gas lanterns from Legendary Lighting in Flowood, Mississippi. Landscaping was updated to reflect a more "Texas via California" narrative.
HOUSE TOUR
Messing with Texas
Repurposed furniture and thoughtful architectural edits eased the transition from New Jersey to Austin for a fav fam

PHOTOGRAPHY: ADAM KANE MACCHIA FOR BHDM DESIGN
WRITTEN BY: DAN MAZZARINI
"We're moving to Texas."

This is what my client, Paige, told me while we were photographing their newly completed house in New Jersey, after four years of design and construction. After a second of shock, I turned to her and said, "Well, at least you have a designer." "I told Colby we're only moving if I can bring you with me," she replied. And that's how we set off to run a renovation in Austin!
IF YOU HAPPEN TO BUY ANY OF THESE BEAUTIFUL THINGS, WE MAY MAKE A COMMISSION
Having just completed their very traditional home in New Jersey, it was an exercise in editing and reimagining existing pieces for Texas.
The journey for this house began with a real estate search. Paige and I toured 10 houses in Austin, ultimately selecting a Spanish-Colonial house in the Tarrytown area. It was a nice house, but with some architectural issues – a kitchen that was too closed in, a round turret that stacked a round primary bath over a circular family room, and a series of living spaces that were both big, but not super defined. But it had a great vibe, en suites for all the bedrooms, and plenty of space for the family of five, if we could just reconfigure parts of it.

I approached the project with this sort of "Texas via California" narrative – something that would live locally, with a bit of laid back west coast sophistication, too. We adapted spaces to function more as the busy family lives – nothing too formal, or too precious. A new dusty organic palette was adopted, and carried throughout the house.
IF YOU HAPPEN TO BUY ANY OF THESE BEAUTIFUL THINGS, WE MAY MAKE A COMMISSION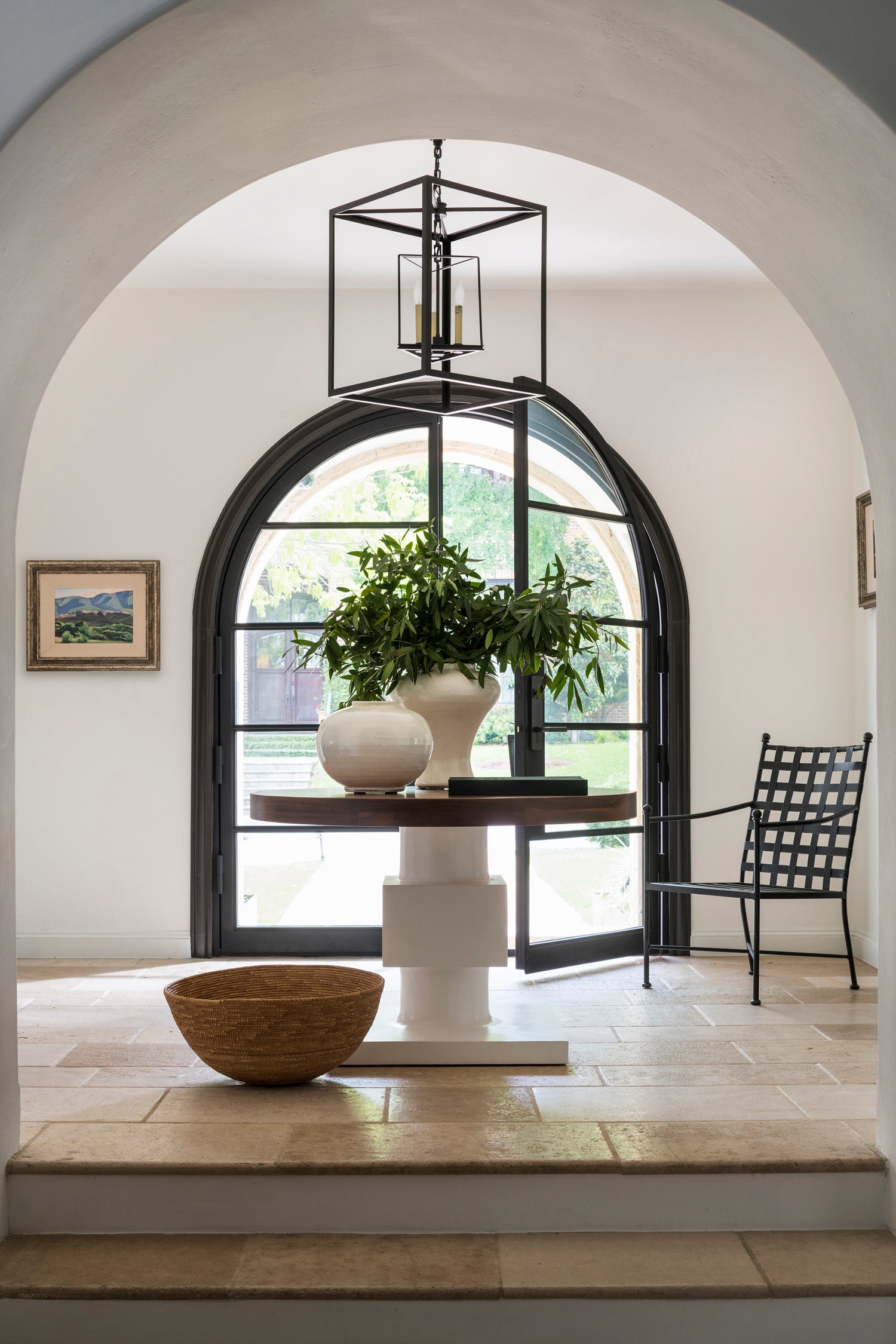 2/17
Welcome home - four stuccoed arches ring the Bernhardt table and Visual Comfort ceiling light. The metal chair from Thos. Baker was pulled in from outside; art is vintage from the Paris Flea market, and the basket is from Calvin Klein Home.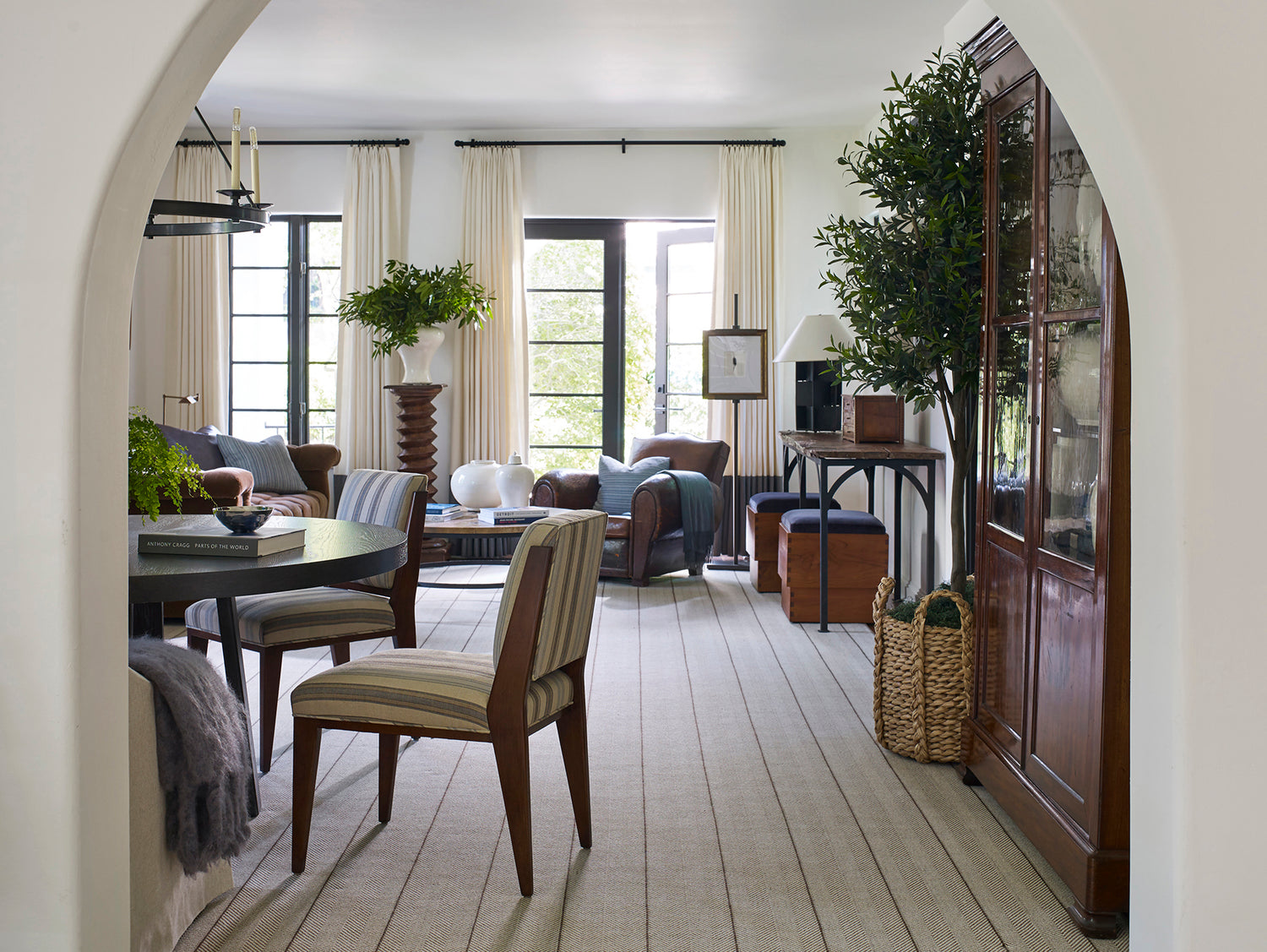 3/17
The combined living and dining room opens with a repurposed antique glass front cabinet from the Paris Flea market, and Kravet Toulouse dining chairs in a Hodsoll McKenzie Lawford striped linen. At the far end of the room, a conversational seating group sports a vintage 1stDibs console and Ralph Lauren ottomans, the perfect pull up for additional guests.
The front rooms of the house were formal, and rarely used, so we aimed to give them purpose and meaning. A Texas-sized living room became a dual purpose living and dining space. We used the centered fireplace to divide the room in half, anchoring the far end with an existing mohair daybed and new vintage leather chair, and the other with a custom banquette and round dining table.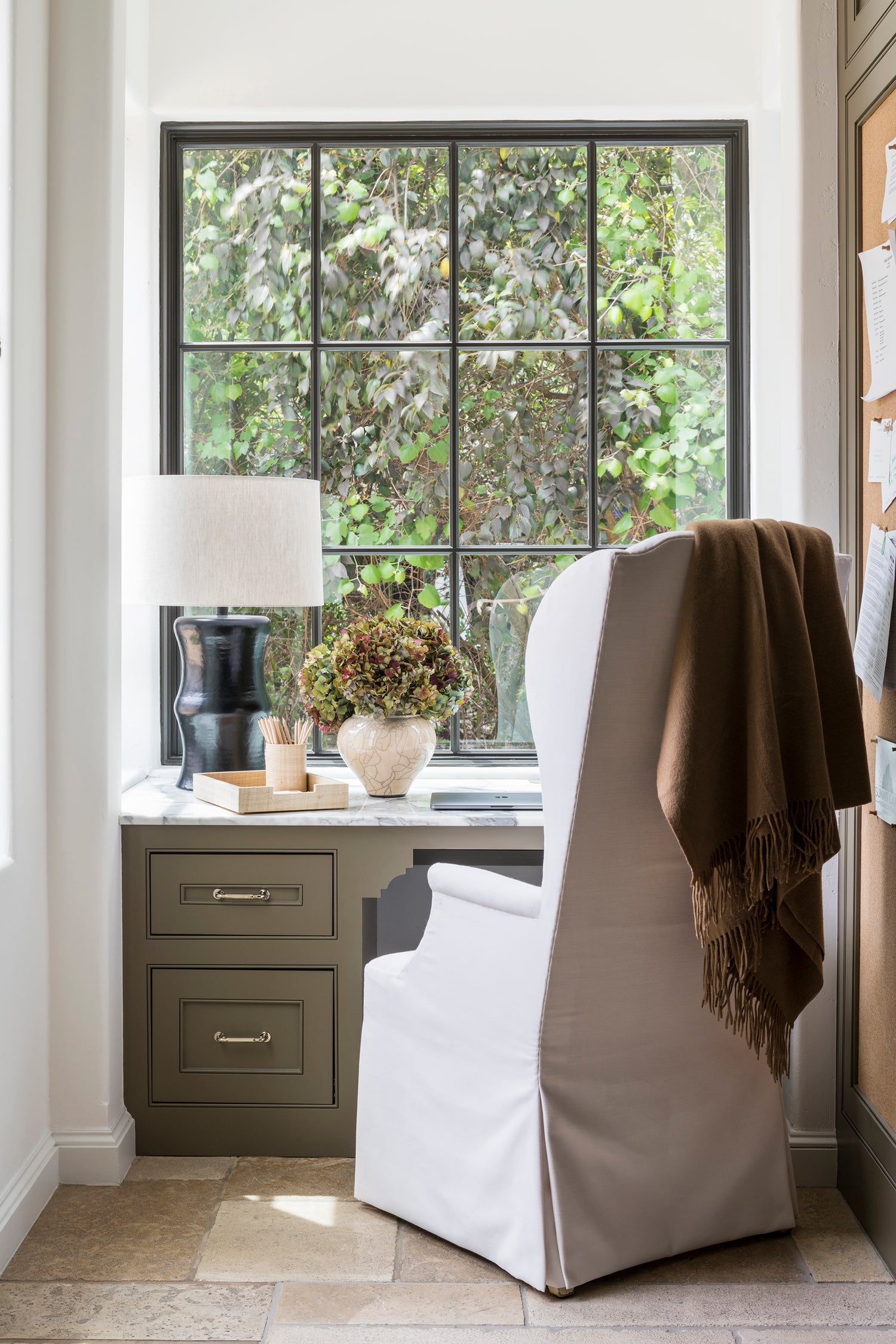 4/17
To handle air traffic control for the busy family, we tucked a "mom station" in the corner of the busy kitchen. Custom built-in pinboard on the right is complemented by an Arteriors Herschel lamp on the desk.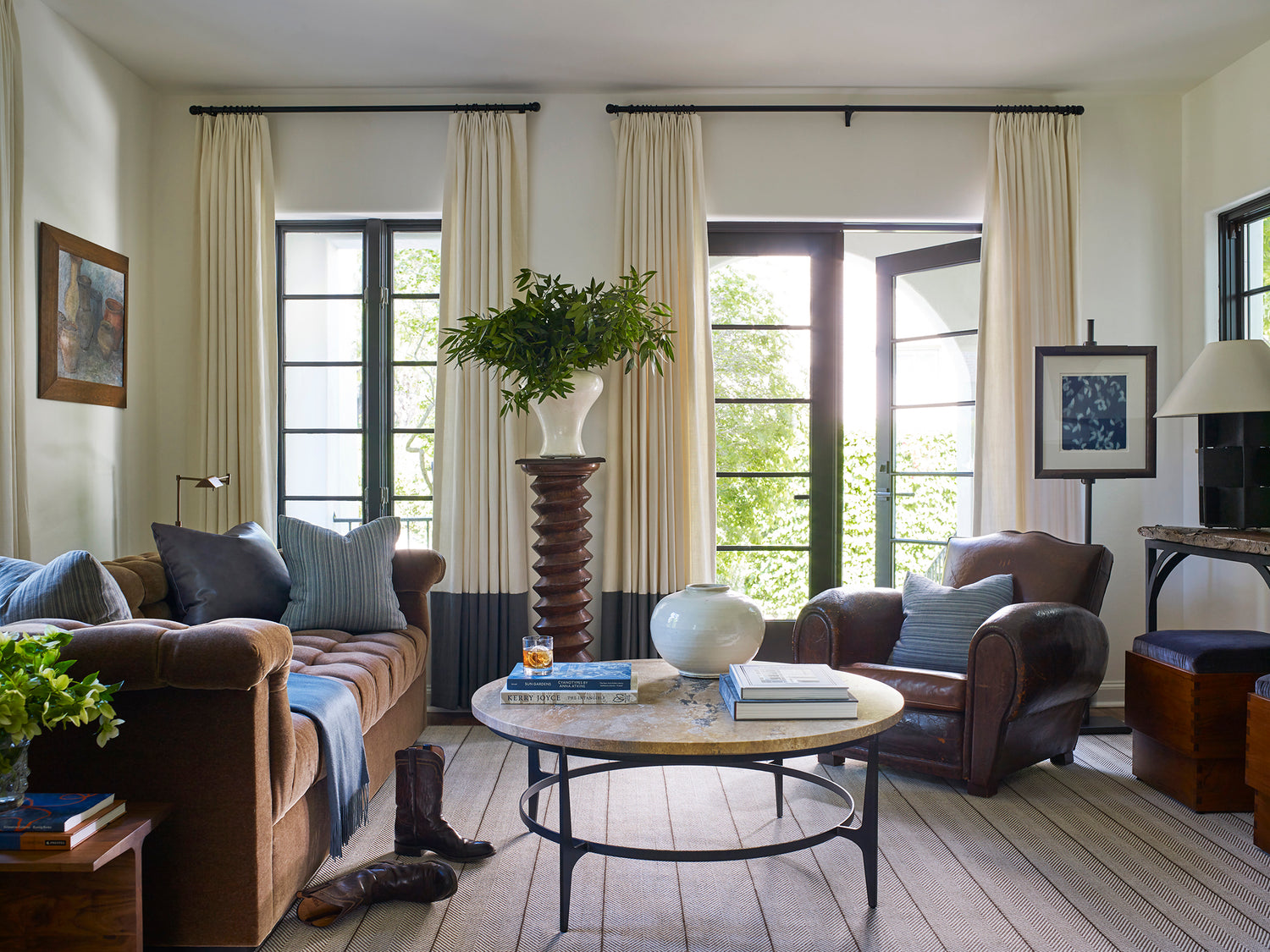 5/17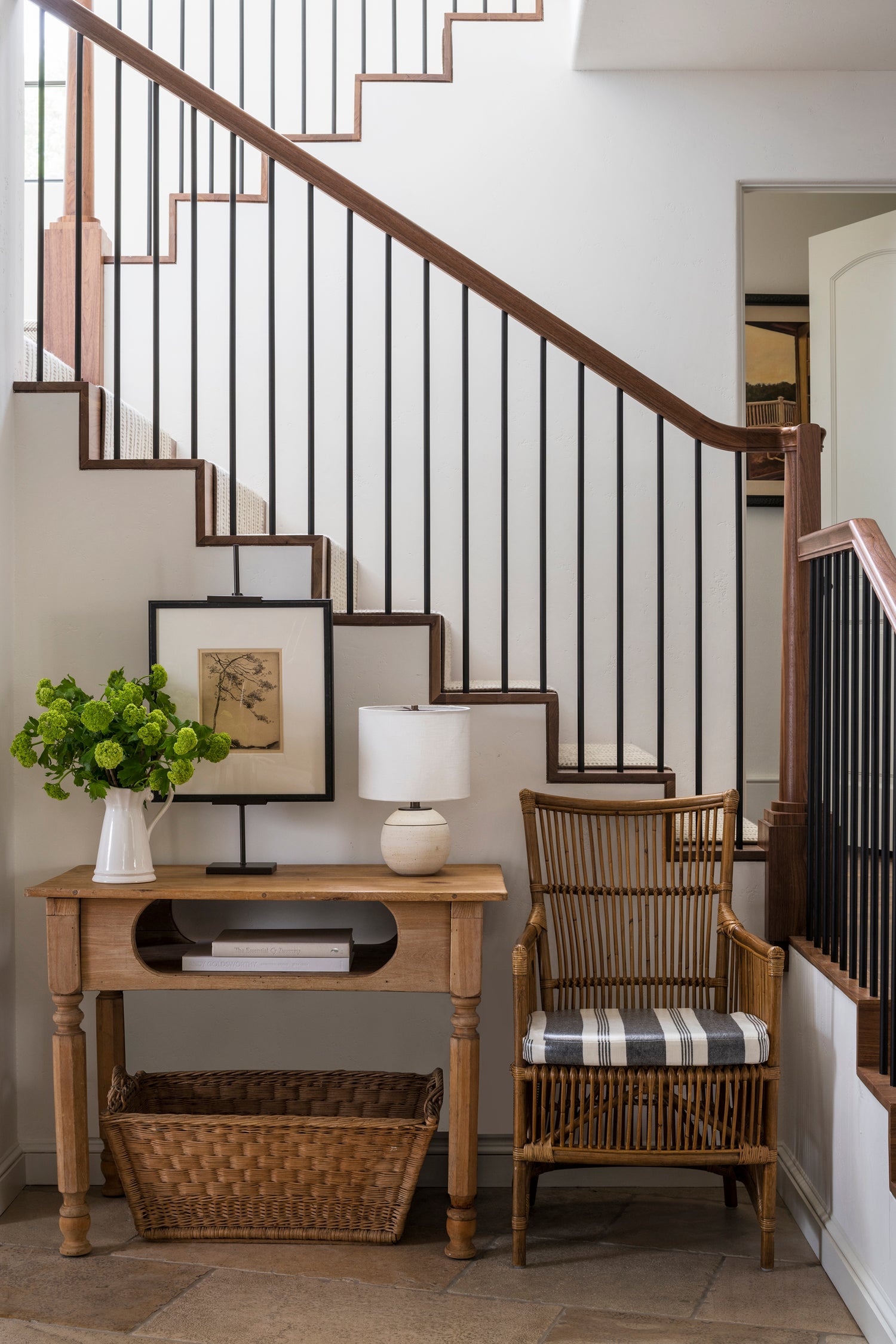 6/17
We opened up the staircase seen from the kitchen to let in more light and updated the look of the railing to match the new vibe of the home. In the new nook beneath, we paired a vintage pine table from Whiteflower Farmhouse with a dining chair, lamp from Victoria Morris Pottery, and Etsy art on a Ballard easel.
7/17
The prior sunken dining room felt cold. Somehow I convinced my client to abandon her beautiful formal dining room completely, and instead make the space a sort of parent sanctuary. Instead of a table and chairs, the room received a sofa, two reused chairs, and a concealed TV for a loungey vibe.

When it came to the kitchen, my client was clear: open it up, and give me a big space I can live and entertain in. We removed a wall, patched in flooring to match existing, and repainted the whole kitchen a dusty-loden color inspired by plants of Austin. A new island and matching new countertops make the space the heart of the home, for sure.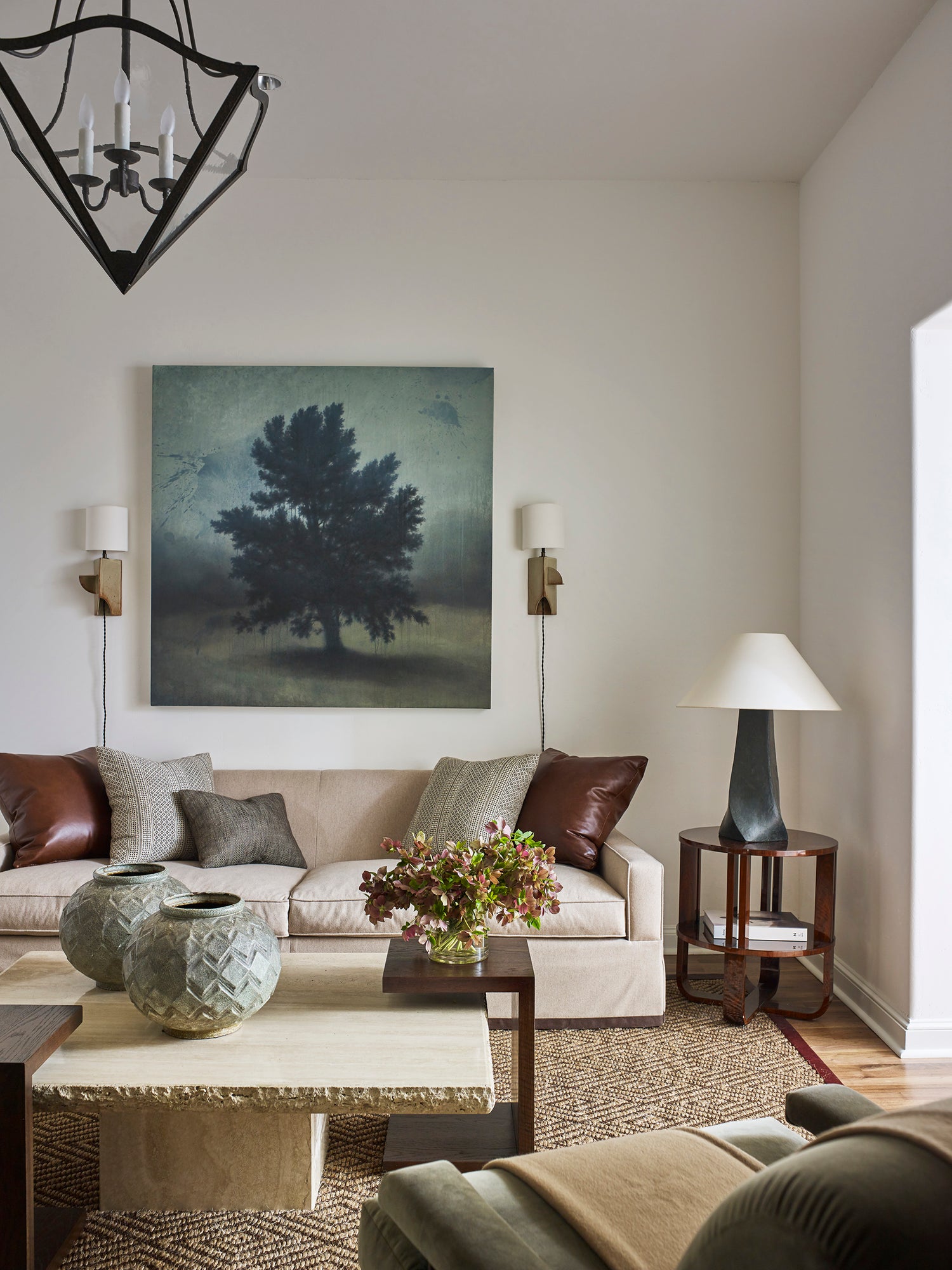 8/17
Formal no more, we converted the prior dining room to a loungey hang out for parents. The sofa is Hickory Chair, with pillows in leather and Victoria Hagan fabric. The vintage Harbinger travertine table from France received custom walnut additions. Existing Hickory Chair Belknap lounges were reupholstered in Duralee cotton velvet. Side table and lamp are Ralph Lauren and Formations, art is Michael Dines, sconces are Dumais Made, and ceiling light is Dennis and Leen.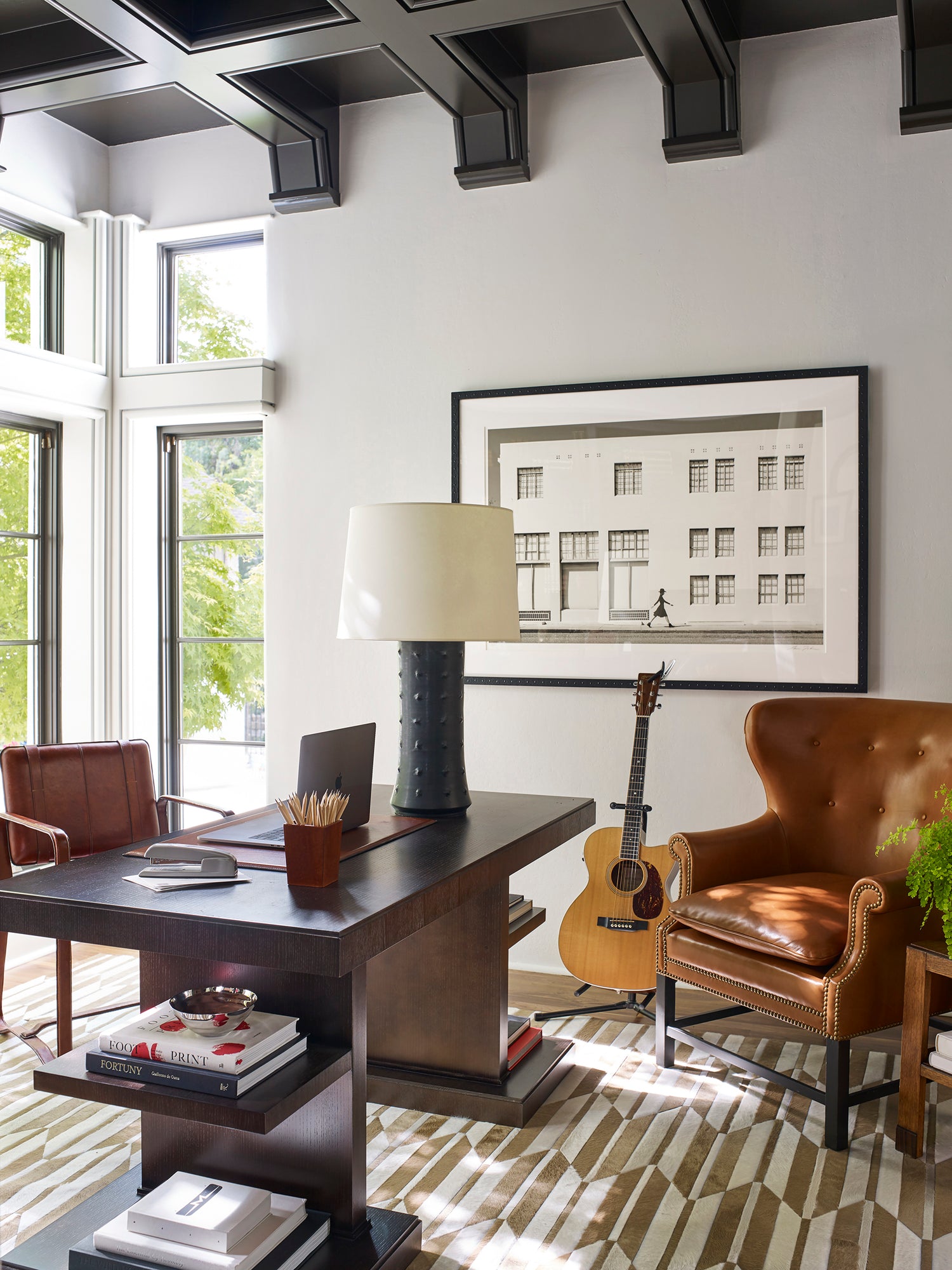 9/17
The new pedestal desk from Hickory was floated in the middle of the home office, atop a rug from Williams Sonoma and with a black lamp from Comerford Collection. Nearby, a black and white Thom Jackson photograph decorates the wall, and a custom leather wingback chair partners with a vintage wood table from 1stDibs.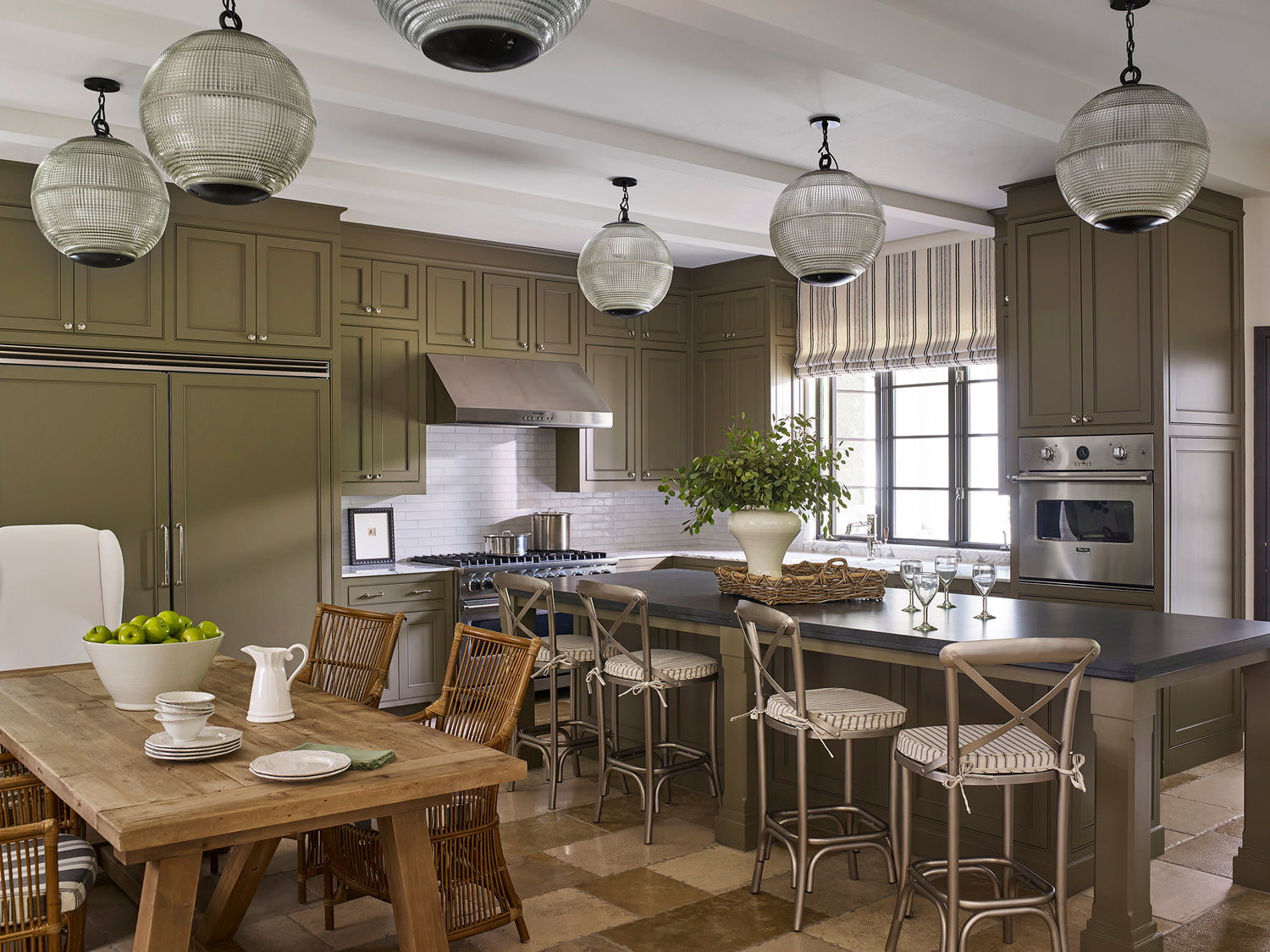 10/17
Removing a wall opened up and reoriented this kitchen to be the hearth of the home. We painted the new cabinets a loden green, and added the grid of vintage holophane lights from Paris. The table is Restoration Hardware, chairs are Grange in a Ralph Lauren Home stripe, Chairish wingbacks received new white Perennials slipcovers, and barstools are from Ballard.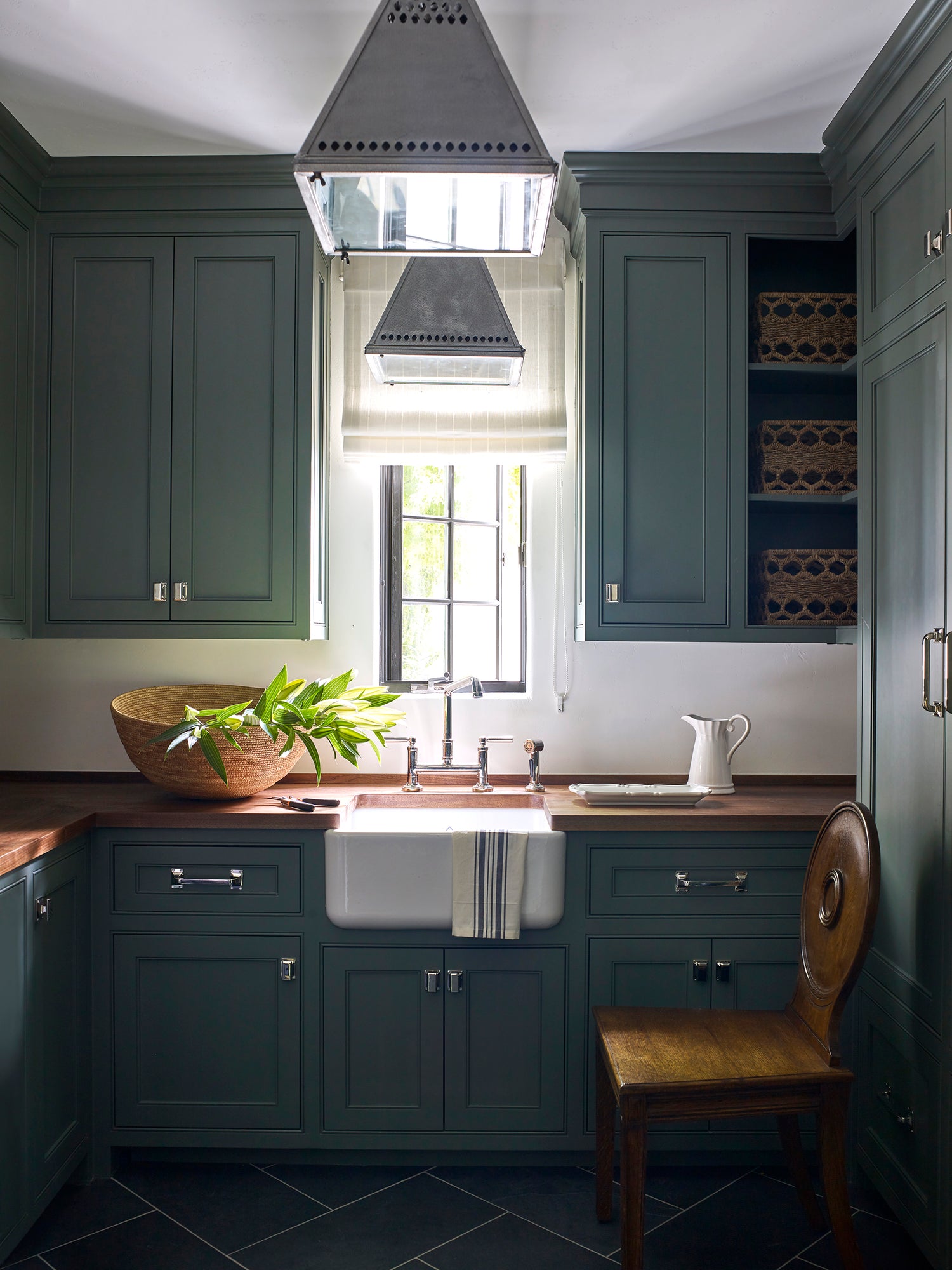 11/17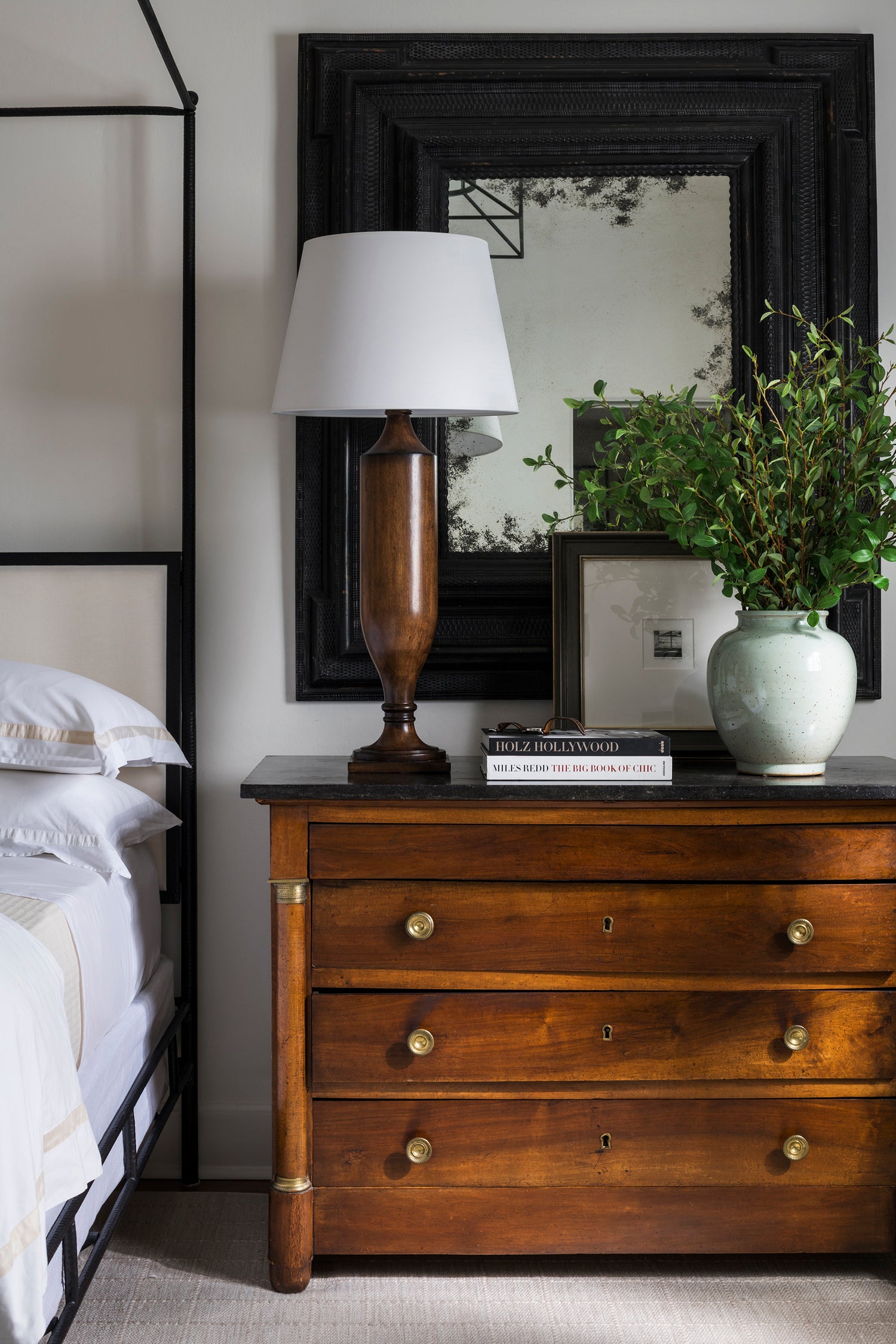 12/17
More than a nightstand, this antique French chest of drawers and mirror from Formations pair with a wood lamp from Barbara Cosgrove to create a room anchoring tableau. Art is Etsy, and vase is Aero.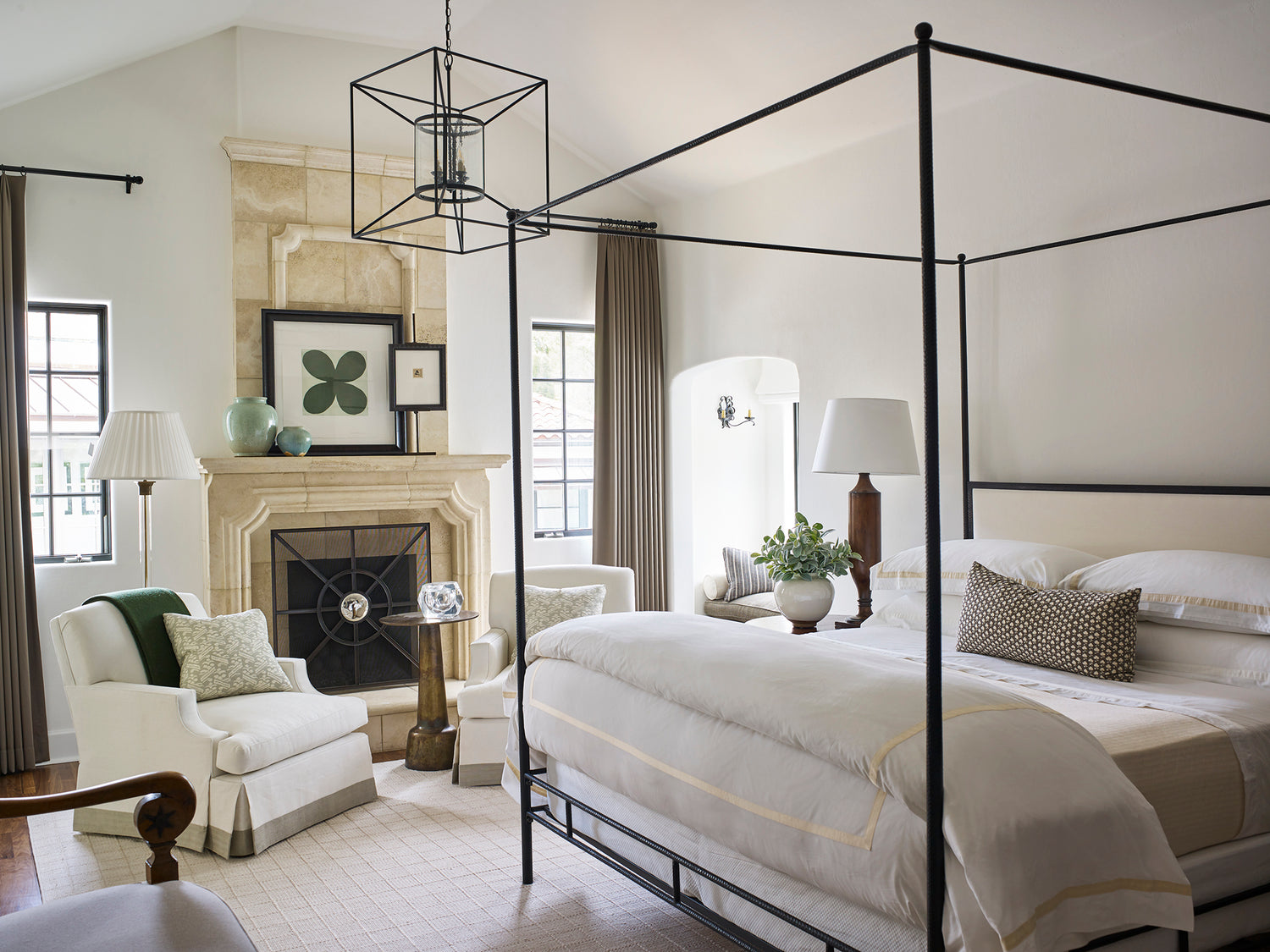 13/17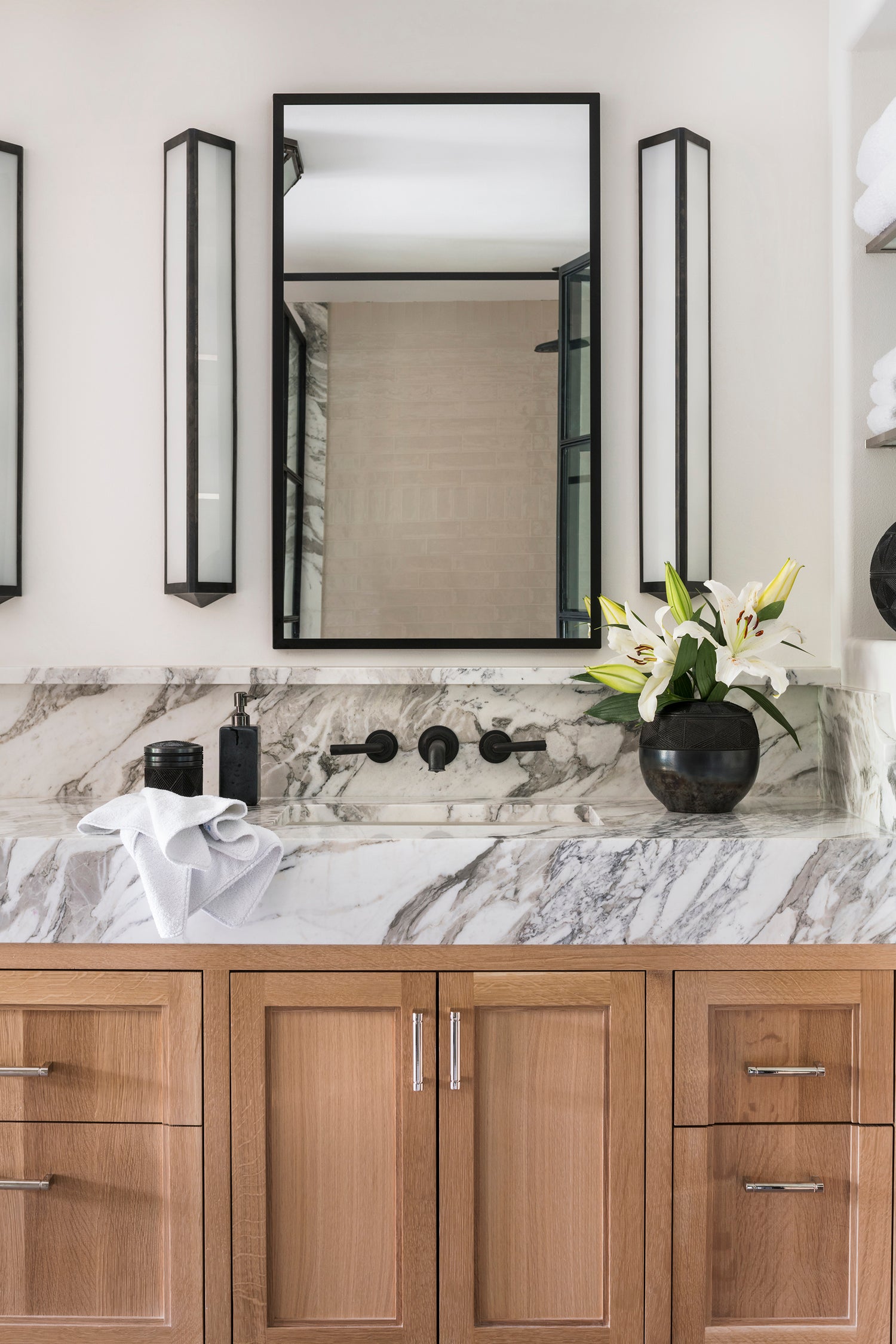 14/17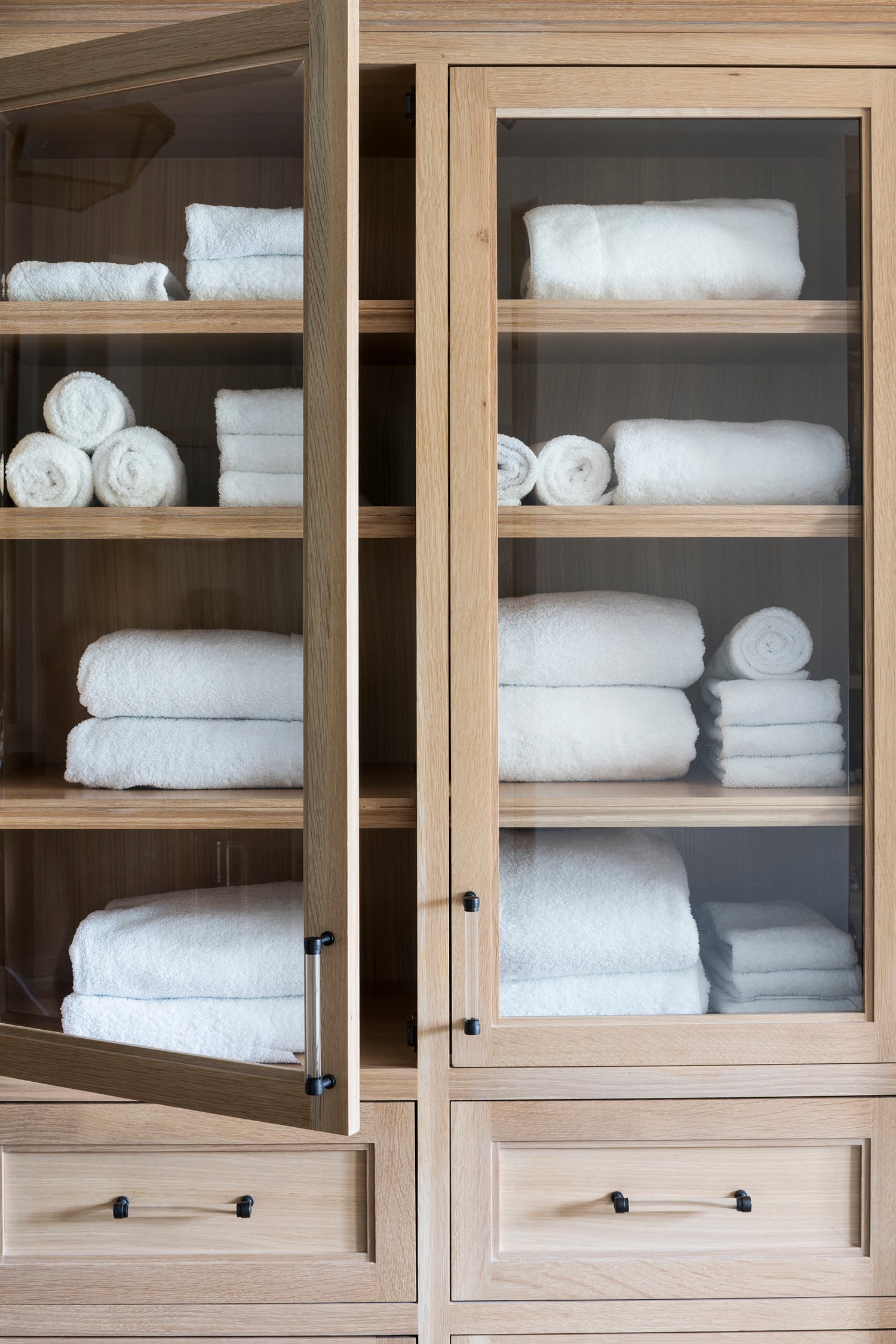 15/17
Say spaaaaa - the transition from bathroom to closet is decked with a custom built-in glass front linen cabinet.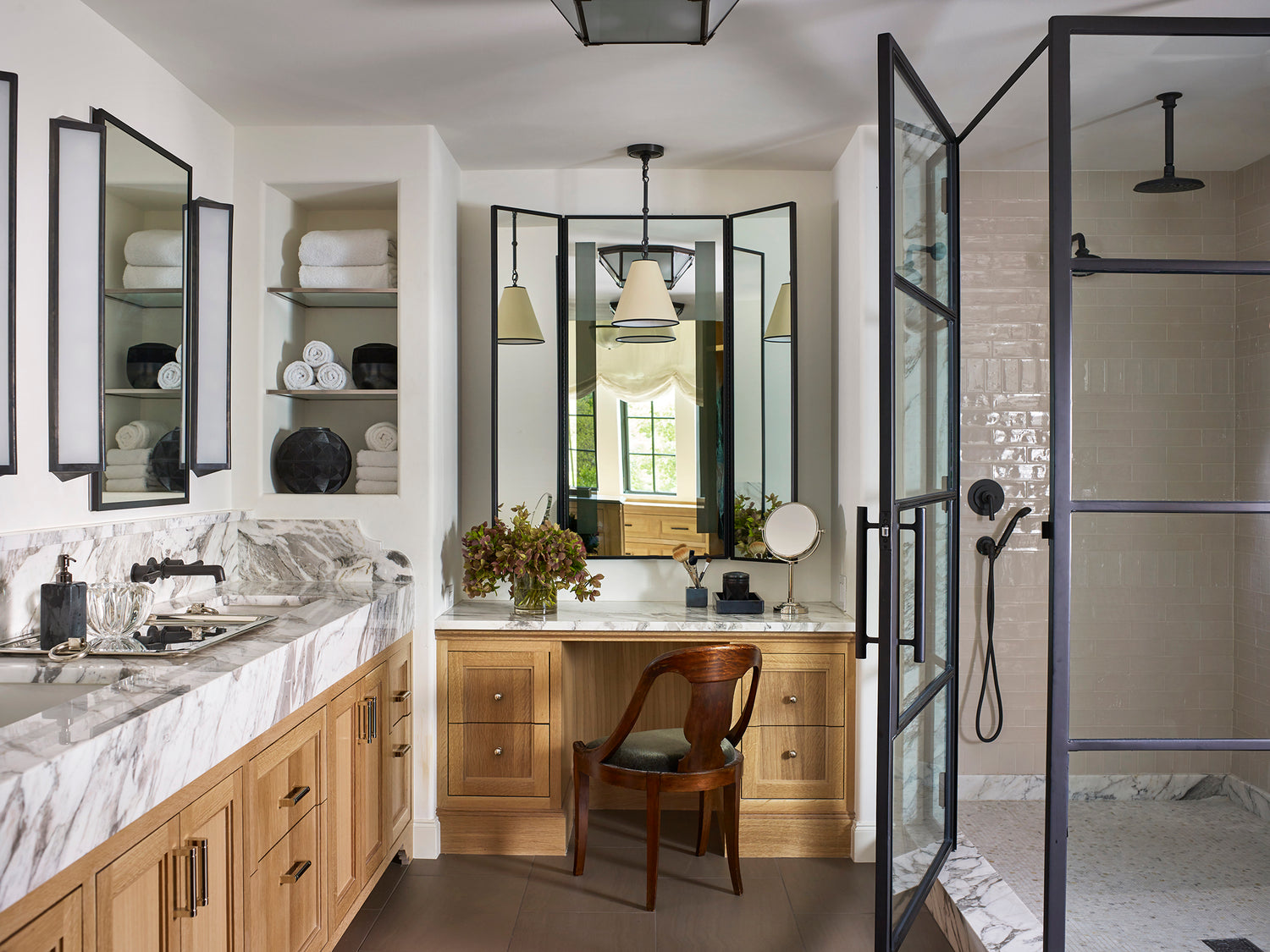 16/17
The primary bathroom is decked with his and her sinks in a custom white oak and Arabescato Vagli marble design. Sconces are Ralph Lauren, shower tile and fittings are all Waterworks. Custom glass doors; ceiling light by Visual Comfort.
And what about those round turret spaces? In the primary, we totally reconfigured the bath and the closets. New custom white oak millwork rings the walk-in closet, and his and her sinks in the more regularized bathroom received matching millwork as well. Downstairs, a custom curved sofa and round tufted ottoman were added to warm up the round family room.

By reconfiguring parts of the architecture, reupholstering old pieces, and reimagining vintage finds, we eased the transition from New Jersey to Texas for this favorite client by creating a cozy casita to kick off their boots in and call home.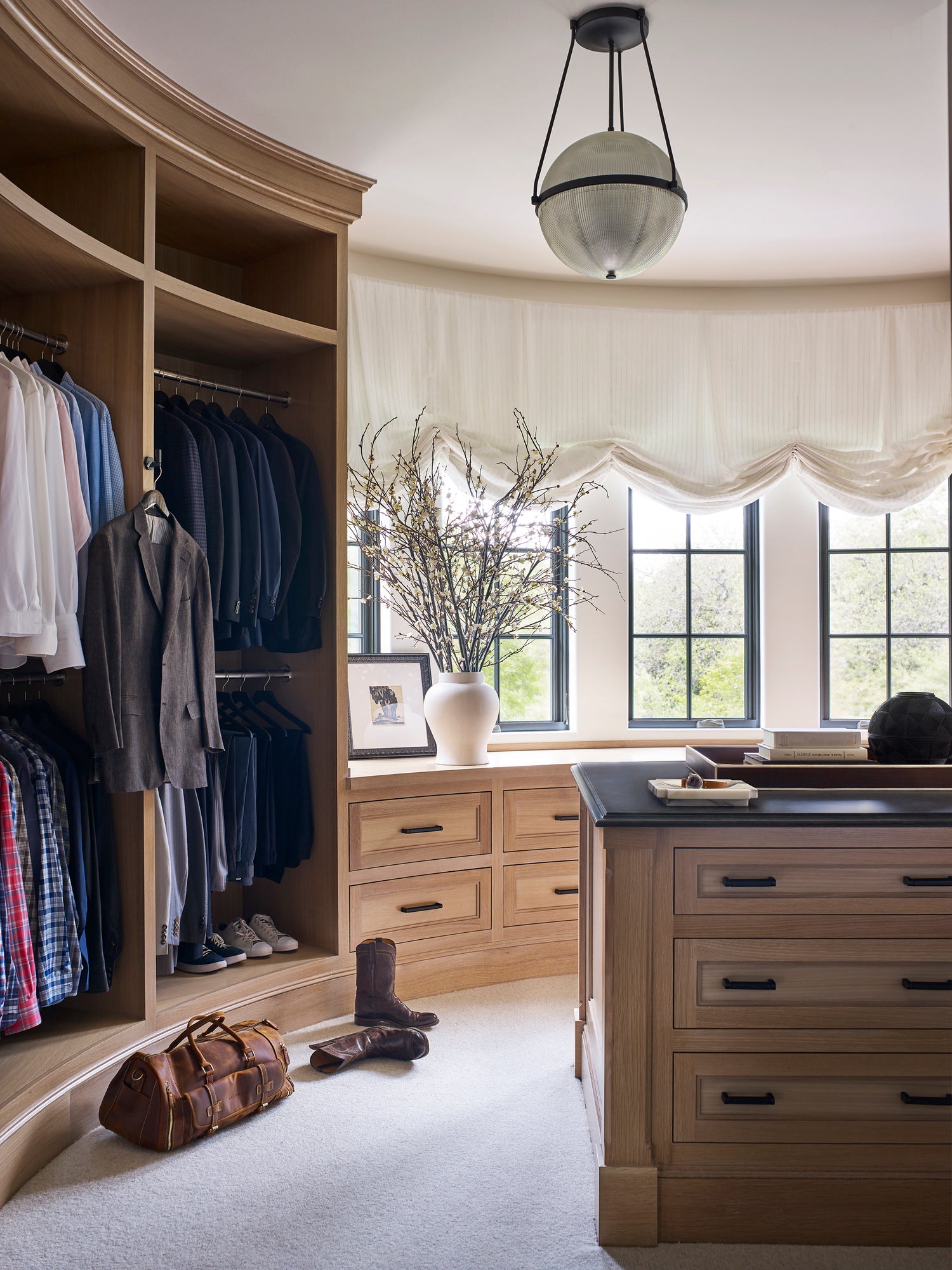 17/17
In the biggest construction move of the project, the round turret became a custom primary walk-in closet, complete with white oak millwork and automated shades. Light is Rejuvenation, vase is Ballard, and rug is by Misha Carpet.