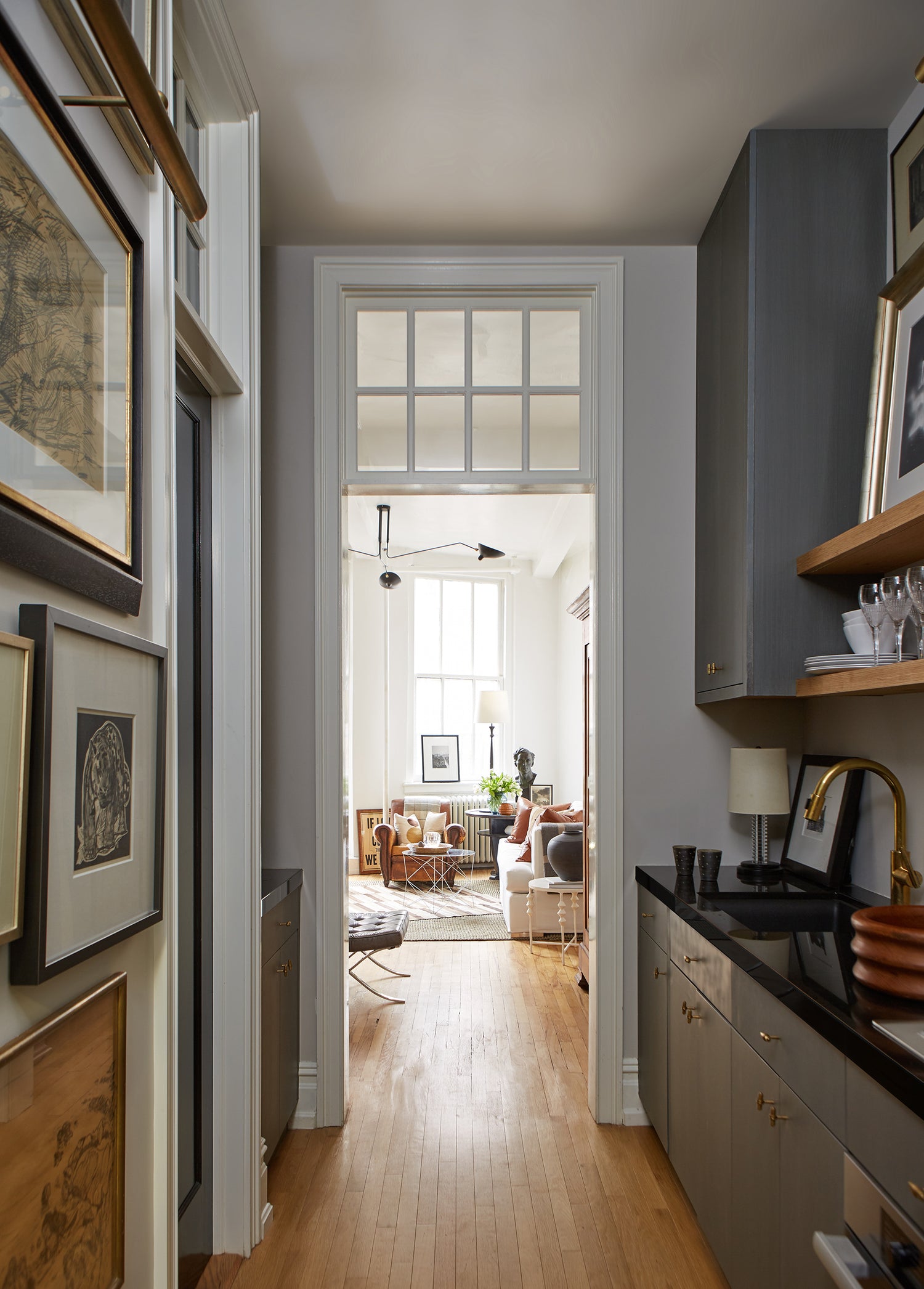 First impression: while you're walking directly into my kitchen, I wanted the view for guests to be oriented toward the windows. I relocated the front door and added a new transom opening from kitchen to living space, to let the light in. The galley kitchen became a gallery when I hung my collection of art from the Paris Flea market, ceiling to floor. 
HOUSE TOUR
Living Large (in small spaces)

My first New York apartment was a mashup of new, old, found and custom pieces for a bespoke and collected vibe.

PHOTOGRAPHY: REID ROLLS FOR DAN MAZZARINI
WRITTEN BY: DAN MAZZARINI
Sometimes a place just immediately feels like home. And for me, that happened  when I found my first rental apartment in Greenwich Village. I had lived in New York for seven years at that point, and was looking to make a move downtown. A Craig's List search turned up a tiny photo of a studio apartment with "tall ceilings." I sized it up and showed up first in line for the open house, with paperwork and deposit in hand. I walked in, looked around, turned to the broker and said "This is it! Let's go sign papers."

Fate intervened yet again when four years later, the apartment above me came for sale. It was a similar layout, but with the potential to be renovated to my own taste. Through a series of fortunate events I was able to make it mine very quickly, purchasing my first New York City apartment the same year I started BHDM. As a first time home owner, I was strapped for cash, so I set out to do the most judicious and impactful updates I could. 

Small space living calls for creative solutions and as much storage as possible. I also wanted to get as much light into the long, deep apartment as possible. I started with the most dramatic move, and relocated the front door. I made it on access with the windows, and in doing so created a long narrow galley kitchen with natural light. Because this was the first impression when you walked into the space, all appliances were hidden with panel fronts. A friendly vendor helped me with my custom cabinets, which combined open shelves with extra-tall closed cabinets that utilize every nook and cranny.
IF YOU HAPPEN TO BUY ANY OF THESE BEAUTIFUL THINGS, WE MAY MAKE A COMMISSION
I reoriented a walk-in closet and added new doors with transoms to match the existing perimeter window, which let in additional light. I kept the irregular texture of the walls, but refinished the floors and added new base and casing millwork - all scaled up for some extra drama.
IF YOU HAPPEN TO BUY ANY OF THESE BEAUTIFUL THINGS, WE MAY MAKE A COMMISSION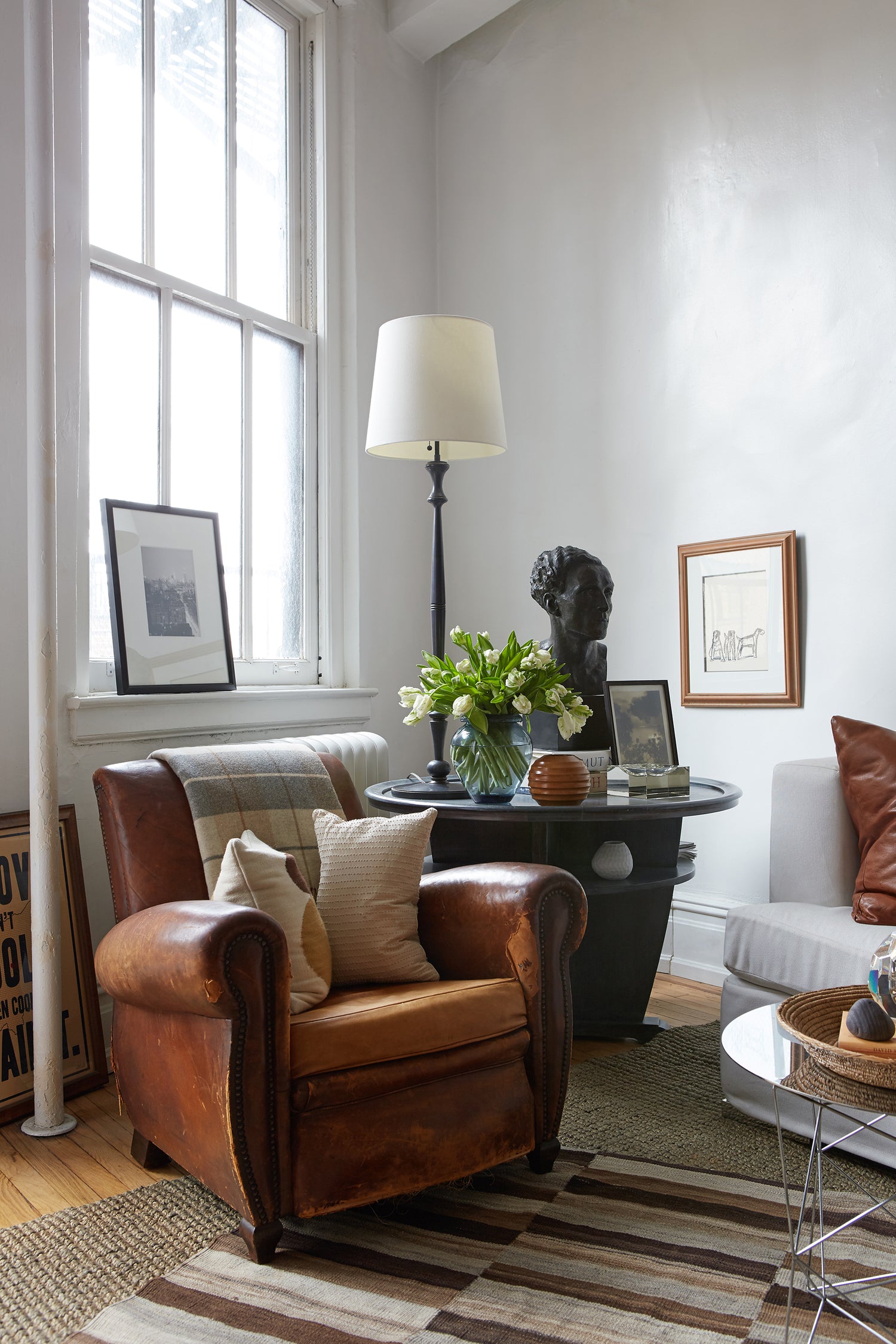 2/10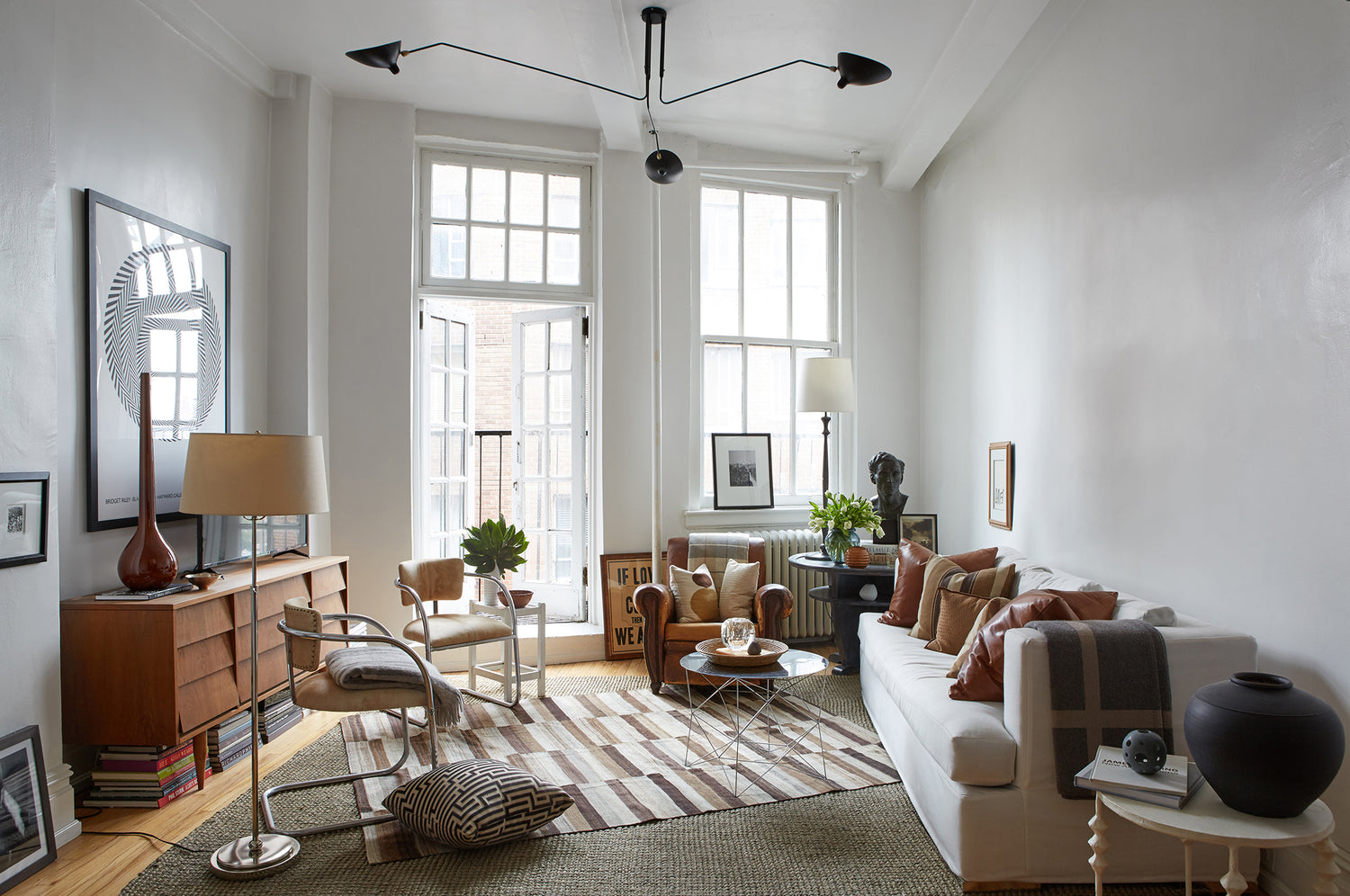 3/10
The best part of this apartment was the twelve foot ceiling height, and the southern light exposure. In the main part of the space, I decided to focus on living rather than trying to cram a dining space in too. It made for a more open and airy space, complete with a collection of things I love: a leather chair from Jean Marc Frey, a vintage dresser and tubular chairs from Ebay, a custom sofa I designed, and a rug from ABC Home.
As a designer longing to own his own home, I had collected furniture, art and objects through the years in anticipation of this moment. (Finally, my self-proclaimed status as a "fancy hoarder" would come in handy.) As a result, I bought very little, but planned meticulously where art and furniture would live to maximize the impact in my little studio. I layered pieces ceiling to floor in the kitchen entry to give all spaces a layered look.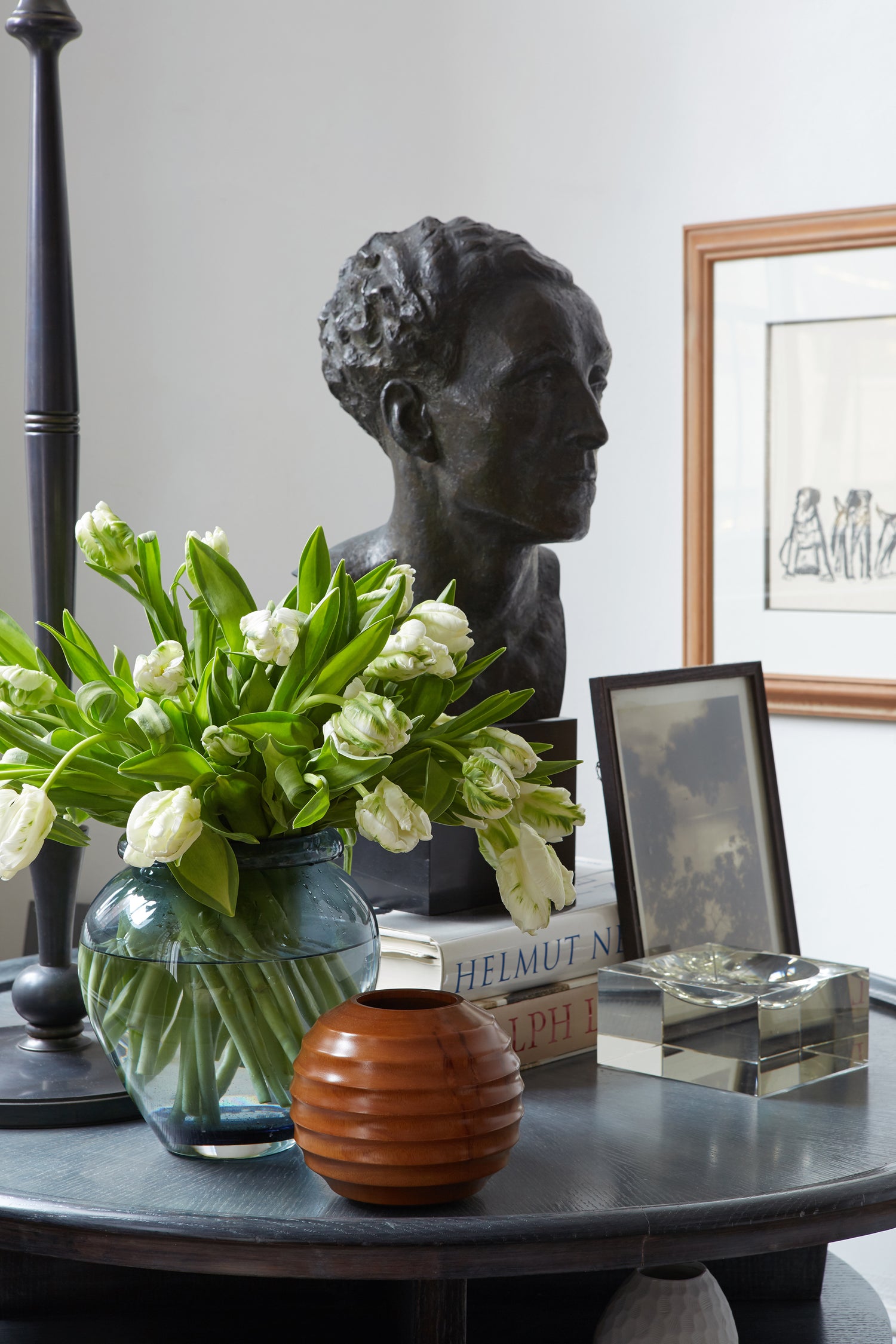 4/10
5/10
The reality of studio living is that your bed is in the same room as your living space. Here, I used my grandparents' end tables as a non-traditional nightstand. My bed (which was made every day…) was dressed in Libeco Linens. The black pottery was a prototype for my studio, the portrait is Jose Picayo from Robin Rice Gallery, and the tea set was from Grupo Habita hotels on a trip to Mexico City.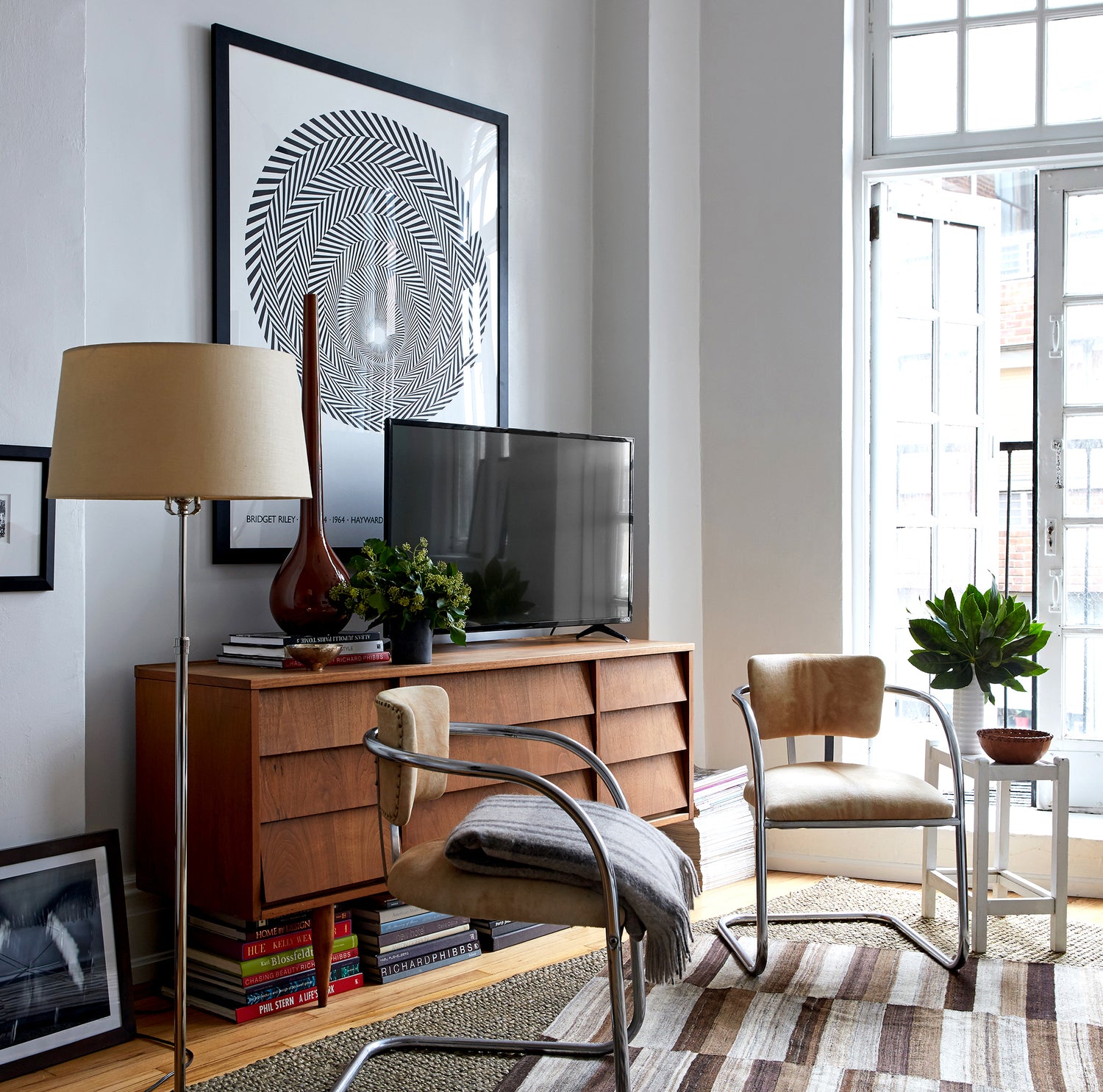 6/10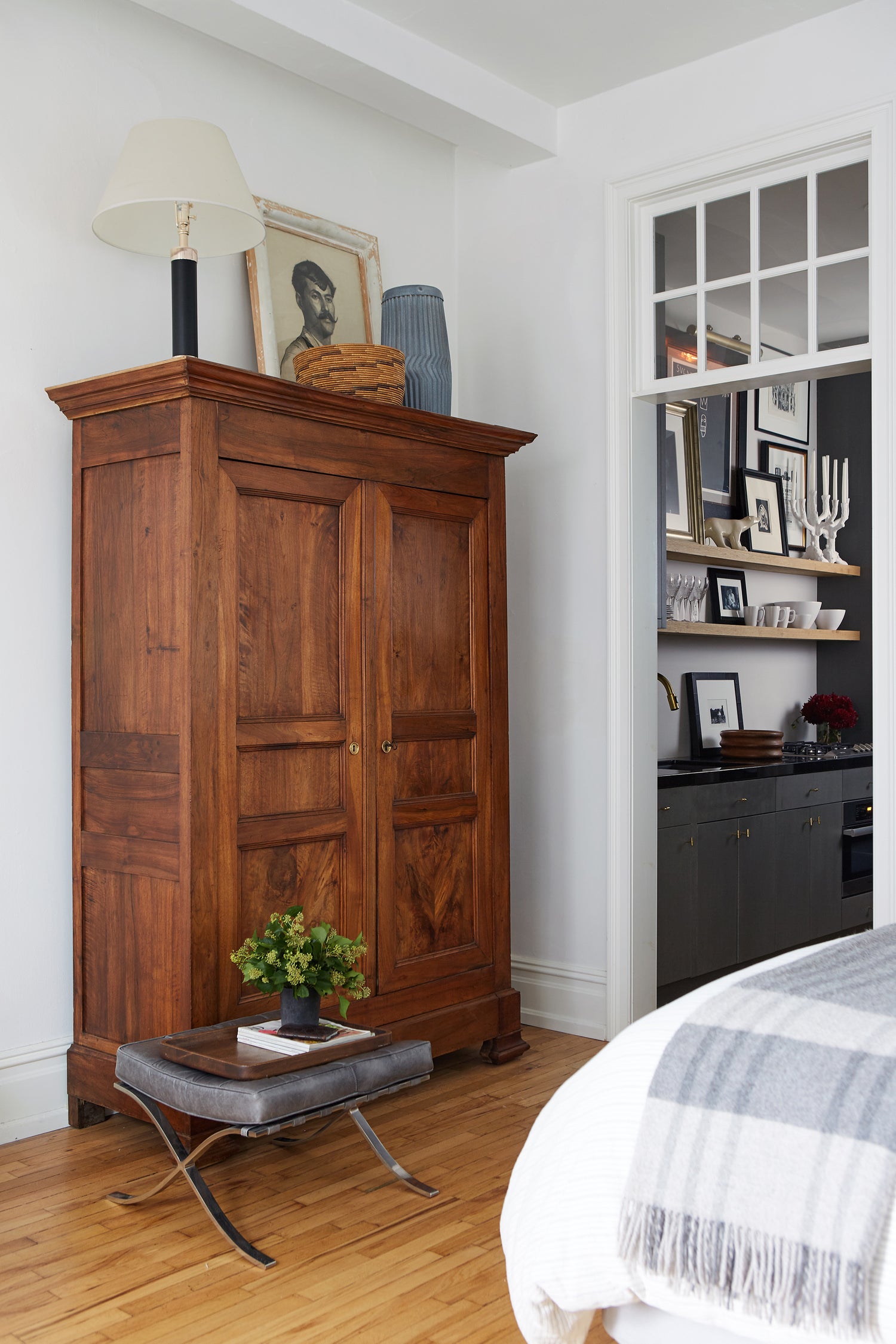 7/10
Even with a walk-in closet, there never seemed to be enough storage. This vintage wood cabinet was bought in France as an inventory item, but quickly made its way downtown. I layered the top with vintage art, a woven basket found at Brimfield, and a discarded and reupholstered Barcelona ottoman I found on a dog walk on the Upper East Side.
8/10
In small space living, spaces have to play multiple roles. My kitchen also became a gallery, a place to display art and objects. I designed white oak open shelves for kitchen and decorative items, and used picture lights to cast a soft glow. The counters are Black Absolute, the black sink is Kraus from Home Depot, and the faucet is Newport Brass.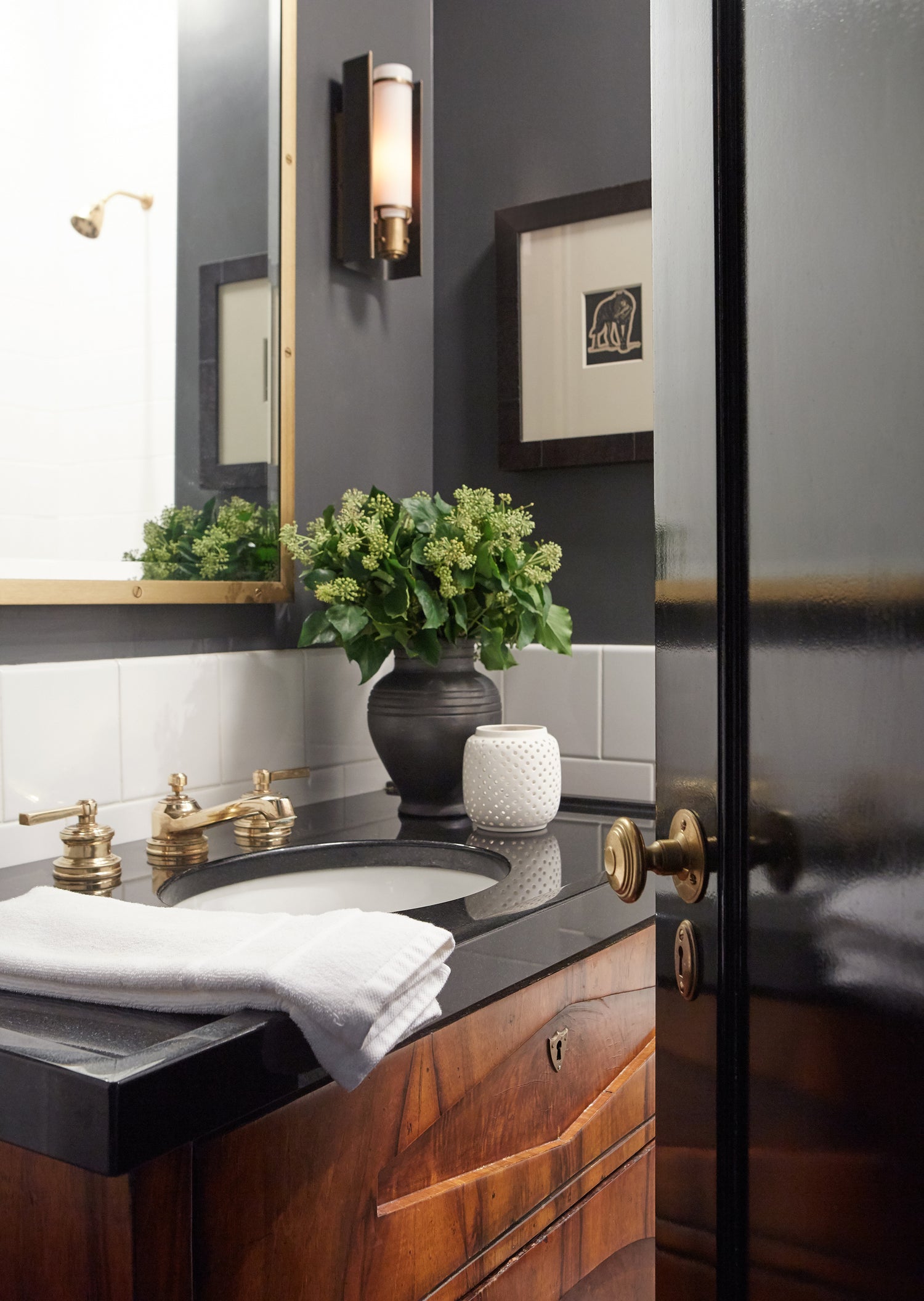 9/10
The bathroom was designed to accommodate an 11' H rainhead shower, inspired by a stay at the Park Hyatt Seoul. Instead of a buyout vanity, I converted a vintage Biedermeier chest to accommodate a sink. Above, I paired an extra-tall brass medicine cabinet with Thomas O'Brien sconces, for flattering light and extra storage.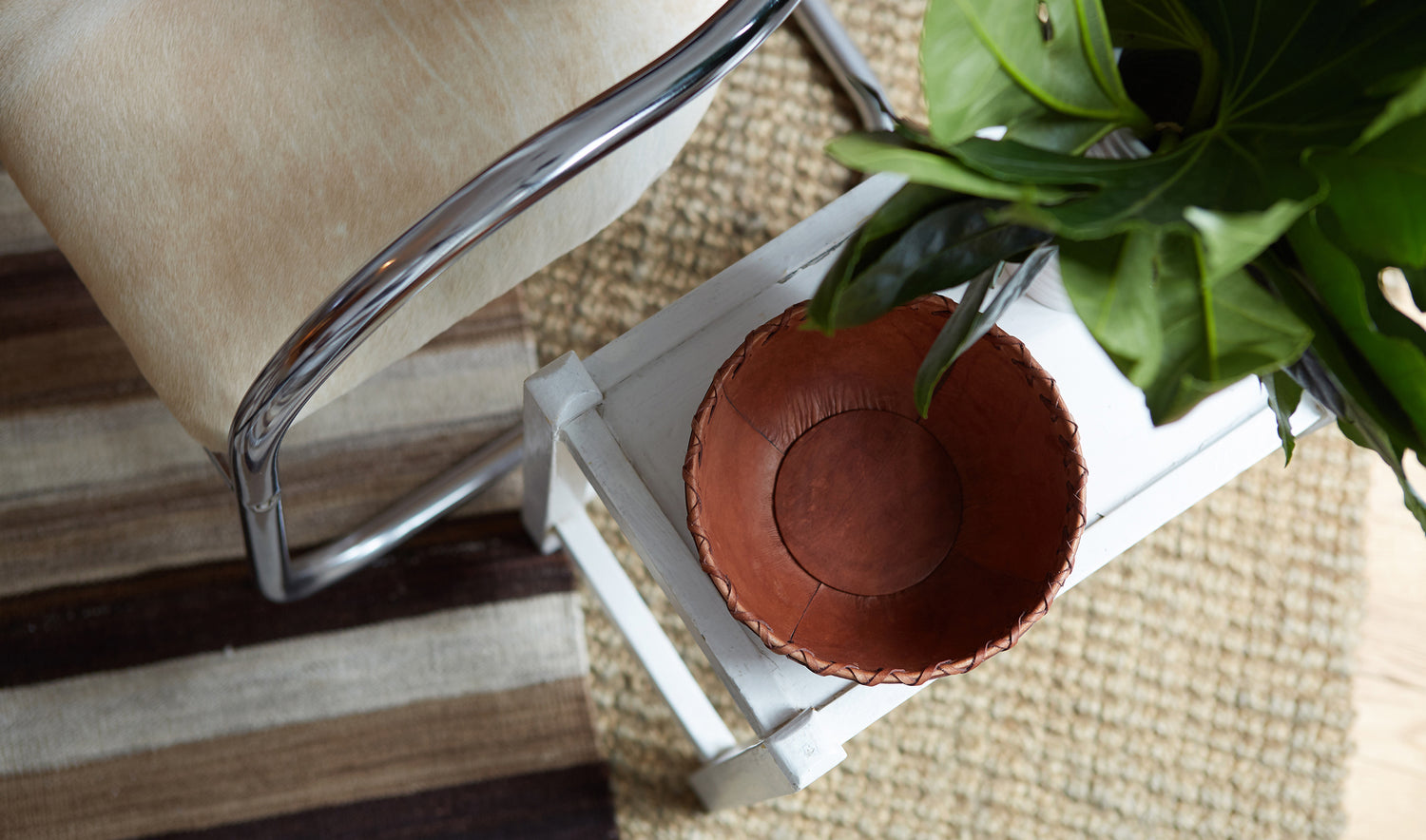 10/10
In real estate terms, my studio would be described as "cozy:" - code for small. But the reality is that it was more of a cozy feeling, the kind of place that instantly and always felt like home.
I loved entertaining and growing up there, and will always look back on 13th Street as my first real home with the fondest of memories.