Splatterware Everywhere!
Keep it chic

with this expressive, one-of-a-kind pattern that adds character to any product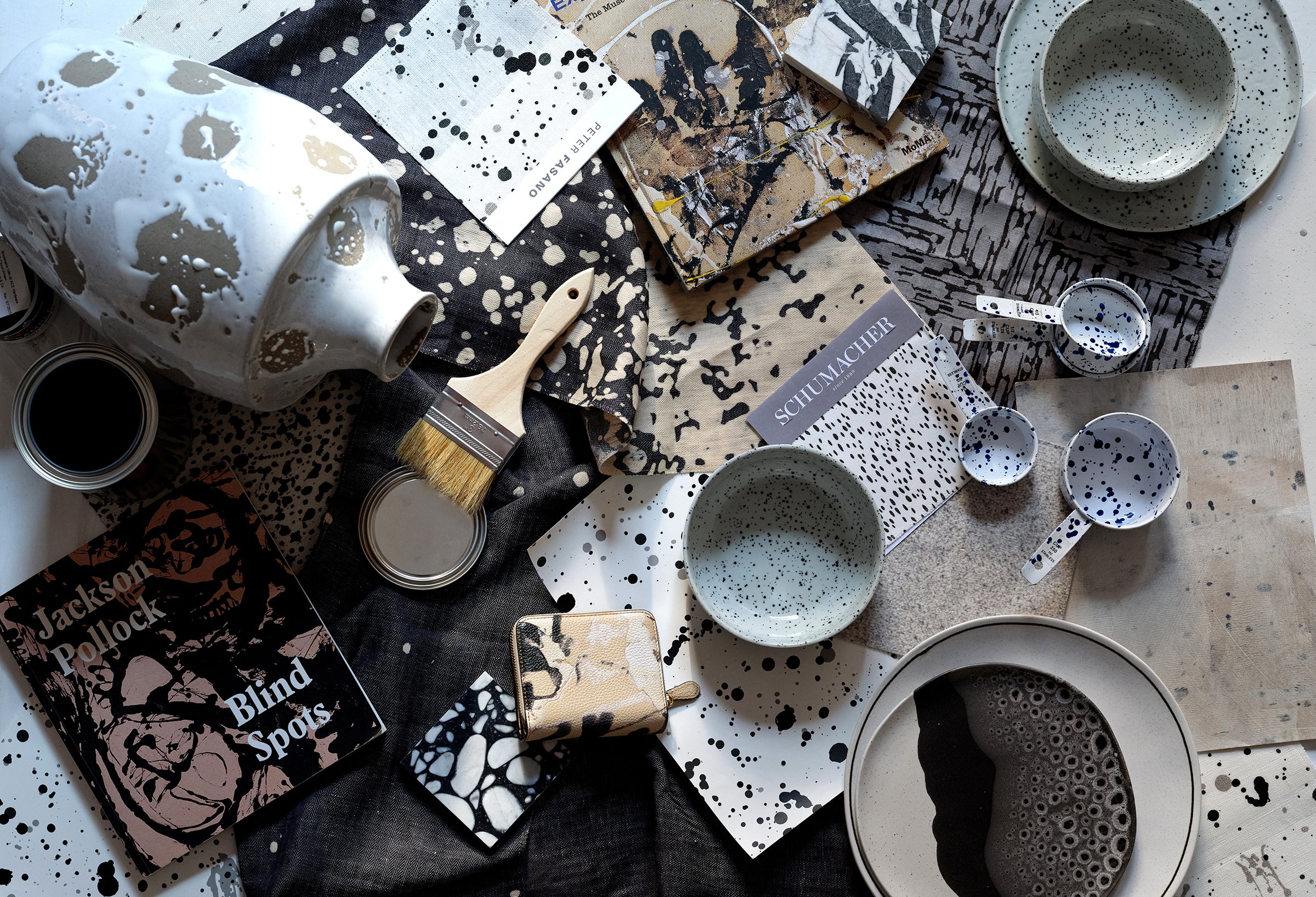 Dan Mazzarini with Ashley Tibbits
September 2022

Time for an art lesson!

In James Abbott McNeill Whistler's infamous painting, Nocturne in Black and Gold—The Falling Rocket, a nighttime firework display is broken down into its essence: Panels of deep, midnight blue layered with translucent smoke and sprays of yellow that trickle from the top of the composition to the bottom. It's a glorious, exciting, and before-its-time work of art for sure. However in 1877, just a couple years after he created this masterpiece, Whistler was described as "flinging a pot of paint in the public's face" by art critic John Ruskin. The artist sued Ruskin and won, and the case marked an important moment in history for creative expression—including the splattering, spraying, and even flinging of paint.

It's an interesting thing that the tactile, expressionist effect created by this kind of painting technique—which thrived in Mid Century New York with action painters like Franz Kline, Helen Frankenthaler, and most famously Jackson Pollock—was and still is considered by some to be devoid of skill. Random? Maybe. Energetic? Probably. But skilless? Absolutely not! There's an intention and method to mastering the splatter, and there are few better examples of this than splatterware.

According to Homes & Antiques, splatterware (flecked enamelware and ceramic pieces) can be traced back thousands of years to Minoan sponge-stippled ceramics, but it wasn't until 18th century England that the style hit its stride. "The first pieces were made by blowing colored glaze through a hollow pipe to create splattered designs," explains vintage collector Rose Heichelbech on Dusty Old Thing. "Late pieces use sponges, and later still transfers were used to create the desired effect."

Eventually, the trend landed here in America, most notably with Marlborough and Roseville pottery manufacturers. Vintage collectors hunt down these pieces, but if you prefer a more modern take on the splatter, you've got plenty to pick from. Check out Tory Burch's Spongewear Collection, Crow Canyon, Hodd House, West Elm, and March SF. While a more traditional black and white style is still going strong, there are now tons of different options to shop.

But why limit splatters to only your dining table or kitchen? Splattered clothing was repopularized last year (InStyle even called it "the new tie dye"!) in both runway and ready-to-wear collections by Dolce & Gabbana, Just Cavalli, Moschino, and Converse.

Of course there are other parts of your home that could benefit from a few strategically placed splatters. Think of splatterware in interiors as a way to jazz up the generic. I think one of the most fun ways to give this trend a whirl is through DIY. For example, I've taken a client's off-the-shelf linen drapes and splattered them myself in the backyard to make sort of a splattered ombre cuff. Voila! Custom drapery!

To try it yourself, upcycle some plain textiles in your home, like drapery or table linens. Channel your inner Pollock, and create your own work of art for the ultimate statement piece. Start by buying an extra large, pre-stretched canvas (Blick art has them online) and use some of that old paint that you have laying around. I've actually just used a wood paint stirrer to slap, slop, flick, and dribble paint on the canvas. There are no rules, but my biggest piece of advice is to include variety and be aware of how you're using negative space: The spaces you don't splatter can be just as impactful as the ones you do!

So what are you waiting for? Your newly energized space is only a few splatters away!