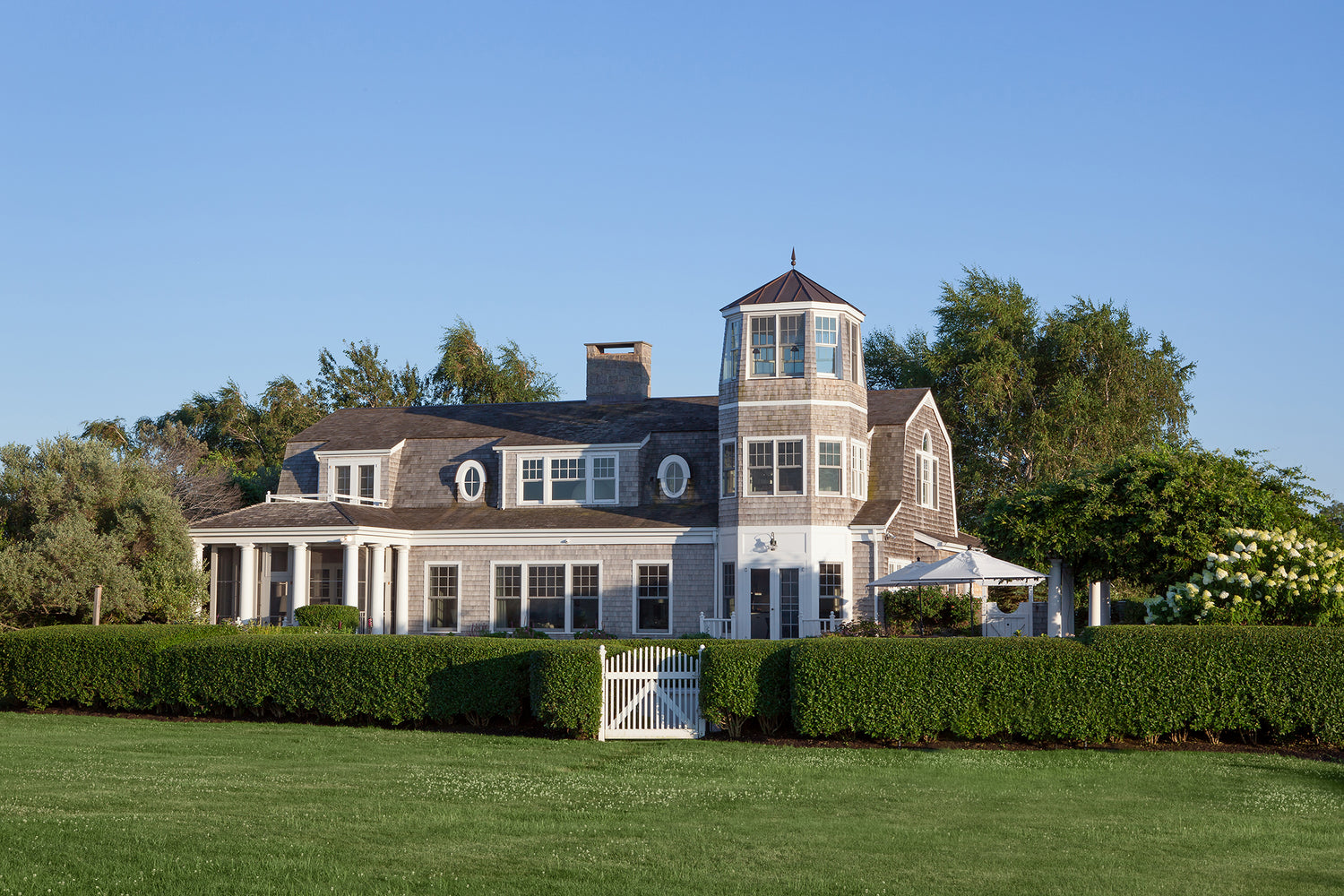 This classic shingle-style home in Orient, NY was spotted by my client on a beach walk. He approached the owner, off market, and the rest was history.
HOUSE TOUR
Black and White Beach House
A salty seaside getaway for hot summer days and cool breezy nights.
PHOTOGRAPHY: REID ROLLS FOR BHDM DESIGN
WRITTEN BY: DAN MAZZARINI
There's just something about a beach house. Movies like Beaches and all things Nancy Meyers have shaped a generation's worth of shore-loving designers. For me, black and white beach houses specifically are both chic and effortless. It's a palette that is timeless, but still modern, and allows for people, plants, art and the outdoors to take center stage.
IF YOU HAPPEN TO BUY ANY OF THESE BEAUTIFUL THINGS, WE MAY MAKE A COMMISSION
To me, a beach house is all about comfort – somewhere you don't have to worry about swimsuits or sand and that seamlessly blends the carefree essence of summer, with an understated elegance for entertaining.
We were approached by this amazing family to design their beach house in Orient, New York after they saw our work at a hotel in nearby Greenport. Pulling up to the house for the first time, I knew this would be a special project. The house was new-ish and  designed by an architect for his own family; shingle style, with classic bones, rooms oriented to the water, proportioned for entertaining. The interior was dated in parts, but it had a solid foundation for us to blitz and update in a few short months. On the walk through, I asked my client what style he was looking for, and his response was "Ralph Lauren, but more casual." Music to my ears.

We designed the home to hang as one palette – all black and white and neutrals, with the people and views taking center stage. We used a sort of "keep, toss, change" approach to things: keep the cabinet but paint them, toss the old countertops for new ones...etc. I always say that paint is your friend, and here it's particularly true: the whole home got a fresh coat of paint. Wide plank pine floors were painted a high-gloss white enamel, to reflect light; doors were painted high gloss black, for a bit of dramatic contrast. While most rooms were painted Benjamin Moore Super White (my favorite), the den became a moody retreat in Kendall Charcoal.

Meanwhile, we were busily sourcing and purchasing an entire house in about three months. We weren't precious about where items came from, but rather focused on durability, cost, look and availability. Upholstered furniture and custom pieces – like a 8' upholstered leather sofette and specially-sized coffee table – were ordered first. The home evolved to be a mix of off-the-shelf, custom, and semi-custom items that blended to feel special and bespoke for our client.

As install neared, we focused on art, accessories, bedding and final touches. I tapped artists Caitlin McGauley and Michael McGuire for custom black and white pieces; we shopped locally for antiques, lighting and accessories. Bedding was a mix of white and patterns, sourced judiciously from West Elm, Walmart (yes, Walmart!), Restoration Hardware, and more. A collection of bubble glass hurricanes were scored at nearby outlets, and accessories were picked up from Aero Studios. I even bought an 8' canoe from Etsy, which arrived at the install with this weird faux skin cladding it. So, we took it in the backyard and removed the material, and just used the frame as wall art. 

After five short months, and a four-day installation, the result was a black and white beach house perfect for entertaining. It is casual enough to minimize worry – white Perennial fabric on the sofas were tested with red wine on the first day! - and timeless enough that even five years later it still feels as fresh and easy breezy as the day we welcomed our client home. 
IF YOU HAPPEN TO BUY ANY OF THESE BEAUTIFUL THINGS, WE MAY MAKE A COMMISSION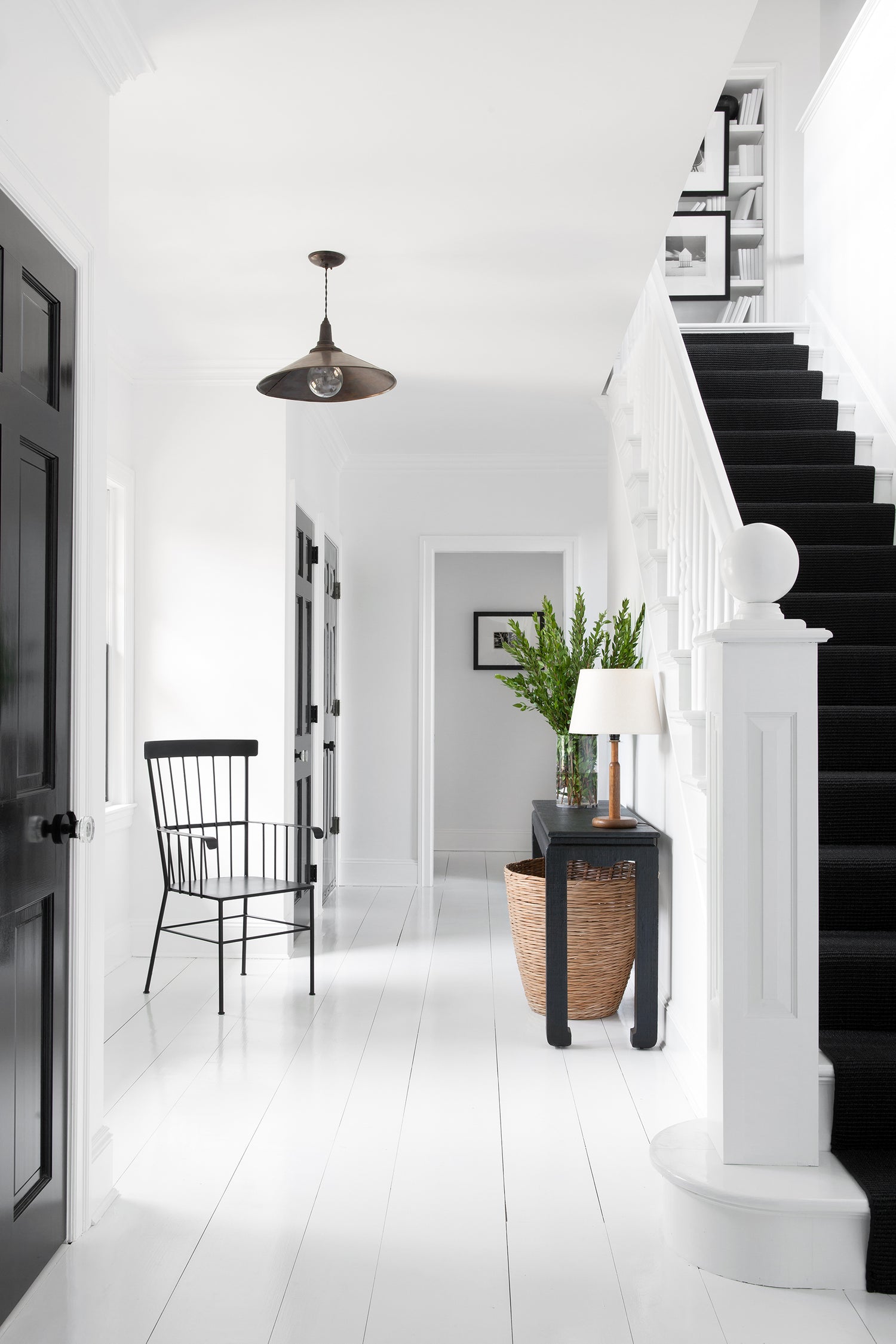 2/14
In this entry, light and lovely was the rule: somewhere to take off your shoes, drop your keys (and your shoulders) and to say welcome. White glossy floors are a fav: Sherwin Williams Armorseal Rexthane. Black doors are painted in Hollandlac from Fine Paints of Europe, with Emtek hardware. Stair runner is a black sisal from Misha carpet. Vintage pieces like the table from Beall and Bell and lamp from Jon Howell Antiques. Mix with new: the metal chair is from Terrain and the basket is from Seaport Flowers in Brooklyn.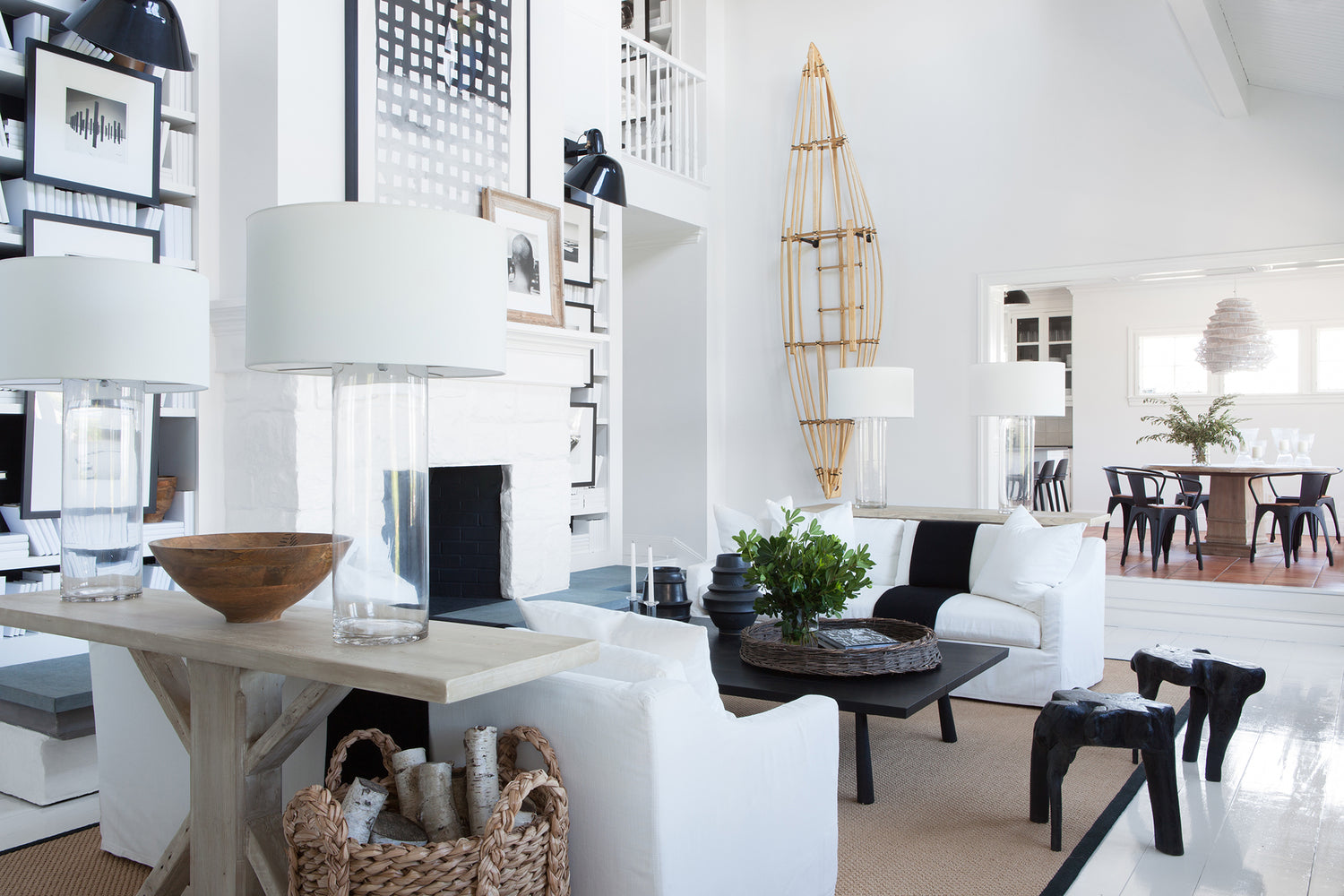 3/14
While most rooms were painted Benjamin Moore Super White (my favorite), the den became a moody retreat in Kendall Charcoal.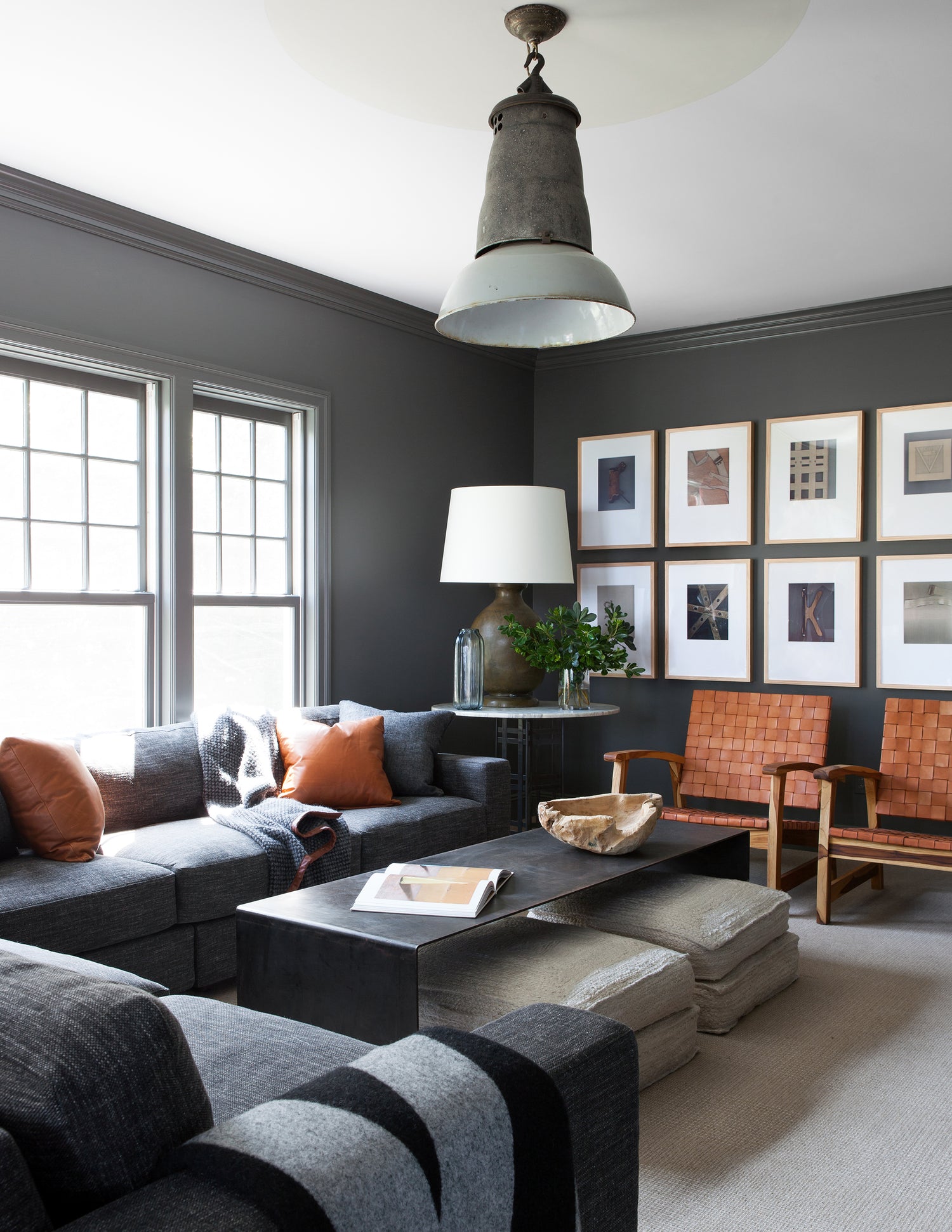 4/14
To add a base note to the otherwise all-white house, we painted the den Kendall Charcoal by Benjamin Moore (and matched the trim in the same dark color). Furnishings are a mix of old - vintage ceiling light and corner table by City Foundry - and new - like the woven leather chairs from Bobo Intriguing Objects. We designed the custom metal waterfall coffee table and the sofa is a buyout sectional from West Elm. Leather pillows were custom and the blanket is by Nordic Knots. Lamp is vintage from local Beall and Bell, and the art is a DIY in Blick frames.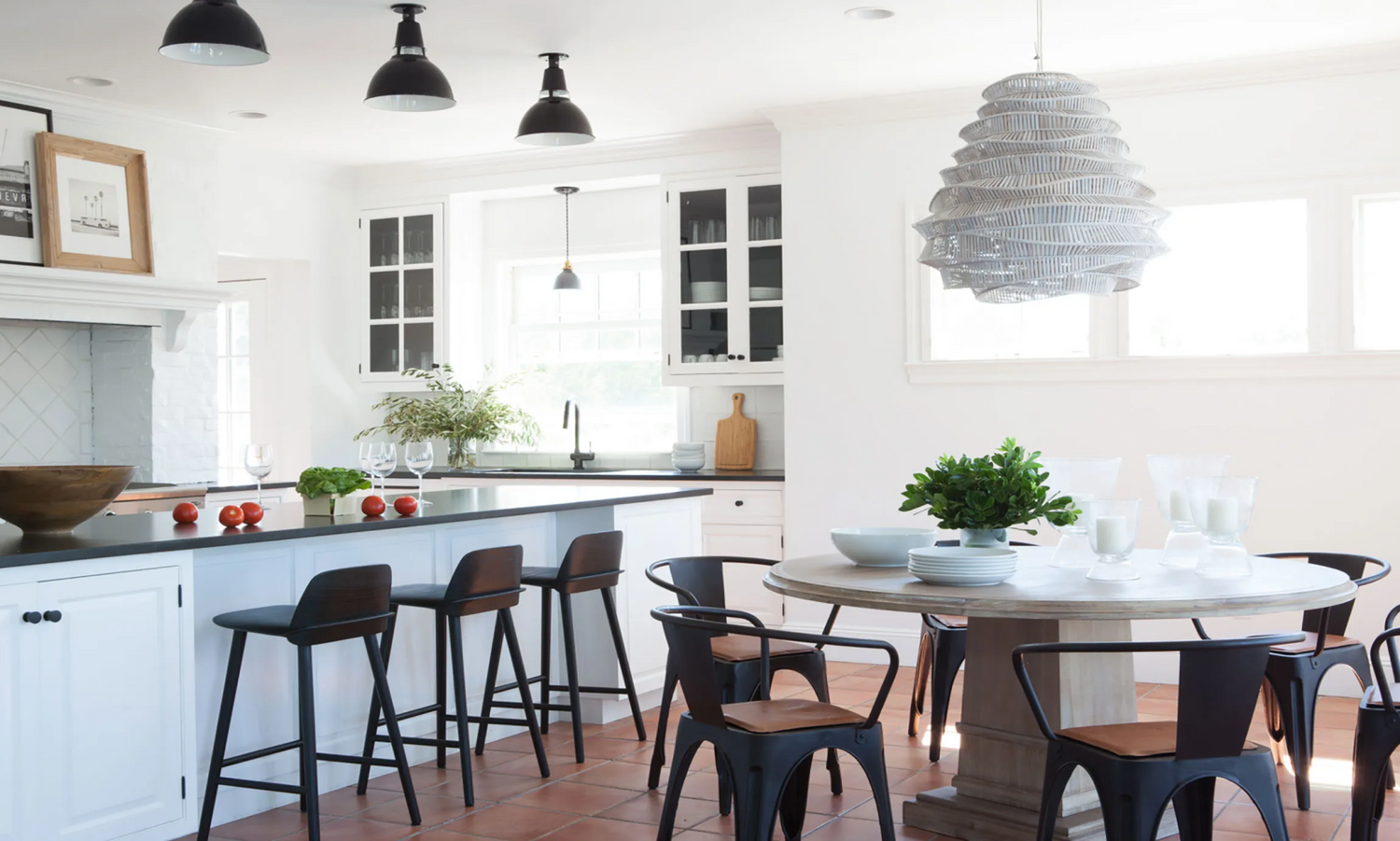 5/14
6/14
We breathed new life into the upstairs hallway by adding a leather bench cushion and pillows to a window seat. And, a little drama to built-in bookshelves, by adding art overtop, once styled. No runner here - just glorious, glossy white floors, to reflect the light of the North Fork. Beyond, a vintage table from Beall & Bell pairs with an antique mirror from Laurin Copen, and are styled with some sculptural preserved moss balls.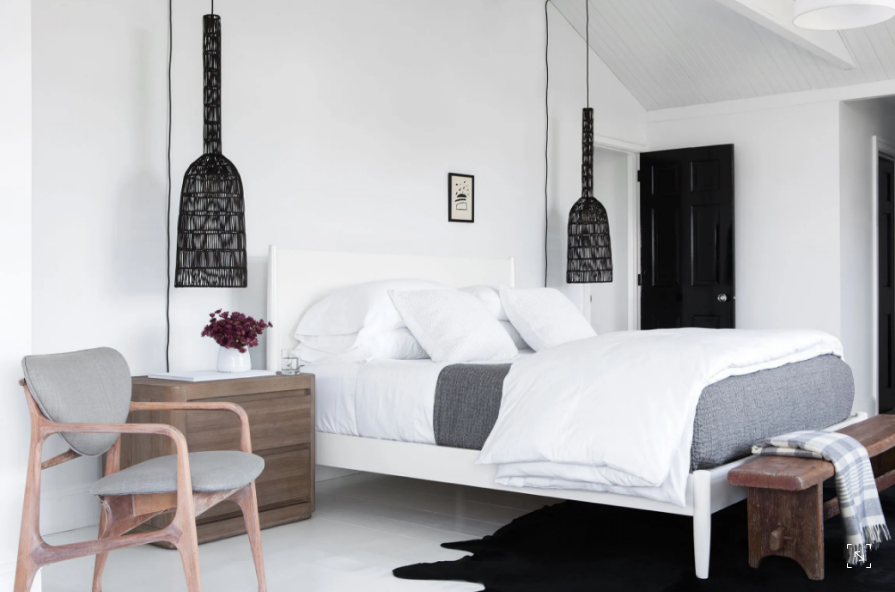 7/14
In the primary, we kept it simple - black and white, with an airy vibe. Open, woven pendant lights from Home Stories leave plenty of room on oversized nightstands from Restoration Hardware. The simple bed from West Elm is footed with a vintage bench from Holler & Squall. The vintage chair was reupholstered in Holly Hunt textiles. The small art print (I call it the hamburger) hung off-center and irregularly-shaped hide rug add an unexpected touch.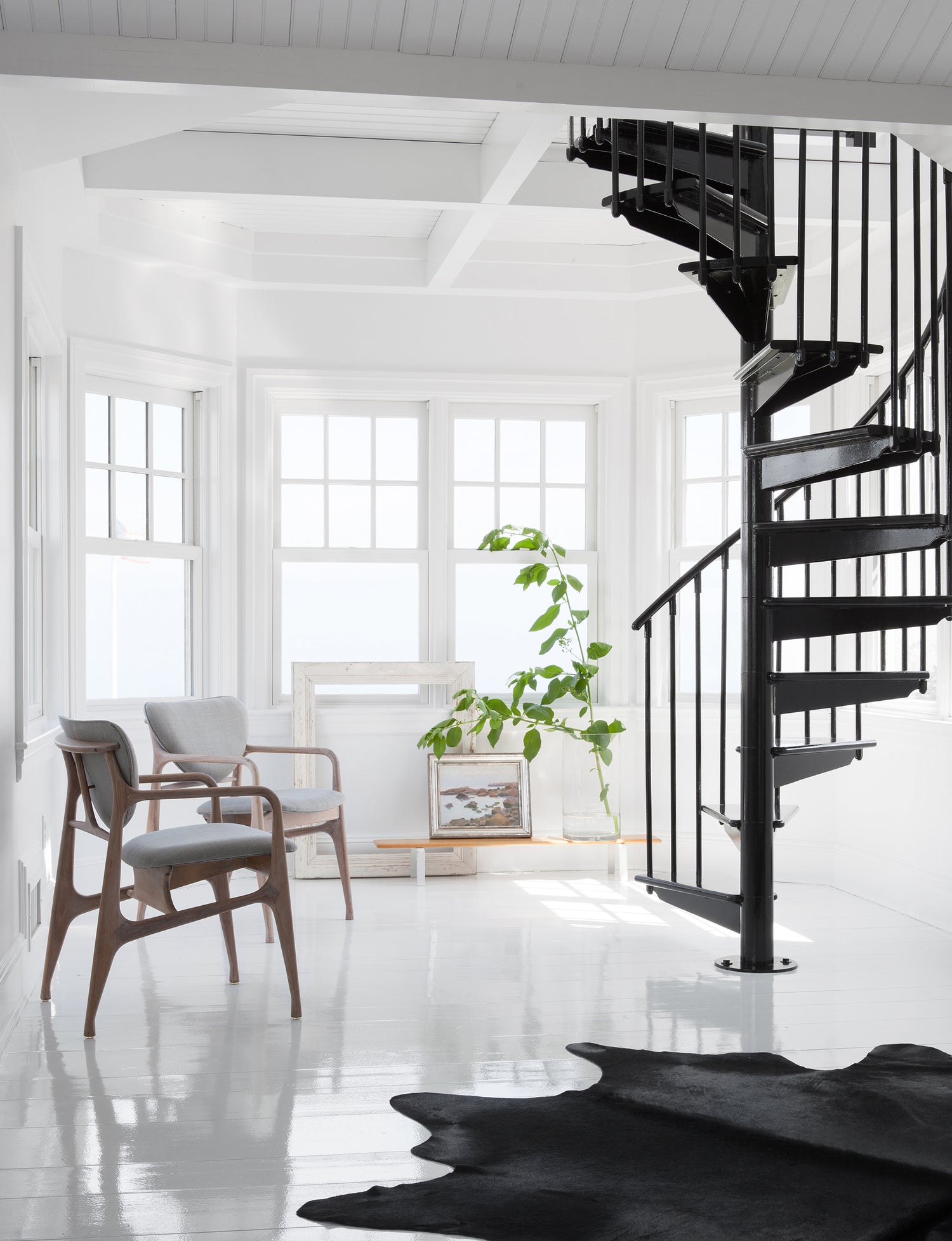 8/14
Glossy white floors reflect the light of the Long Island Sound. Here, a black circular stair is echoed in a black hide. The chairs are vintage, reupholstered in Holly Hunt "French Press". The bench at the window is vintage from Amsterdam Modern with art from Laurin Copen Antiques, and vintage frame is from the Paris Flea Market.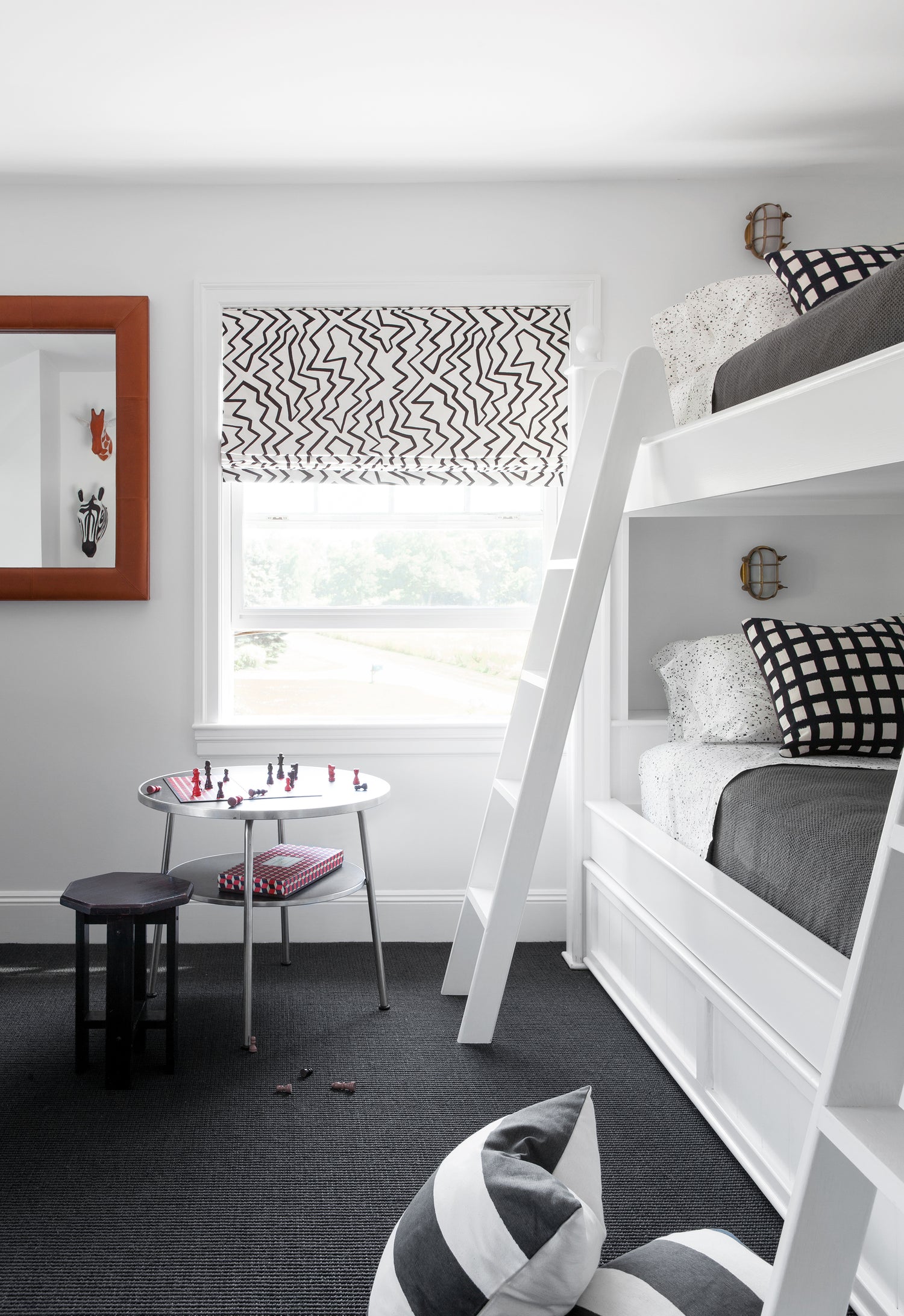 9/14
This house was meant for entertaining, and that means plenty of room for kids. Four sets of bunk beds (that's eight beds) are stashed throughout - here, we jazz them up with a mix of bedding, including West Elm splatter-inspired sheets, Faribault Woolen Mills blanket, and pillows in from Etsy. Custom Roman shade in Brunschwig & Fils  "Staccato linen"; the rug is Misha carpet, the vintage table is vintage from Amsterdam Modern, and the stool was a local vintage score.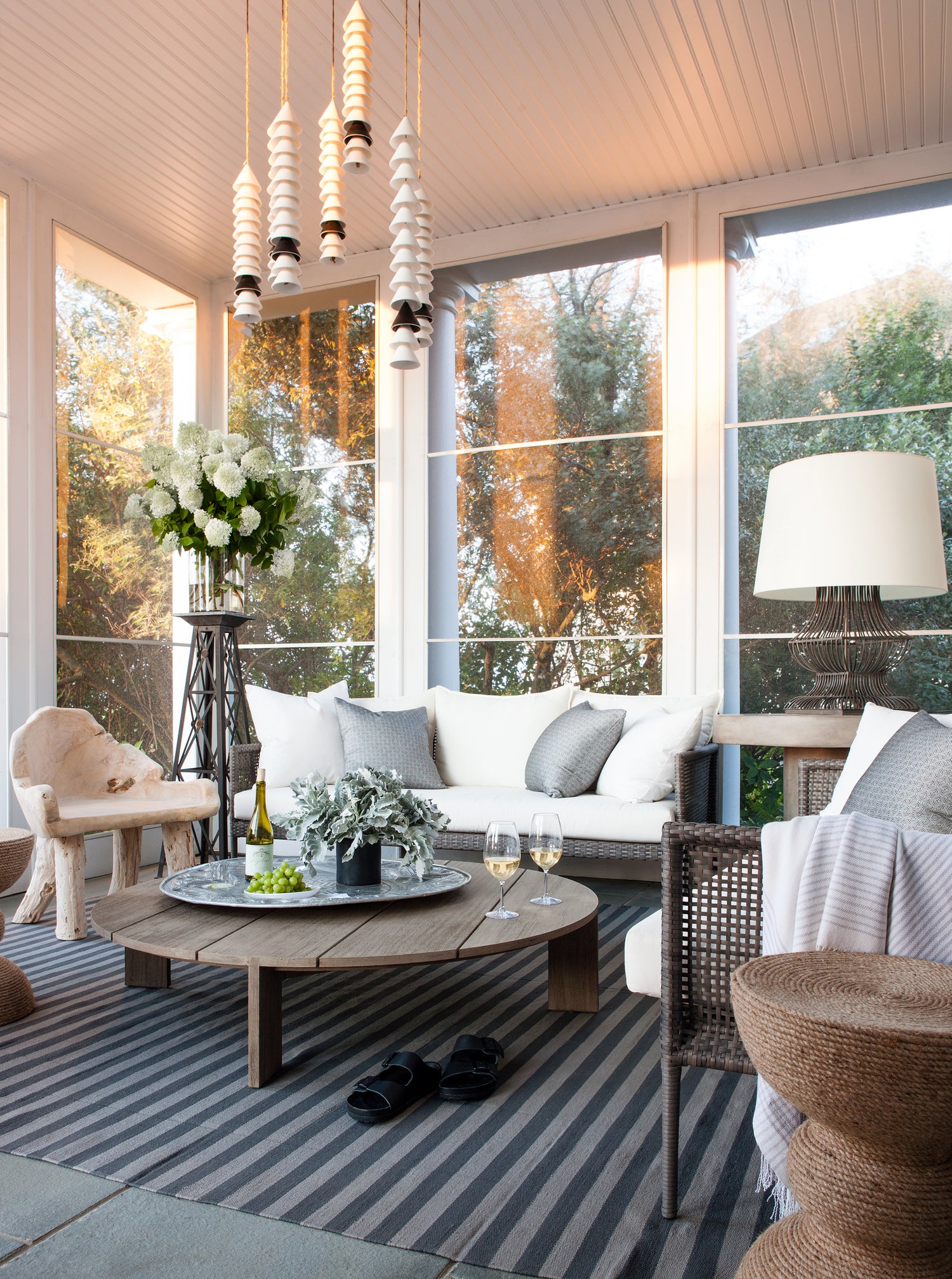 10/14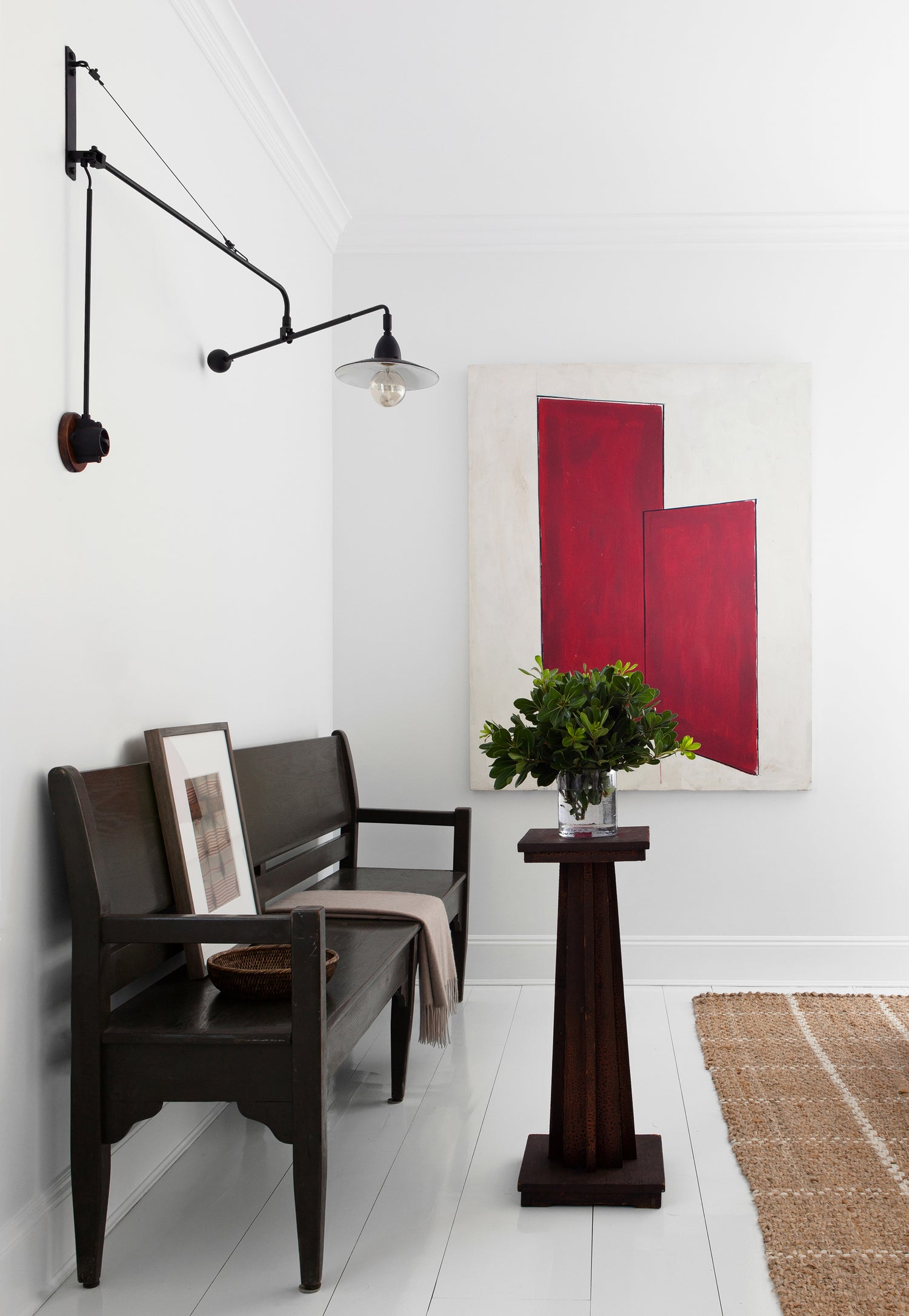 11/14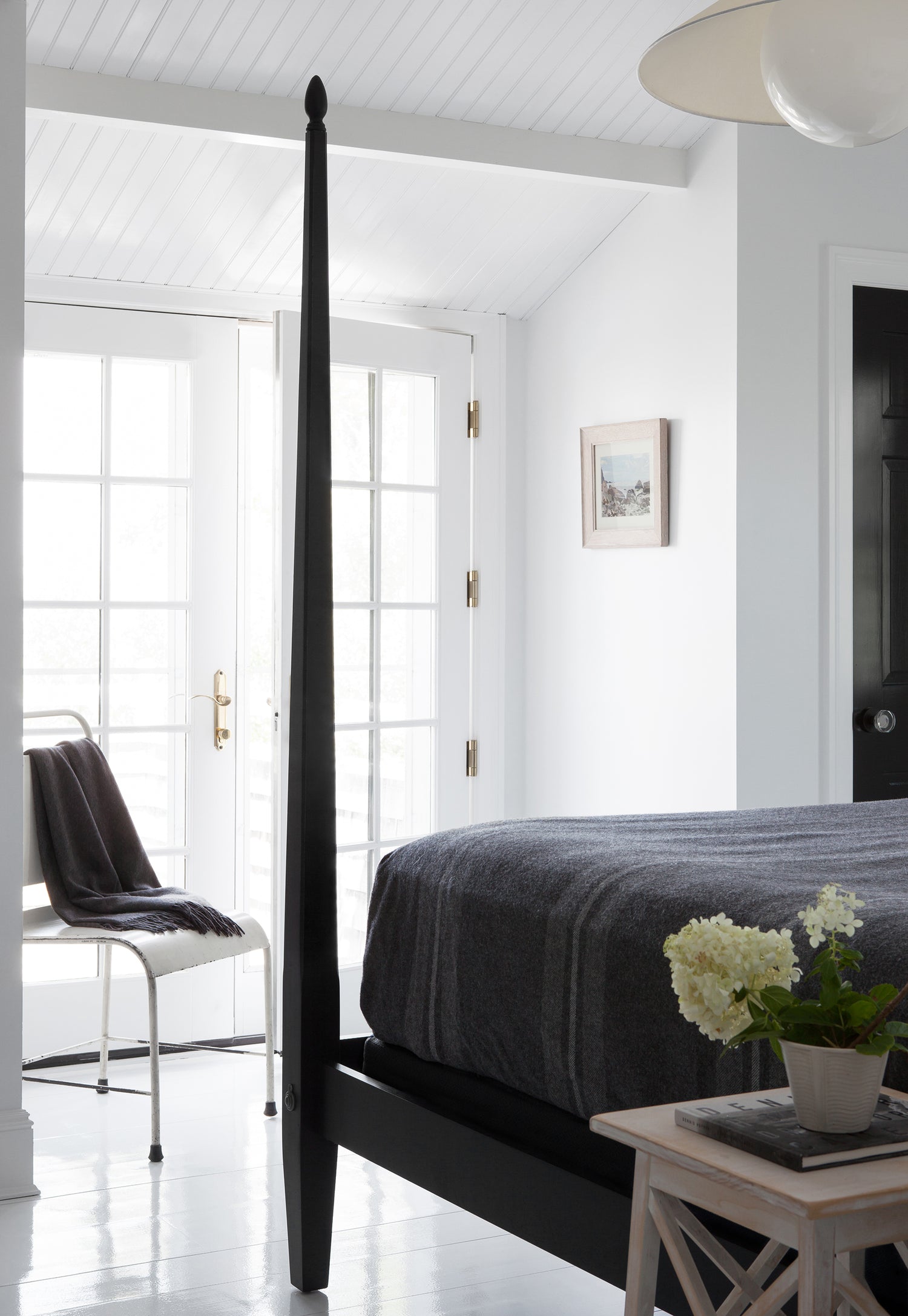 12/14
A guest room as well appointed as a primary? Why not. Here, guests can lay in bed and see the water beyond. This queen poster is from Ethan Allen, with trestle end tables from 1stDibs. The ceiling light is from Matter Matters, art from Laurin Copen antiques, and sweet little chair from Etsy.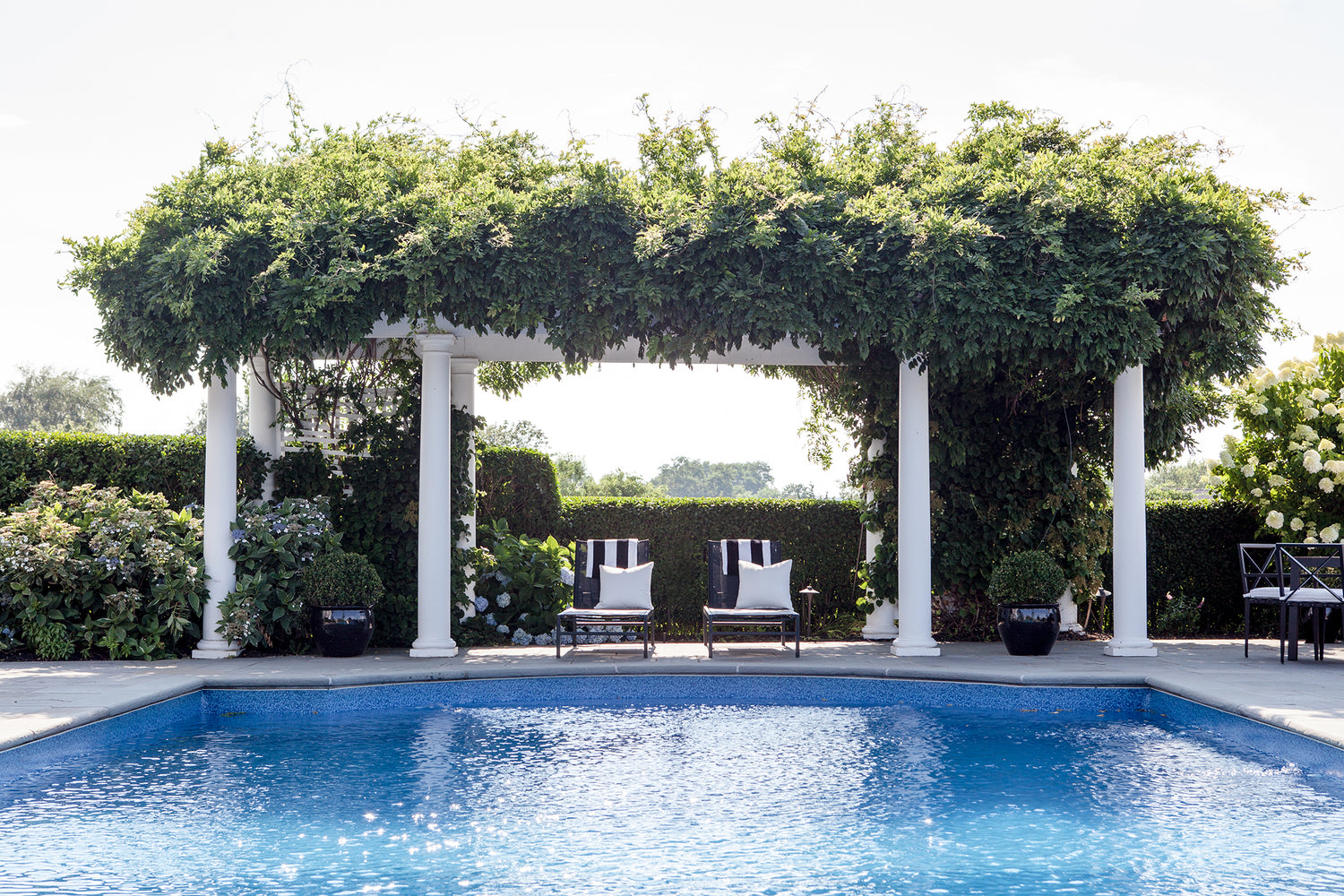 13/14
Dive on in! The deep end of the backyard pool is shaded by a Wisteria-clad trellis. Lounge chairs are by CB2, with towels by Pottery Barn.
From white glossy floors to cabana stripes, splatterware to art and objects, #blackandwhite is always right when it comes to a beach house, and inspires year round "it's still summer" vibes.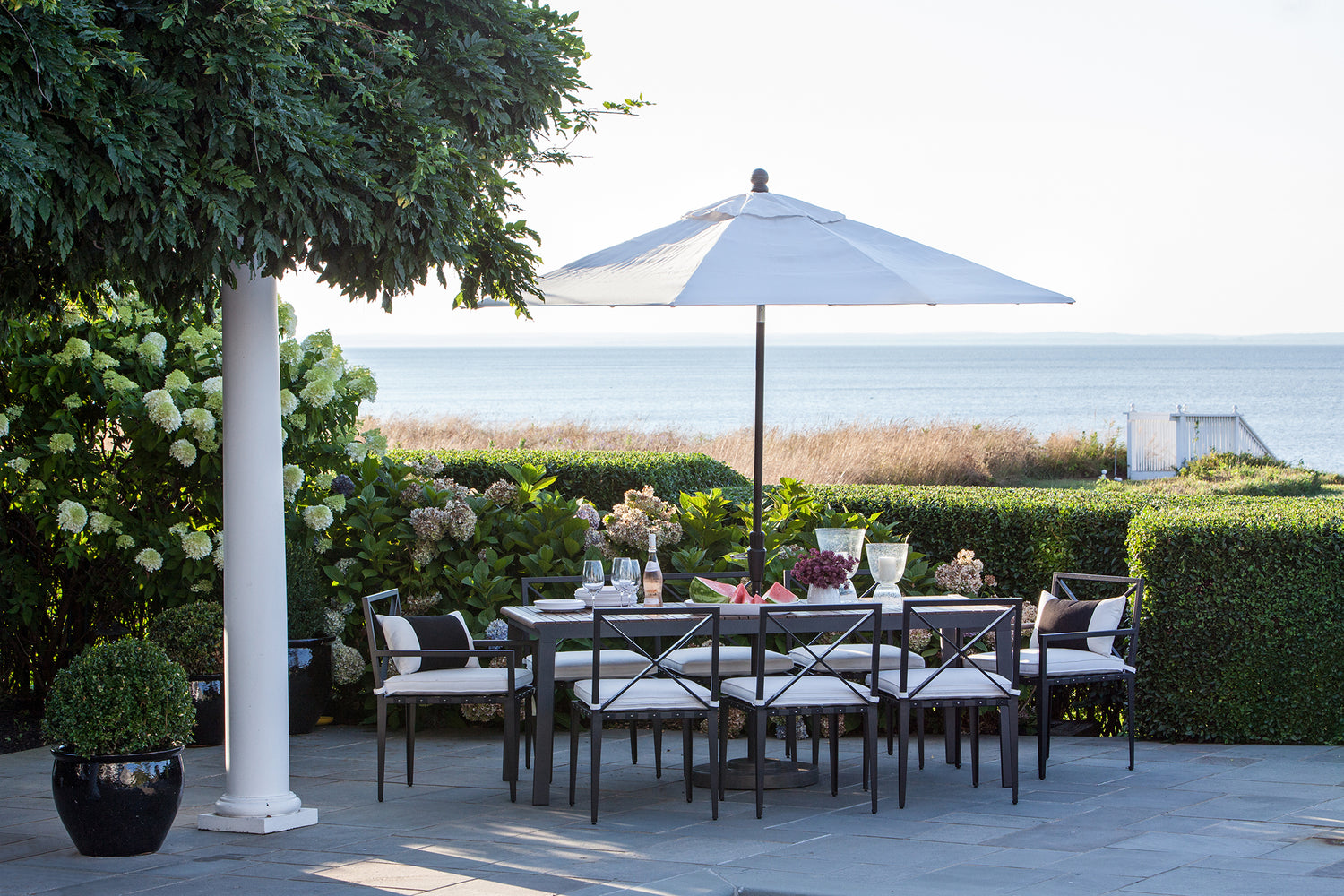 14/14
With views of the water, who wouldn't love a glass of Rosé poolside? Our preference is Ott Rosé, with glasses from Riedel, and hydrangeas cut from the year. Classic cabana stripe pillows from Restoration Hardware add a little cushion to this Restoration Hardware outdoor dining set, topped with an umbrella by Crate and Barrel.