Connecting the Dots
We're

seeing spots

over our love of Polka dots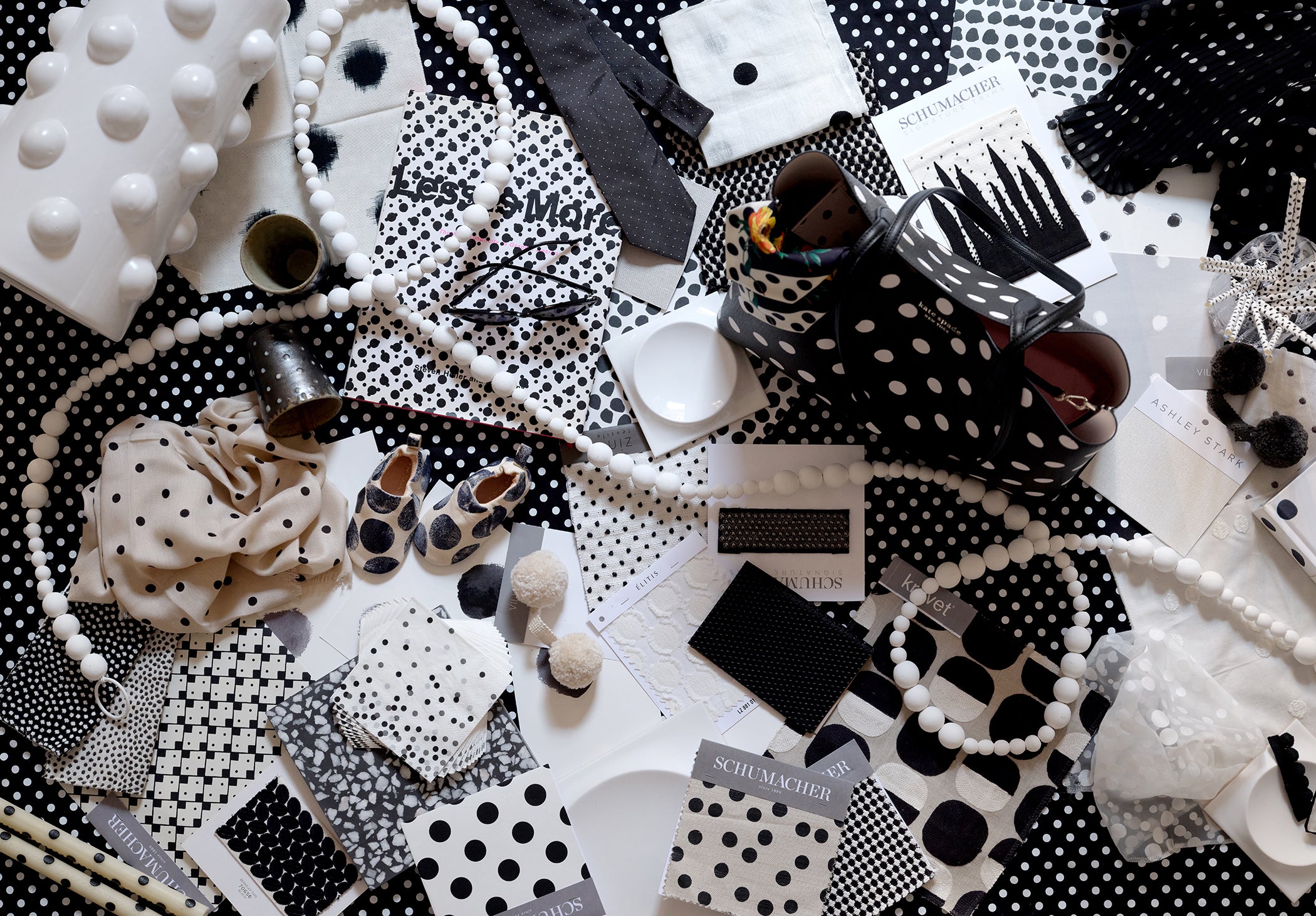 Dan Mazzarini with Ashley Tibbits
September 2022

Close your eyes and try to think about your earliest memory of polka dots.

Did you picture Minnie Mouse's bow? A strip of colorful candy buttons? Julia Roberts' iconic dress from the polo scene in Pretty Woman? For me, it was a classic childhood game. I've always loved to draw, and Connect the Dots was a fave, especially as I was learning. To this day, I look at Connect the Dots and wonder "What's it gonna be?" Is this a metaphor for life? I don't know, but I love dots either way!

If you've avoided polka dots as a grown-up because they seem sort of childish, consider this is your sign to surround yourself with a few more spots!

Polka dots may not seem timeless at first glance, but they actually have appeared in more than a few classic and significant styles. Kiera Coffee explains in A History of Polka Dots that the more asymmetrical, perfect dot pattern came into play in the late 18th century with the invention of textile looms. By the mid-19th century, they could be seen on Flamenco dresses in Spain, sheer Swiss fabric, and in the Czech Republic on garments worn by—you guessed it—polka dancers, at which point they officially earned their name.

In the 20th century, dots started springing up in the works of famous visual artists. Pointillist painters like George Seurat and Paul Signac created massive works composed only of tiny dots. Dots evolved in the Mid Century, appearing in pop art works by Roy Lichtenstein. I'd be remiss not to mention "the princess of polka dots" herself, Yayoi Kusama, a contemporary Japanese installation artist most famous for her Infinity Rooms.

Fashion has also long loved dots. Christian Dior debuted polka dot dresses in his 1947 haute couture line, influencing generations of designers to follow. Recent runways for Erdem and Christopher John Rogers (among others) have recently sported spots.

Finally, home decor has included polka dots in their collections. Brands like West Elm, Burke Decor, Bloomingdale's, and Crate and Barrel have included dotted furniture, textiles, wallpaper, ceramics, and other accents in their lines. All this to say: There's no one way to polka dot. To me, this pattern is both timeless and modern. In fact, I personally wear a version almost every day with my polka dot Stan Smiths!

Not sure where to start to connect the dots for your style? Try artwork, sheeting, and tabletop linens as a great way to add dots without a lot of commitment. If you're feeling bold, go big with a polka dot statement piece. I did this for myself, with one big dot art piece from San Francisco-based artist Ximao Miao, displayed over the front of my bookcase—the perfect dramatic backdrop for Zoom meetings.

The point (pun intended) is, polka dots have been all around us—whether in our consciousness or not—since we were little, which is probably why we feel so nostalgic whenever we see them.

Polka dots aren't just for kids, but they do bring a bit of childlike playfulness to your style. Seems like the perfect reason to start seeing spots!