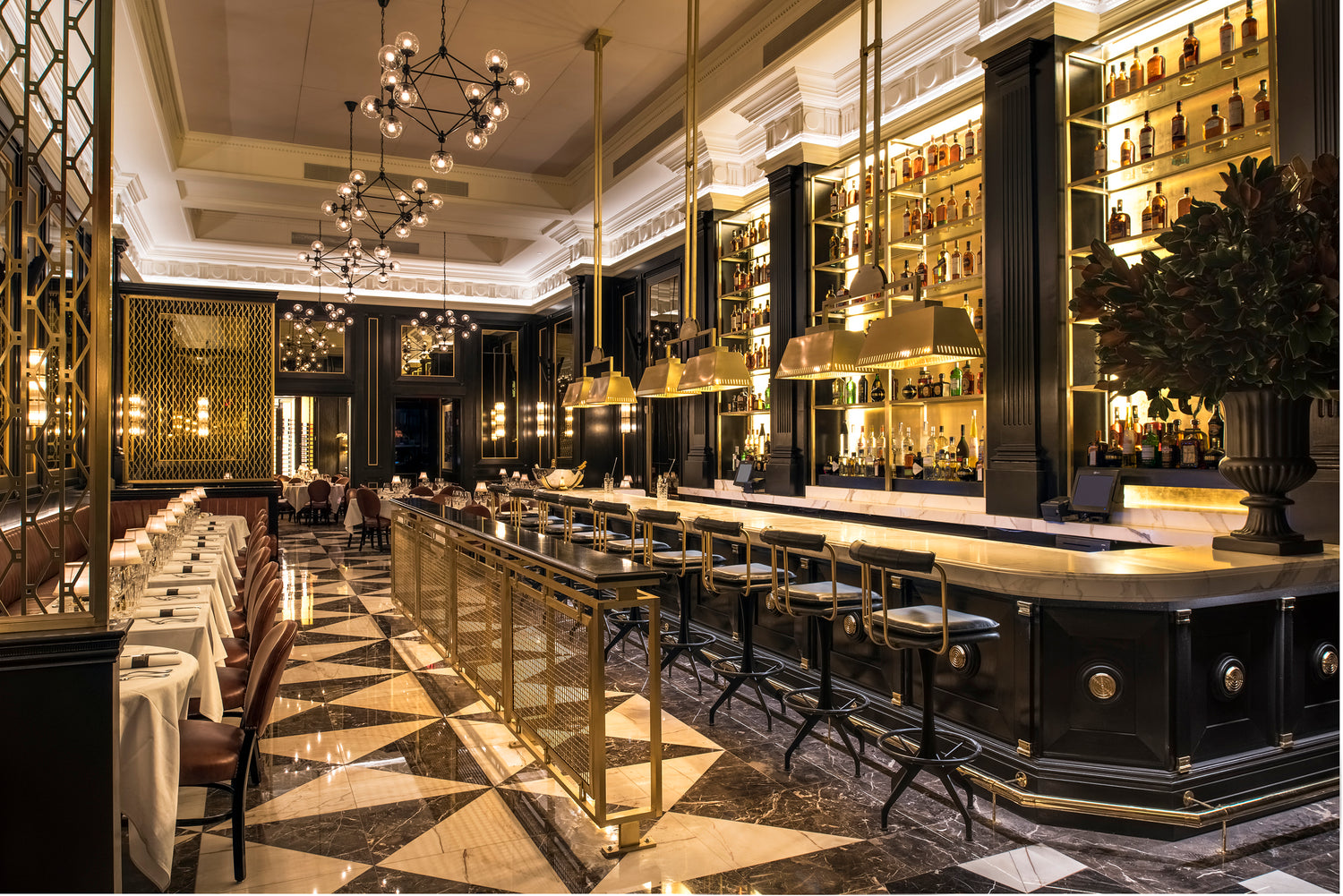 While Maxwell's Chophouse is no longer in service, its look is timeless enough to last forever. Here, the impression from the main entry showcases both the bar area and the main dining room. The custom bar sports custom brass detail from Lisa Jarvis, a calacatta gold marble top from ABC Stone, and an over-scaled urn full of magnolias from Planters Resource.
RESTAURANT TOUR
Grade A Dining
A generous helping of glamor takes this steakhouse from raw to well done.
Photography: Adam Kane Macchia for BHDM Design
Written by: Dan Mazzarini
When I think of a "typical" steakhouse, I think dark, masculine, clubby, and usually on the stuffy side. When our clients – a mother/daughter duo – came to us to design their steakhouse, they had something else in mind: Classic glamor meets European charm with a twist (sounds like a great cocktail, too!) They pointed to spaces like the Wolseley in London and private dining rooms of NYC clubs as their benchmark.
IF YOU HAPPEN TO BUY ANY OF THESE BEAUTIFUL THINGS, WE MAY MAKE A COMMISSION
We set to work first assessing the space – set on Broadway in the Nomad area of New York City meant that the front façade was tall but on an angle (just like the street.) The façade was already beautiful, with original neo-classical details, which would ultimately inspire our design for the interior. Inside, the original space was tall, narrow, and very deep with windows only at the front. In planning the space, we wanted to create an active bar and dining room, a private dining room, and snapshot views into the kitchen. 
To narrate the space, our team imagined a glittering, timeless space, inspired by the deco glamor of New York city. Black and gold became the key colors, with classic saddle leather, smoked mirror, gold leaf, and ribbed glass all adding additional textural layers. To create a timeless shell, we segmented the space with a series of new ribbed pilasters topped with clean capital, and an extra-large new triglyph and metope custom millwork crown. Between the columns, panel details were trimmed with ribbed wood and pyramidal corners, and inset with a smoked mirror to amplify the space. Underfoot, a new floor of black and white marble was designed with a quarter turned pattern, with a black and white starburst at the front bar lounge area.
The new bar was all custom designed – glossy black millwork was accented with custom brass capitals and knob details, for added jewelry. Behind the bar, fourteen-foot tall liquor towers were lined with hand-gilded gold leaf, and uplit to create a dramatic and warm effect. Custom pendant lights in burnished brass and barstools in black leather with brass detail helped round out the deluxe cocktail space.
In the back of the restaurant we located a private dining room, which we lined with custom brass and glass wine cabinets. The walls of the space were hand painted in a black and gold chalk stripe, and decorated with a variety of black and white New York City photography. Overhead, we designed a deco-inspired brass and ribbed glass ceiling light to unify and warm the room.
A hall connecting the rest room to the dining room also acts as a peak to the open kitchen. The black and gold millwork continues, and is hung ceiling to floor with more black and white photography. I chose a variety of black and gold frames in different profiles and sizes to create a more collected look. In the restroom, a communal sink of stone and custom brass work is lit by pleated silk shades for a feminine touch.
Throughout the space, we touched and designed every detail, from floors and wall millwork, to lights, furniture, artwork, and more. We even added a custom train clock on the opposite side of the room, but who's keeping track of time when you're having so much fun?
This glamourous steakhouse was a truly transformative before and after,  one with a sparkling, sophisticated look, and sizzling ambiance. Well done, for sure.
IF YOU HAPPEN TO BUY ANY OF THESE BEAUTIFUL THINGS, WE MAY MAKE A COMMISSION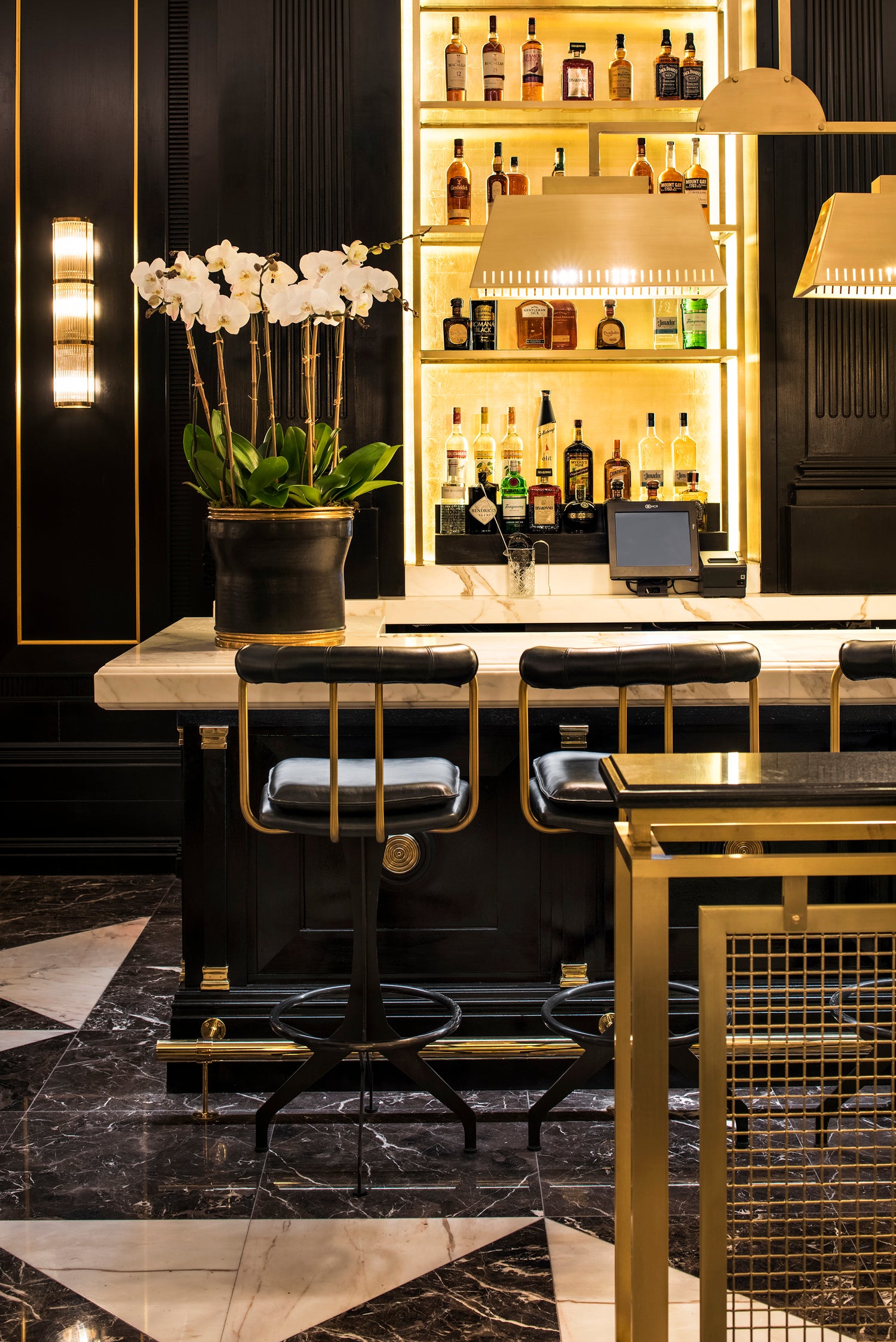 2/11
All the details of the bar were custom designed by our team, from the millwork to the lights and barstools. The uplit gold-leafed backbar was over twelve feet tall to display the extensive bourbon and booze offering of the restaurant. The urn of orchids is from Jamali, and the ribbed sconce is Ralph Lauren Home.
3/11
A cozy corner of the main dining room is ringed with channeled saddle leather booths, topped with shaded tabletop candle lights. Behind, a smoked mirror moodily reflects the space. Wall sconces are Ralph Lauren, ceiling lights are Arteriors, and floors are a triangular bowtie pattern.
"Pinstripe is synonymous with classic style. Here, hand painted stripes in the private dining room were adorned with framed art of NYC."
4/11
In the private dining room, artwork sourced from Getty Images, One Kings Lane, and Allposters.com was framed in a variety of profiles from Skyframe. The walls were hand-painted in a black and gold chalk stripe. The brass ceiling light is custom by BHDM, with Bendheim ribbed glass.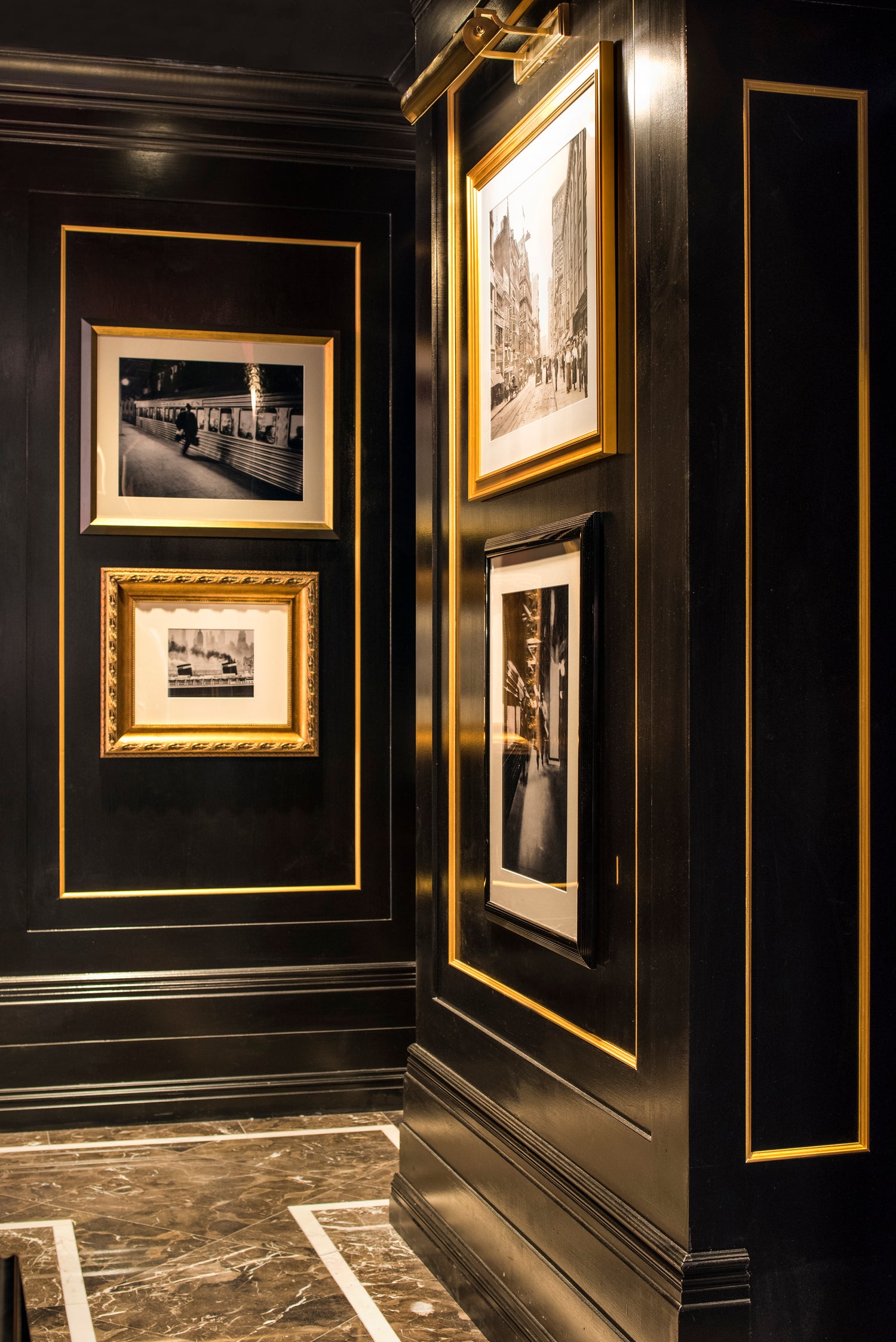 6/11
The back hallway linking the dining room and restrooms is a dark and moody treat, in the ceiling to floor black and gold millwork; the twenty inch baseboard is made up of a series of six molding profiles to accomplish the significant heft. Wall art is Print Collection, Juniper Gallery  and Magnum Photos, framed by Skyframe, and lit with picture lights from Visual Comfort.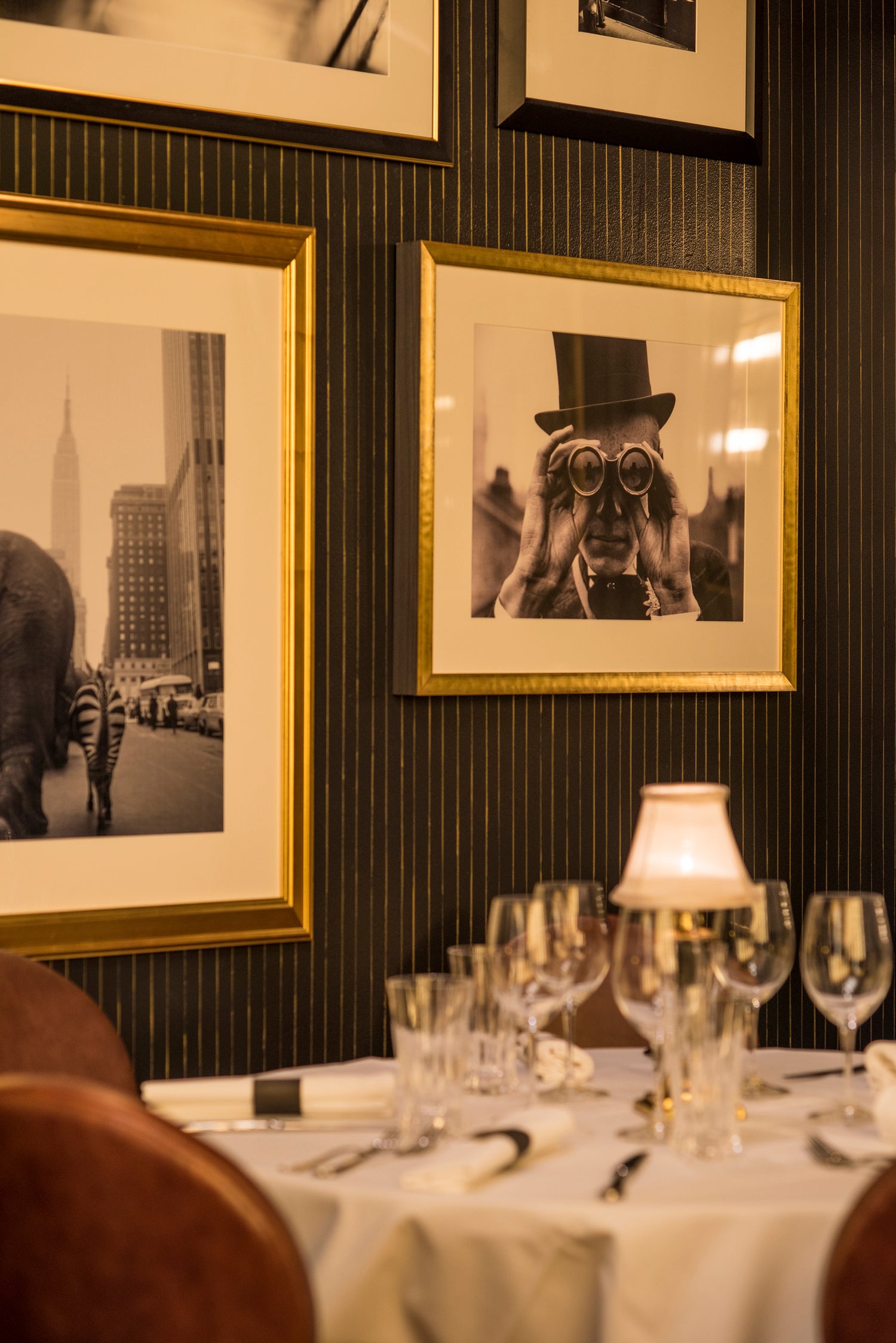 7/11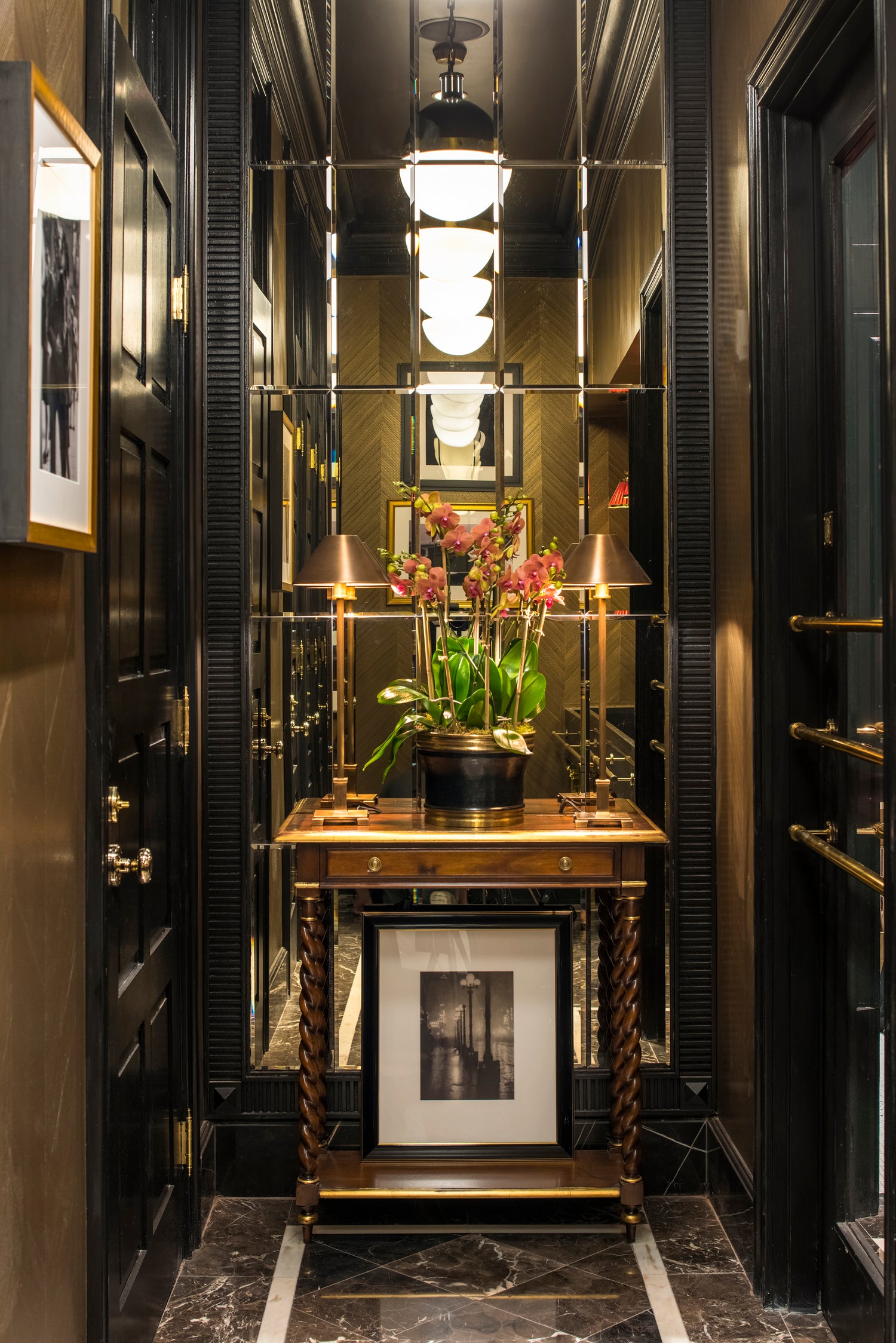 8/11
Pieced mirror set into a millwork frame reflects the powder room, and creates an illusion of elongating the space. Overhead, round globe fixtures from Visual Comfort cast a soft light through their repetition and brass deco-inspired hardware accents the high gloss black doors.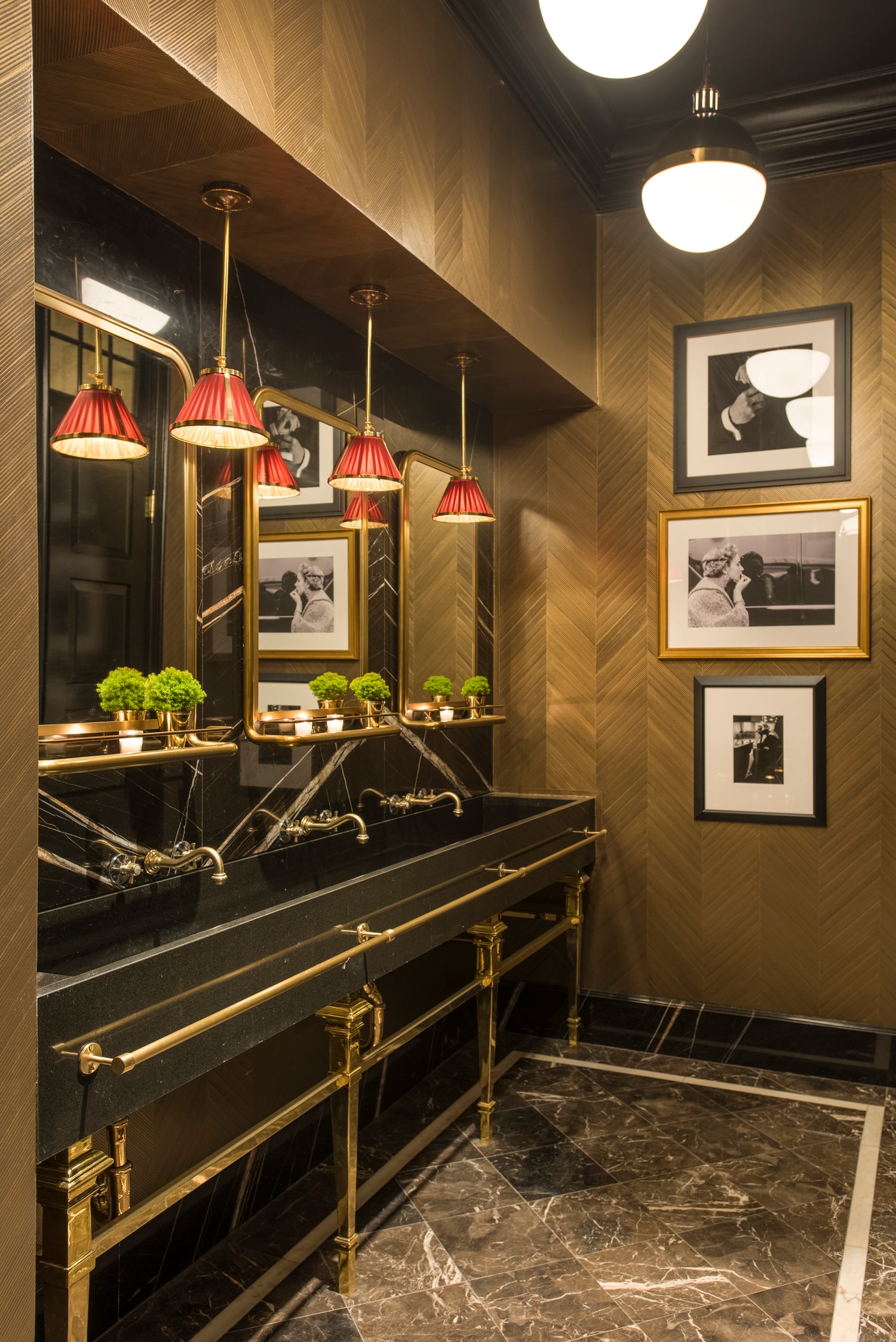 9/11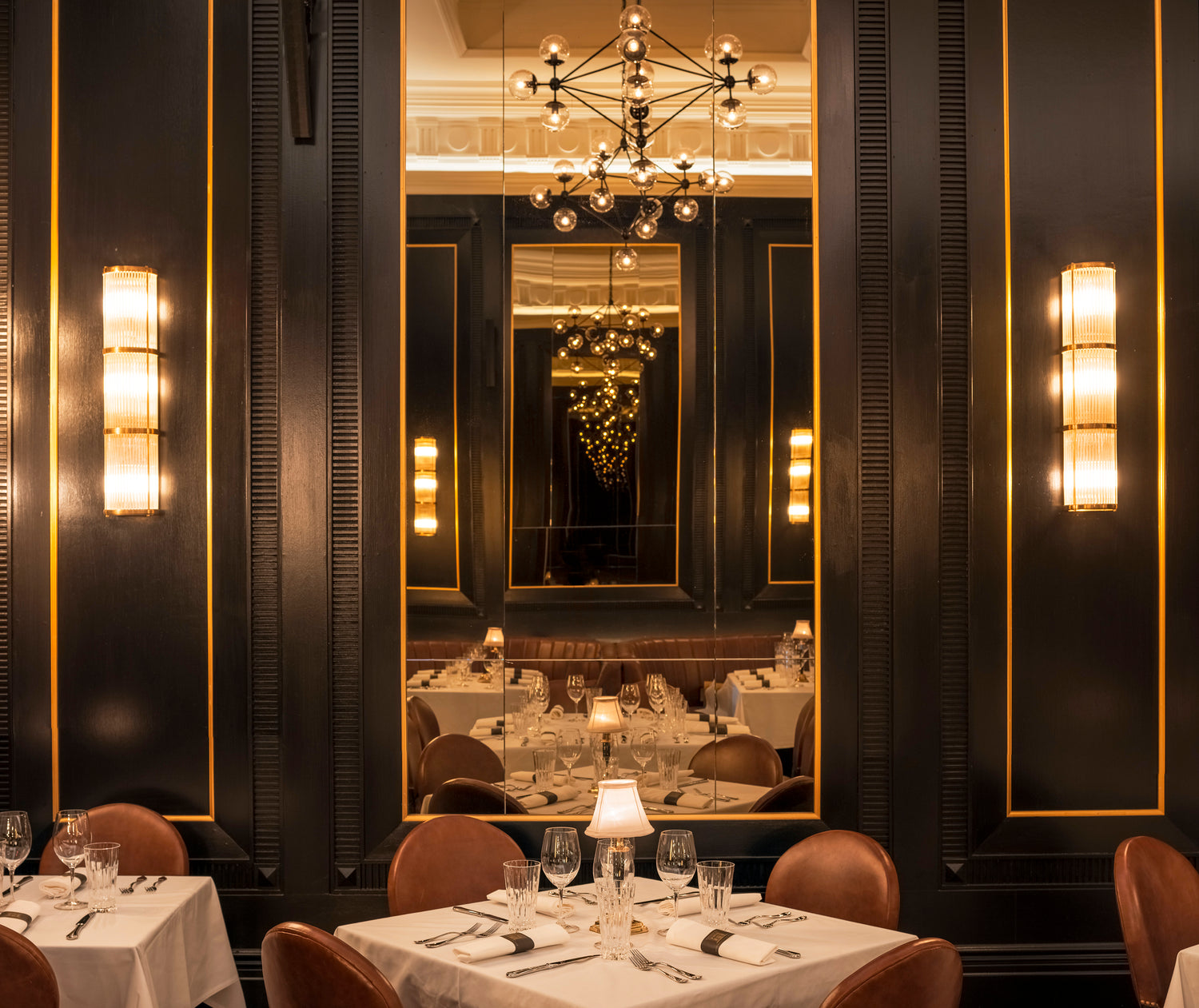 10/11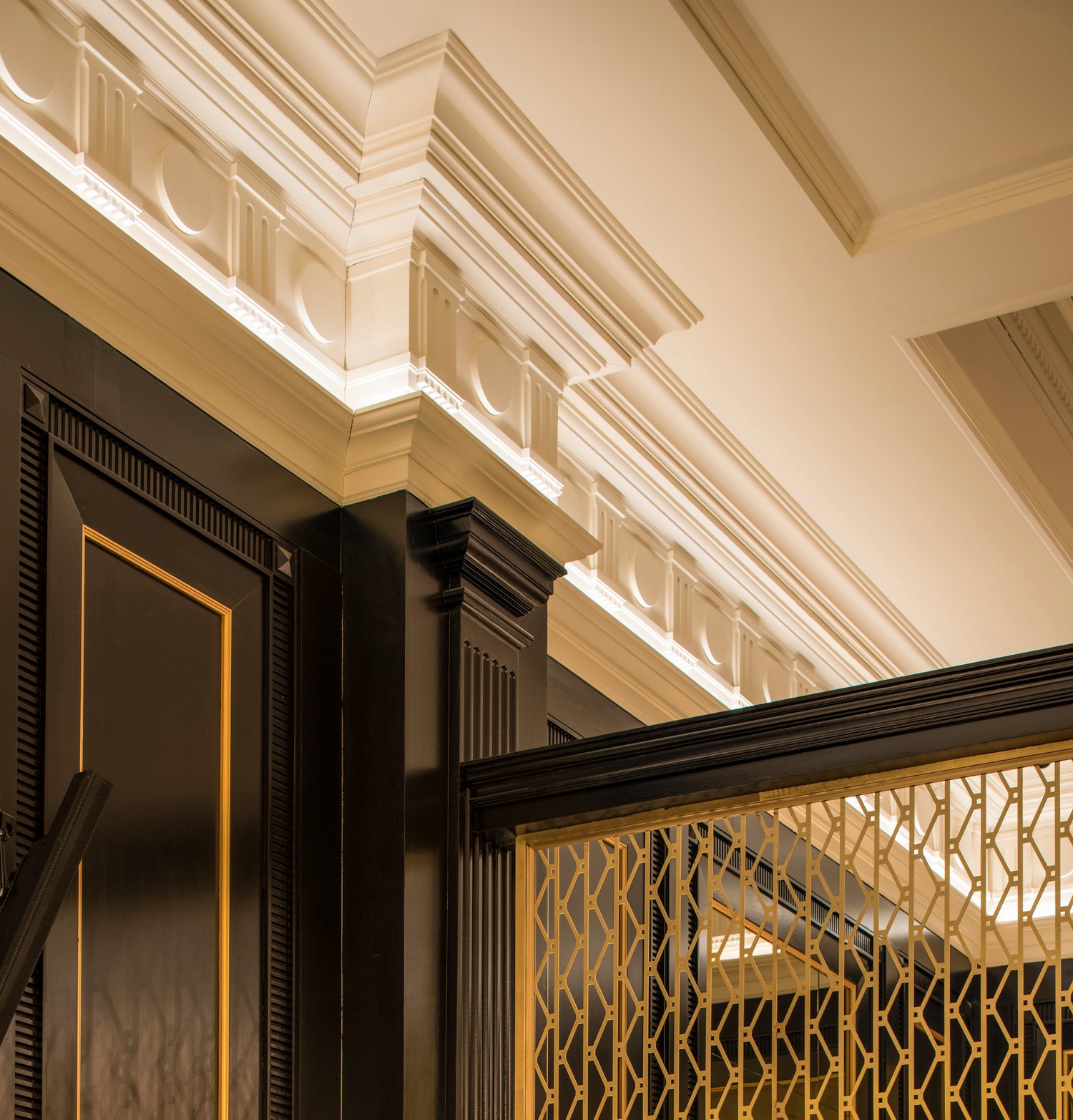 11/11
A custom laser-cut brass screen is backed by the new millwork, including a custom triglyph and metope crown. Black paint from Benjamin Moore was accented with gilded picture frame trim sources from Larson Juhl frames, from Skyframe NYC.